The 1980s birthed so many iconic and memorable film franchises - so memorable, in fact, that most of them have been remade or rebooted in the last couple years, most making die-hard fans cringe. From 'Ghostbusters', 'Predator' and even 'Evil Dead', these are the films we think of when we look back at the decade that are still staples of cinema franchises. But 'Bill & Ted's Excellent Adventure' is the one that truly captures what we think of when we think of the 80s - from the lingo to the outfits, 'Bill & Ted' embodies all of it. Out of all of the nostalgic sequels we have gotten over the years, it would be easy to think 'Bill & Ted' shouldn't work. Both films are so tied to the time they came out along with the teenage dumbness of the leads - but somehow, 31 years later, 'Bill & Ted Face The Music' is not only a nostalgic throwback and a hilarious film, but a truly moving radical adventure.
25 years after their trip to hell, Bill (Alex Winter, 'The Lost Boys', 'Smosh: The Movie') and Ted (Keanu Reeves, 'Toy Story 4', 'John Wick: Chapter 3 - Parabellum') still haven't managed to write that all-important universe-saving song. 'Wyld Stallyns' has fallen out of the music charts and their marriages to Princess Elizabeth (Erinn Hayes, 'The Watch', 'They Came Together') and Joana (TV's 'Glee', 'The Smurfs') are falling apart. Their daughters, Thea (Samara Weaving, 'Ready or Not', 'Three Billboards Outside Ebbing, Missouri') and Billie (Brigette Lundy-Paine, Netflix's 'A-Typical', 'Bombshell'), however still believe in their dads and their music. Everything changes when Kelly (Kristen Schaal, TV's 'Gravity Falls' and 'Bob's Burgers'), Rufus' daughter, comes to take Bill and Ted to the future to meet The Great Leader (Holland Taylor, 'Baby Mama', 'To All the Boys; P.S. I Still Love You') as reality is collapsing and if they don't have the song by 7:17pm it's the end of the world. Armed with the Phone Booth time machine, they travel to the future to grab the song and save all of space and time.
SWITCH: 'BILL & TED FACE THE MUSIC' TEASER FINAL TRAILER
This easily could have turned out bad. In the wrong hands, Bill and Ted could have been man-babies and very painful to watch, but luckily not only are they played by two incredible actors, but they are also very well-written. The film is written by Chris Matheson and Ed Solomon, who penned the first two, and they haven't lost their groove. The film not only feels like it's still the same world but that this is how these characters would be years later. Instantly Reeves and Winter ooze chemistry; you can feel the years of friendship, and they feel like real people. Their daughters are also perfectly cast - not only looking alike, they are more than just female Bill and Ted, and scenes the two of them hold their own without leaving you wanting to get back to the stars. Other new characters like Kelly and a robot (his name drop was such a big laugh I don't want to ruin it) are also funny additions to the franchise. Kelly is also a beautiful homage to George Carlin, named after his real daughter. William Sadler returns as Death, and the first time we see him in the film, it feels like Thor entering the battle in 'Avengers: Infinity War'... it was totally epic, dude! And like everyone else he is used well, is really funny, and doesn't feel like a nostalgia grab.
Unlike other "years later" sequels, this is a much cheaper film - but that isn't a bad thing. It proves that just because you throw money at a nostalgic franchise doesn't mean success; you need a reason for it to exist and people who want to be a part of it. No reference to the first two films feels forced, and serves something to narrative.
It proves that just because you throw money at a nostalgic franchise doesn't mean success; you need a reason for it to exist and people who want to be a part of it. No reference to the first two films feels forced, and serves something to narrative.
Similar to my other unexpected 2020 film that made me cry, 'Trolls World Tour', '...Face the Music' also grabbed me emotionally. In the song that will save the universe, Bill and Ted realise: how can a song save people? It has to unite them by getting everyone to join in. And while, as the movie says, the song isn't anything groundbreaking, it's about how everyone can come together for a universal movement. Now doesn't that sound more relevant than ever? I'm a sucker for a coming together message (in song helps), and in this very uncertain time both with the pandemic and the Black Lives Matter movement, the world needs to come together more than ever in 2020.
I wouldn't even label myself as a fan of the 'Bill & Ted' franchise. I only just got around to watching the original movies properly because there was a new film coming out, but this film made me feel like I was a die-hard fan. Having a basic knowledge of the franchise, the film never alienated me and only added to my enjoyment of the first two films, which are already highly enjoyable.
Like many people, 'Tenet' is the blockbuster I'd thought would fill my cinema appetite, but it didn't. 'Bill & Ted Face The Music' did. To be in a room with an audience 1.5 meters apart and laughing was totally radical dudes; there's nothing like it.
Like its message, 'Bill & Ted Face The Music' is for everyone. If you didn't watch or like the originals because they were "crude" or "dumb", while this movie still has those moments, it has been toned down. If you're a die-hard fan, this will fill your hunger for content as well as serve as a beautiful conclusion to the characters. Even if you've never seen the originals, I highly recommend it to everyone: it's rated PG so literally (while socially distancing) take the whole family, have a truly excellent and much-needed laugh, and enjoy the so totally rad music.
Bill and Ted said it best: "Be excellent to each other and party on, dudes!"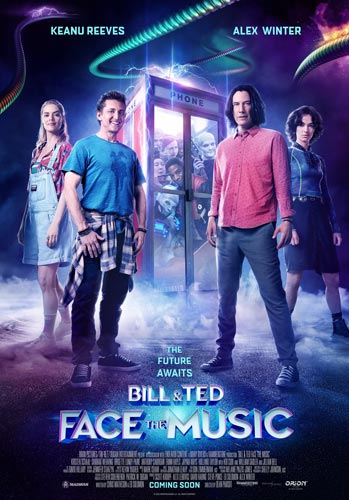 To celebrate the release of 'Bill & Ted Face The Music' in cinemas, we're giving you the chance to win a double pass.
Due to the redeemability of passes, this competition is only open to residents of Australian Capital Territory, Northern Territory, New South Wales, Queensland, South Australia and Western Australia.
To win one of five double passes thanks to Madman, just make sure you follow both steps:
Competition opens at 5:00pm AEST on Sunday 30th August 2020 and closes at 11:59 pm AEST on Sunday 6th September 2020. Five winners will be chosen at random on Monday 7th September 2020. To successfully win, entrants must fulfil the above entry conditions before the time the competition closes. Current members/followers are eligible to enter the competition. Only one entry per person. Only one winner per household. To be a valid winner, the entrant must not have won a prize from SWITCH within the last 28 days. Each winner will receive one double pass to 'Bill & Ted Face The Music'. By entering, you agree to receive occasional emails from SWITCH in the future. If you decide to unsubscribe from these updates, any further entries will not be applicable. Only Australian residents are eligible to enter.