The 90s: the golden age of marketing. Movie merchandise was popularised by 'Star Wars' in 1977 due its success, and saw everything released in the 80s get kid's toy lines, regardless of demographic. You have classics like 'Ghostbusters', 'E.T.', 'Back To The Future', 'Predator', 'RoboCop', 'Rambo' (for the kids that loved R-rated Stallone films)... it truly was fair game. At the same time, a spike in food and non-film related toy marketing grew, directed at children due to advent of Saturday morning cartoons - and by the 90s, it was a war zone. This all led to one of the most game-changing crossovers in history: Nike. Michael Jordan. Bugs Bunny.
The 'Looney Tunes' characters were somewhat dying out as pop culture icons in the 1980s. While they used to receive upwards of five theatrical shorts a year, between 1969 and 1987, not a single short was produced. The focus shifted to made-for-TV content and packaged films, but after 'Who Framed Rodger Rabbit?', newfound relevancy was found in the gang. In an effort to make them "hip" and "cool" with the "kidz" during 1992's Super Bowl XXVI, the world would be reintroduced to Bugs and his Hare-Jordans as he went up against Michael Jordan and his Air-Jordans. This, of course, tied into a full-out marketing campaign, 'What's Up, Jock?', with billboards, posters, the whole alley-oop. The commerical ended with Bugs turning to Jordan and saying, "This could be the beginning of a beautiful friendship" - and he couldn't have been more right. The pair teamed up again the following Super Bowl, and talk began for a film starting the two. It was greenlit, but later that year, Jordan quit professional basketball. 1995 saw the whole Toon Squad team up with NBA stars in a glass line, and that same year Jordan returned to basketball - so 'Space Jam' was speedily greenlit and production started immediately.
So you've had this highly successful marketing campaign and now it's being turned into a movie, what could the plot be... A semi-autobiographical feature where famous NBA player Michael Jordan has quit, and joins a baseball team and is struggling in the new sport. Simultaneously - this part surprisingly isn't based on real events - alien overload Swackhammer's (Danny DeVito) theme park, Moron Mountain, is losing business, and he plans to kidnap the Looney Tunes. He sends his minions, the Nerdlucks, to find them and bring them back, but when Bugs notices how small they are he challenges them to a basketball game, assuming the Tune Squad will easily win on height alone. However, the Nerdlucks head to earth to kidnap famous NBA players, transforming them into the Monstars to give them ultimate B-Ball power. Now scared, the Toons grab Jordan off a golf course and force him to train them.
'SPACE JAM' TRAILER
For a movie based on a commercial, that's a lot of plot. Re-watching it, I was surprised how much backstory they gave things like rationalising the basketball storyline, and even the way it added in the real-life story of Jordan leaving the NBA is still a little strange. But it went on to bring in US$250 million at the box office, making it the 10th highest-grossing film of 1996. Production began in 1995 for a November 1996 release date, and for a film as technically demanding as 'Space Jam', that's insane. 'Who Framed Roger Rabbit's' post-production took 14 months, whereas 'Space Jam's' from pre- to post-production was only 19 months. The production was apparently quite torturous, and trying to attach any actors to it was a challenge - not only due to the difficulty of working with Toons, but also basketball players who had never acted before. The set also didn't appear to be particularly fun from the look of the behind-the-scenes photos.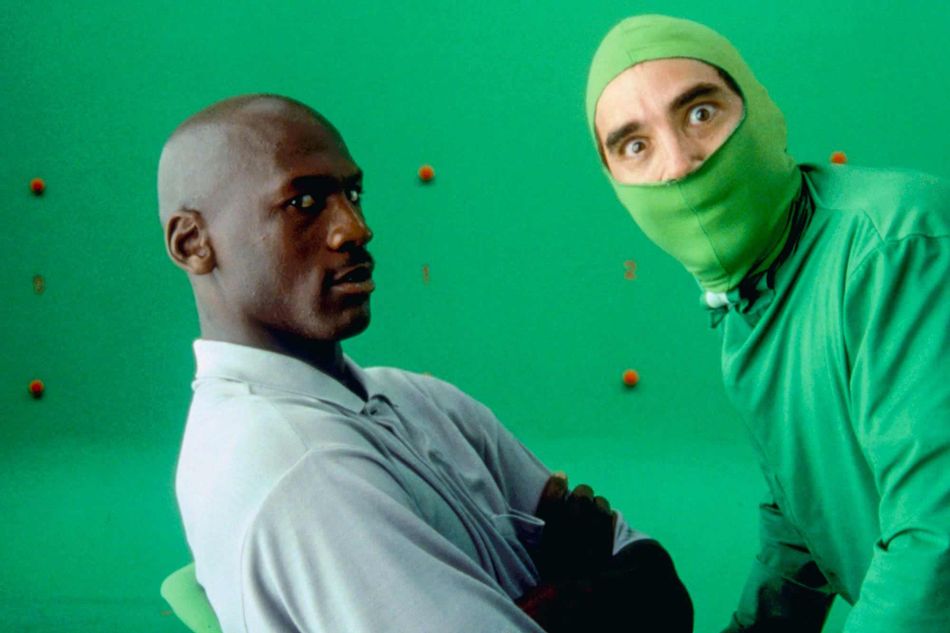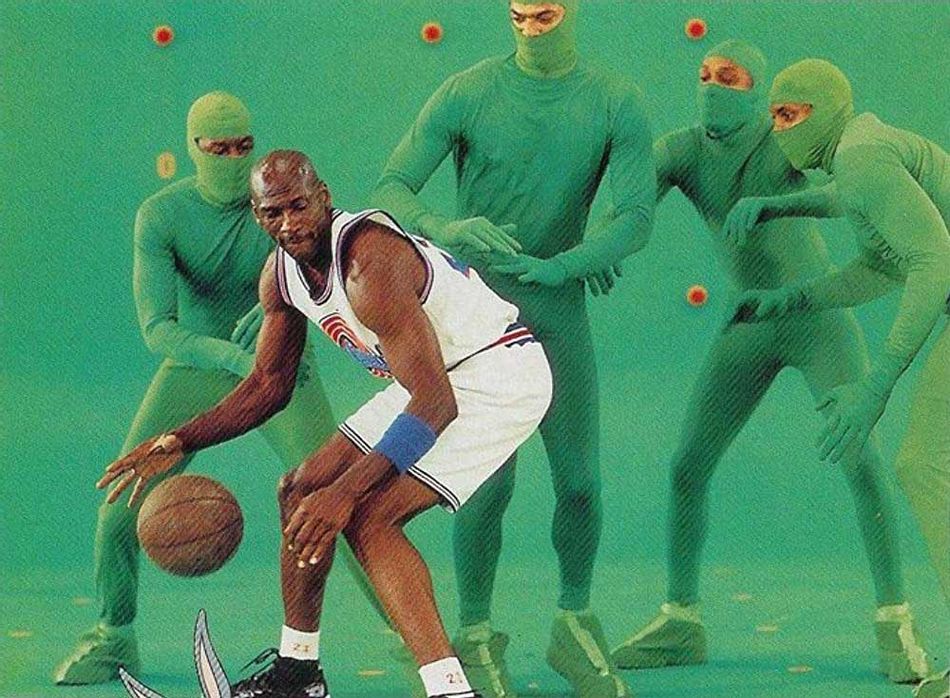 I know every decade comes with its own style, but the 90s was truly something else; the way entertainment and marketing took over to that scale had never been done before. While the 'Looney Tunes' weren't producing that many new cartoons, there were slapped on almost every t-shirt. Just think of how many sassy Tweety Bird shirts you've seen at Salvos stores over the years. The Toons were making Warner Bros. roughly US$3.5billion annually before the film debuted. Team them up with not only the biggest sport of the decade but one the most famous athletics to ever live, and it's no wonder the film is still relevant today while capturing an entire time period. The 'Space Jam' branding alone has generated US$6 billion - and that number is from before we even knew what the sequel was called.
'Space Jam: A New Legacy' may be the first sequel to see the light of day, but it was far from the first to be talked about. In 1996, 'Space Jam 2' had already started to be written, but Jordan didn't want to return, so it was scrapped. The idea then arose - and this is by far the most exciting, and it's a shame we never got them - a series of 'Jam' films featuring the Toons as they team up with various sporting stars, including a golf-based film with Tiger Woods, 'Skate Jam' with Tony Hawk and... 'Spy Jam' with Jackie Chan (spying is everyone's favourite sport). A spy film was made in the form of 'Looney Tunes: Back in Action', but after underwhelming box office results, the Tunes went back in hiding for a little bit with straight-to-DVD films. Then in 2010, the first theatrical 'Looney Tunes' short of the decade debuted. 'Coyote Falls' was the first time the Tunes would appear in 3D CGI animation, followed by five more theatrical shorts that were attached to various Warner family films. But in 2011, the big return happened with 'The Looney Tunes Show', which brought them into the 21st century - and since we haven't brought her up, reinvented Lola Bunny.
The 90s was truly something else; the way entertainment and marketing took over to that scale had never been done before. While the 'Looney Tunes' weren't producing that many new cartoons, there were slapped on almost every t-shirt.
Lola was created for the original film; she was just there for something for Bugs to drool at. Over the years, she has evolved and been given more and more personality, but the 2011 show saw the biggest changes. She was voiced by Kristen Wiig and is all-round more quirky. The new film sees her reinvented again, with Zendaya voicing her and, stupidly, she is the main point of internet anger because the animated rabbit id not hot enough... bite me; why is this something important for internet trolls. She is an animated rabbit in a children's film!
The CGI shorts and the 2011 series showed that there was still a place for Bugs and crew, and with merchandise still selling well - especially 'Space Jam' branded items (the amount of 'Space Jam' tees I have from Jays Jays from 2012 onwards is quite sad) - talk of a sequel started again. After watching 'Trainwreck' and seeing LeBron James act quite well, Warner and James signed contracts, and 'Space Jam: A New Legacy' was born.
A sequel to 'Space Jam' was always a matter of when not if but when, and that first trailer showed promise... but the more I've seen, the less excited I get for it. I sense the irony, but it seems too commercial. The 'Ready Player One' idea is cool, but as soon as you start to see every single franchise that has been revealed, it just seems bloated and to appeal to everyone feels alienating. The film also had the original director leave due to creative differences. That's creative differences on 'Space Jam 2'.
To close out, we end with the best thing to come from the film... the 'Space Jam' soundtrack. There are three film tie-in songs that are the holy trinity - Destiny's Child's 'Independent Women, Pt. 1', Teriyaki Boyz' 'Tokyo Drift' and Quad City DJ's 'Space Jam'. Every other song featured is compared to these three, and they are constantly losing ('Lady Marmalade' comes close). The rest of the soundtrack absolutely slaps, from Seal's 'Fly Like an Eagle', 'Hit 'Em High' The Monstars' Anthem, 'I Believe I Can Fly' by an unknown artist... it's just one of those unskippable soundtracks. 'Space Jam: A New Legacy' is hoping to uphold this, and most exciting for me is the Jonas Brothers and Anthony Ramos both appear on the soundtrack, which has me screaming.
Even if you hate 'Space Jam', it's a fascinating beast, and its relevancy to this day is astonishing. It's a time capsule film that perfectly epitomises the 90s. Pull up the still-working website from 1996, dust off your old Air Jordans, and jam for this 25th anniversary.