Stanley Kubrick's remarkable films stand as some of the most important contributions to the art of cinema. Possessed with a singular, pedantic vision, he pushed both technological boundaries and the boundaries of storytelling on film, taking advantage of the tools specific to the medium to create startling visions of the past, present and future. Since the arrival of Blu-ray onto the market, all of Kubrick's films have been revisited and restored, so that we now have every film he ever made available in high definition, from his early short films to his legendary masterpieces.
This week, Via Vision have released their 'Stanley Kubrick: Limited Edition Collection', an exciting boxset that contains three films from the early phase of Kubrick's career. The three films - 'Fear and Desire' (1953), 'Spartacus' (1960) and 'Dr Strangelove' (1964) - represent three major turning points in his evolution as a filmmaker, and each in their own way contributed to the development of a style and vision that would reshape the cinema.
'Fear and Desire' was Kubrick's first feature film, made when he was 25 years old, and while it betrays the inexperience with feature storytelling you would expect, there's still something fascinating about it. Following a group of soldiers stuck behind enemy lines, it's a kind of existential war film not out of step with his future classics 'Paths of Glory' (1957) and 'Full Metal Jacket' (1987). In much the same way that 'Alien 3' acts as a primer to the origins of David Fincher's style, 'Fear and Desire' does the same thing - amid its florid poetry and limited production values, it's a surprisingly striking film, the austere and objective camera starting to creep in. Removed from circulation by Kubrick not long after its release, the Blu-ray release of 'Fear and Desire' in 2012 finally gave audiences the chance to see Kubrick in his embryonic stage. More an archeological curiosity than anything, it still says volumes about who this filmmaker would become.
With 'Spartacus', Kubrick's career turned towards major studio filmmaking, albeit not quite on his own terms. Brought on to replace the original director Anthony Mann after shooting had begun, the enormous production about the rebellion of the Roman slave Spartacus (Kurt Douglas) was bigger than anything he had handled before, and the hands-on quality of Douglas as producer meant that the film was never really Kubrick's. I've always found it the strangest of Kubrick's films - there's undoubtedly something grand and impressive about it, but the Hollywood sentimentality and the keenly-developing visual eye of Kubrick never quite meld. It's an intelligent epic in a time where they were being reduced to melodramatic eye-candy, but it's clear the person at the helm isn't always calling the shots. Where 'Spartacus' represents a more significant turning point in Kubrick's career is that it hardened his resolve to always be the primary creative force on his films, something that he was able to achieve almost immediately.
'DR STRANGEGLOVE OR: HOW I LEARNED TO STOP WORRYING AND LOVE THE BOMB' TRAILER
His superb adaptation of 'Lolita' (1962) followed, but even then, the censorship battles around the film prevented him from making it as he had intended. It was with 'Dr Strangelove' though that Kubrick achieved that autonomy he craved, this film really demonstrating his vision unburdened. A satire of the Cold War and the threat of nuclear annihilation, the film defies every logical approach you would expect from such material and manages to be preposterously funny and deeply unsettling at the same time. The style, vision and rhythm that had been developing through those early films is practically set in stone here, as well as demonstrating his remarkable skill with actors (something he rarely gets credit for). 'Dr Strangelove' is a masterpiece, and closes that first phase of Kubrick's career. His next film, '2001: A Space Odyssey', would shift him (and the cinema itself) into a whole new gear.
With this neat boxset, Via Vision has captured a snapshot in the development of a great artist, the stepping stones towards the films that would make him legendary. In many ways, as a collective they give us a view of Kubrick that's more rounded, shifting our view of him from a mechanical, maniacal perfectionist to something far more potent – an ever-evolving and deeply human artist.
PICTURE & SOUND
All three films in this collection carry over (for better or worse) the previous releases of these films on the Australian market.
'Fear and Desire' was restored by the Library of Congress, and while the film was never going to shine like higher budget films of the same era, the 1080p 1.36:1 transfer still shows off the hypnotic cinematography with startling detail and clarity, and the lush black-and-white palette. The transfer betrays the age of the film, but this is a positive rather than a negative. For audio, the limitations of the production and the time it was made means we have an LPCM 2.0 track, but even with the short-fallings in the original track, it still comes across nice and clear. This is the best the film is going to look and sound I imagine, and it certainly does the film justice.
With 'Spartacus', things aren't quite so positive. The original 2010 Blu-ray release had a highly problematic transfer, the film receiving a digital clean-up that took out a lot of the natural detail. The notorious transfer was rendered obsolete this year when Universal released a new (and highly praised) restoration on Blu-ray in the U.S., but unfortunately this release simply reuses the 2010 release. For casual viewers this might not matter that much, but for film lovers the 1080p 2.22:1 transfer leaves faces looking waxy, strips the film of its natural grain and gives the film an unnatural glossy sheen. It's a holdover from the early days of Blu-ray before studios realised that high definition required a lot more work than simply scrubbing up the image with a computer program, and it's disappointing that Via Vision wasn't able to access the new restoration for this release. That said, the DTS-HD MA 5.1 is much more successful, a fine if unremarkable surround sound remix of the original sound design. It kicks in beautifully with Alex North's score and with the larger set-pieces, but also betrays the audio problems with the original tracks. Overall, while the film is an excellent addition to the set, it's hard not to be disappointed in Australian consumers having to wait longer for the newer restoration.
In many ways, as a collective they give us a view of Kubrick that's more rounded, shifting our view of him from a mechanical, maniacal perfectionist to something far more potent.
When it comes to 'Dr Strangelove' though, there's little to complain about. Once again, Via Vision have used the excellent 2009 release, which features a terrific video and audio transfer. For more information, check out our review of the standalone release of the disc earlier this year.
SPECIAL FEATURES
Of the two major international Blu-ray releases of 'Fear and Desire', Via Vision have used the U.S. Kino release as its basis, which means the only extra included is one of Kubrick's early documentaries from 1953, 'The Seafarers' (28:55). Presented in 1080p, it was Kubrick's first colour film, but ends up being pretty dry, as it was commissioned by the Seafarers International Union. Even more so than the feature it is included with, 'The Seafarers' is not much more than an archeological curiosity. By contrast, the Masters of Cinema release in the UK of 'Fear and Desire' also includes all of Kubrick's other short films made before 1953.
'Spartacus' comes with a solid but unremarkable set of extras, mostly archival material from the release of the film. These include vintage newsreels, interviews with the cast and recut scenes from other rereleases of the film in the 1960s before the major restoration done on the film in the 90s. Once again, all the material here is identical to the 2010 disc.
Of the three films, 'Dr Strangelove' comes with the strongest material. All of it is highlighted in our review of the standalone disc, but these include a number of documentaries, retrospectives and profiles on the cast and crew, as well as vintage material from its iconic publicity campaign.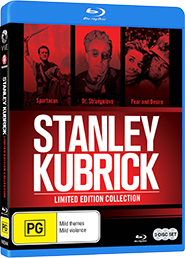 The 'Stanley Kubrick Collection' competition has now closed. Winners will be announced shortly.
Competition opens at 5pm AEST on Sunday 31st July 2016 and closes at 11:59pm AEST on Sunday 7th August 2016. Five winners will be chosen at random on Monday 8th August 2016. To successfully win, entrants must fulfil the above entry conditions before the time the competition closes. Current members/followers are eligible to enter the competition. Only one entry per person. Only one winner per household. To be a valid winner, the entrant must not have won a prize from SWITCH within the last 28 days. Each winner will receive one Blu-ray copy of 'Stanley Kubrick Collection'. By entering, you agree to receive occasional emails from SWITCH in the future. If you decide to unsubscribe from these updates, any further entries will not be applicable. Only Australian residents are eligible to enter.
'Stanley Kubrick Collection' is available on Blu-ray on Wednesday the 3rd August 2016 from Via Vision Entertainment.