No one does black comedy quite like the British, who find that perfect balance between the hilarious and the macabre. Even at their most disposable, most British comedies still have the power to charm and delight, mostly because they tend to be more fearless in the comedy they pursue. 'What We Did On Our Holiday', from the creative team behind the TV series 'Outnumbered', might not be an instant classic or as accomplished as others, but it matters where it needs to, with a big heart, a twisted sense of humour and an endless succession of laugh-out-loud moments of gold.
Abi (Rosamund Pike) and Doug (David Tennant) are in the process of getting a divorce, but they decide to bury this fact for one weekend as they take their family to Scotland to celebrate the birthday of Doug's father, Gordie (Billy Connolly). With Gordie dying of cancer, the three children are under strict instructions not to reveal the big family secret and upset Granddad. The problem is, the adults are doing a good enough job of that, especially when throwing Doug's brother Gavin (Ben Miller) and his wife Margaret (Amelia Bullmore) into the mix. And when Gordie takes the kids to the beach for some peace and quiet, the weekend away suddenly takes a totally unexpected and hilariously macabre turn.
This is the first feature together for writing-directing team Andy Hamilton and Guy Jenkins, who have carved a successful career together on television. Those roots are still present in 'Holiday', which could easily have been developed into a miniseries or TV movie, but this isn't necessarily a bad thing. There's nothing impressive about the technical work on the film, but there doesn't need to be. What Hamilton and Jenkins have set up is a killer piece of situational comedy, and placed in the hands of an accomplished cast, all they really need to do is set up the camera and capture the madness. 'Holiday' relishes its twists and turns, and when the major conflict falls into place, you'll literally be gasping, not sure whether to laugh or be horrified. It's so well-played and committed to with such aplomb, any shortfallings in the technical craft won't matter one jot.
'WHAT WE DID ON OUR HOLIDAY' TRAILER
Hamilton and Jenkins have a a real knack for getting great comedy out of their actors, especially when it comes to family-based comedy, and the film moves at an absolutely cracking pace, leaping from endlessly hilarious moments with great dollops of heart thrown in for good measure. Kudos has to also be given to the editing team of Steve Tempia and Mark Williams, who add to the comic rhythm and energy with their witty and intelligent editing. 'Holiday' never lags, and while some story strands never quite land, like that with Gavin and Margaret's odd son Kenneth (Ralph Riach), the stronger elements certainly make up for that.
Of course, it also helps when you have a cast as good as this, and all the adults (especially Pike and Tennant) look like they're having a ball. But the greatest surprise of 'Holiday' is who the real stars are, and that's the three kids. This has to be some of the funniest child performances on screen in a really long time. Older sister Lottie (Elilia Jones) holds everything together, trying to remain responsible whilst also trying to do what she knows in her heart is right - keep her splintering family together. Middle child Mickey, played by Bobby Smalldridge, tries not to let much phase him, instead focusing on his obsession with vikings and his love for Odin. And then there's youngest Jess, played by Harrier Turnbull, who calmly wanders in wearing floral sunglasses and her pet breeze block Norman and steals the film from everyone. This kid is achingly hilarious, with so many gob-smacking one-liners you're forced to rewind just to catch them. Turnbull and Smalldridge have the most exquisite comic timing and banter, and watching them spar with the adults is pure joy. I like to dream that all Hamilton and Jenkins had to do was give them a suggestion and let them improvise the hell out of everything, because whatever they come out with is is so honest and unfiltered. If you needed one reason to see this film, these three kids are it.
It helps when you have a cast as good as this, and all the adults (especially Pike and Tennant) look like they're having a ball.
'What We Did On Our Holiday' might not be the most impressive piece of filmmaking, but that doesn't matter one bit when the film is so much fun. It's a breezy, unexpectedly macabre and heartfelt little film that leaves you with a spring in your step. Andy Hamilton and Guy Jenkins have done a lovely job with this film, perfect for snuggling up under a blanket with a nice cup of cocoa and having one hell of a giggle.
PICTURE & SOUND
Much like the film itself, Transmission's Blu-ray presentation does its job. The film is given a lovely 1080p 1.78:1 transfer that shows off the beautiful Scottish countryside and the sunny cinematography, with vibrant colours and good clarity and detail. It's not the most impressive of transfers, but it serves the film adequately. The same applies for the DTS-HD MA 5.1 track, which (as it should) primarily serves the dialogue, which is always crystal clear.
SPECIAL FEATURES No features are included on this disc. What I wouldn't give for outtakes and deleted scenes of those kids! I could literally watch them for hours.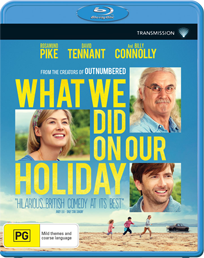 The 'What We Did On Our Holiday' competition has now closed. Winners will be announced shortly.
Competition opens at 5pm AEST on Sunday 14th June 2015 and closes at 11:59pm AEST on Sunday 21st June 2015. Five winners will be chosen at random on Monday 22nd June 2015. To successfully win, entrants must fulfil the above entry conditions before the time the competition closes. Current members/followers are eligible to enter the competition. Only one entry per person. Only one winner per household. To be a valid winner, the entrant must not have won a prize from SWITCH within the last 28 days. Each winner will receive one Blu-ray copy of 'What We Did On Our Holiday'. By entering, you agree to receive occasional emails from SWITCH in the future. If you decide to unsubscribe from these updates, any further entries will not be applicable. Only Australian residents are eligible to enter.
'What We Did On Our Holiday' is available on Blu-ray, Digital Download and DVD on Wednesday the 17th June 2015 from Transmission.