Credits
Producer/Editor ∷ Alex Amster
Music ∷ Sam Porter
Show Artwork ∷ Nikolaos Pirounakis
Episode Artwork ∷ Lily Meek
Show Notes
The company we now know as Walt Disney Animation Studios was founded in Los Angeles on October 16, 1923 by brothers Walt and Roy Disney.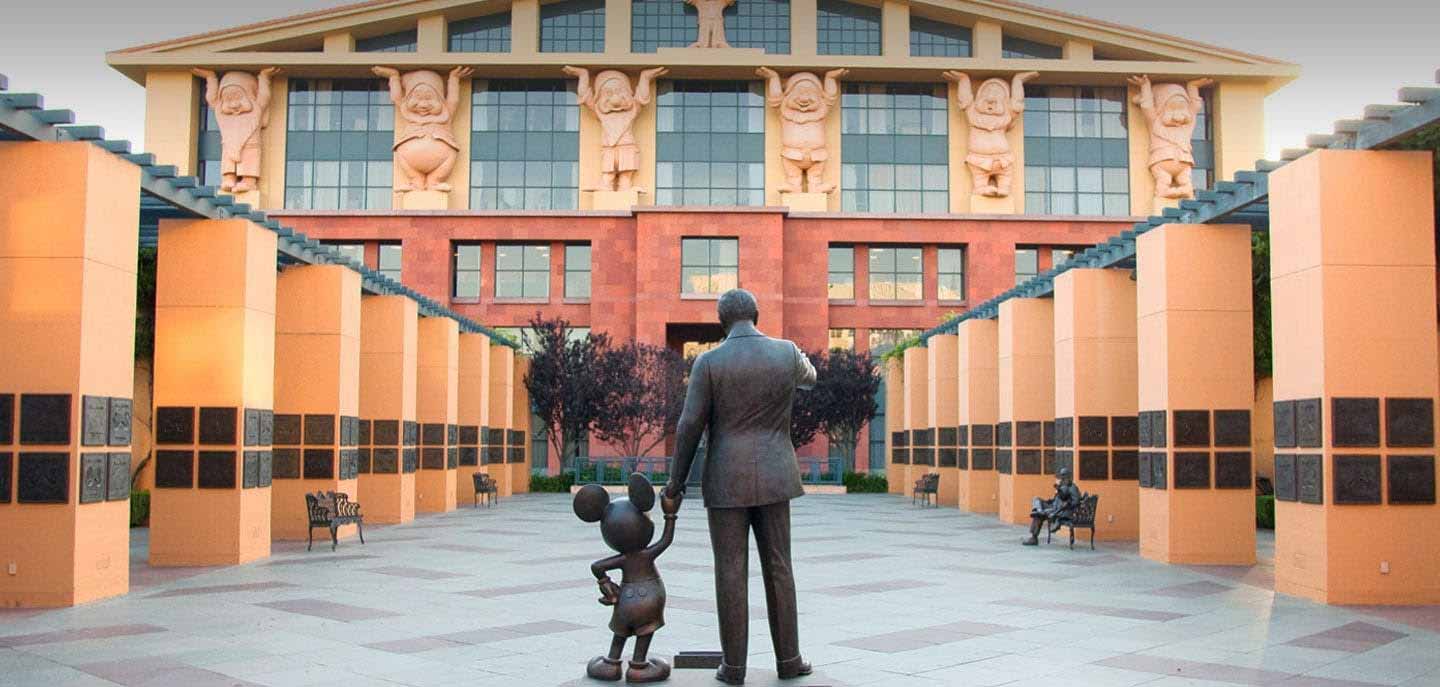 Only 21 at the time, Walt Disney was the second youngest of five children to Elias Disney, an entrepreneur with terrible luck, and Flora Call Disney. When he was 18, Walt moved to Los Angeles in order to break into the movie business, but while he was initially interested in directing live action, the blossoming animation industry caught his eye. He was a sharp-eyed cartoonist, working as a commercial advertising artist, and along with colleague and friend Ub Iwerks, developed first the Laugh-O-Grams series and later the Alice Comedies, loosely based on Carroll's Alice's Adventures in Wonderland and combining animation and live action.
The success of the Alice Comedies brought about the Disney Brothers Cartoon Studio in 1923, later renamed Walt Disney Studio in 1926, and Walt Disney Productions in 1929. While business-savvy Roy kept an eye on the company itself, Walt and Ub were in charge of the creative output. Their major success came in 1927 with the creation of Oswald the Lucky Rabbit, distributed by Winkler Pictures through Universal, but in a devastating blow, Winkler studio head Charles Minz, who technically owned the rights to Oswald, set up his own animation studio, took a large number of the Disney animation staff, and began to develop Oswald shorts himself.
It was in this moment of desperation that Disney and Iwerks began to develop a new character, a series of circles and ovals that would become the most famous cartoon character in history, and thanks to the recent invention of sound, he would get one hell of a debut.
STEAMBOAT WILLIE (1928)
Mickey Mouse is a mischievous deckhand on a steamboat run by Captain Pete. They collect farm animals from Po Dunk Landing pier, where they also collect Minnie Mouse, her guitar and her sheet music. A goat eats the guitar and sheet music, so Mickey and Minnie make music using the ship and the animals. As punishment, Captain Pete makes Mickey peel potatoes.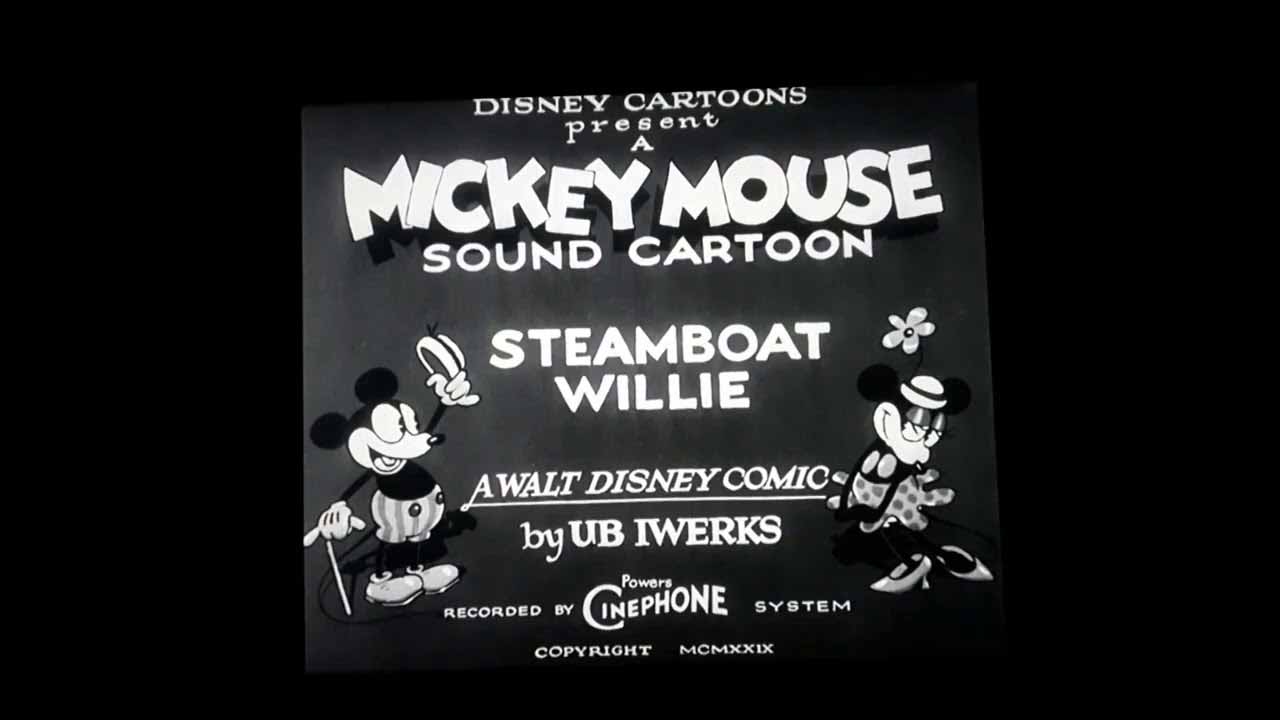 Steamboat Willie was the first Disney animated short with syncronised sound. Though partial syncronisation had been achieved in animation before, such as at the Fleitcher Brothers' Inkwell Studios, this was the first to achieve proper syncronisation through the use of a click track, so that the sound and music could work together. It was directed by Walt and Ub, with Ub animating, and was the commercial debut of both Mickey and Minnie Mouse. Two earlier Mickey shorts had been finished but not released, with Walt wanting to take advantage of the sound technology demonstrated in The Jazz Singer in 1927.
The music was arranged by Wildred Jackson and Bert Lewis, and features the songs "Steamboat Bill" (whistled by Mickey at the beginning) and "Turkey in the Straw", a song popularised by minstrelsy in the 19th century. The title is believed to be a reference to Buster Keaton's film Steamboat Bill Jr. as well as the song.
Today, Steamboat Willie is perhaps the most famous animated short ever made, mostly as the introduction of the internationally beloved icon, Mickey Mouse.
FURTHER NOTES ON THE MAKING OF THE FILM
Fleisher's Inkwell Studios had achieved partial syncronisation with their Song Car-Tunes shorts from 1924-1926, and Paul Terry released the financially unsuccessful Dinner Time a month before Steamboat Willie.
Directed by Walt Disney and Ub Iwerks
Two early Mickey Mouse shorts had been completed, Plane Crazy and Galopin' Gaucho, but Disney stalled their distribution after the release of The Jazz Singer in 1927. He later developed soundtracks for them as well.
Distributed by Celebrity Productions
All voices performed by Walt Disney, though the short has no discernable dialogue.
FOD means Freight on Delivery, COD means Cash on Delivery.
Podunk, a hypothetical small town regarded as typically dull or insignificant.
"Not the first animated cartoon to be synchronized with sound effects, but the first to attract favorable attention. This one represents a high order of cartoon ingenuity, cleverly combined with sound effects. The union brought forth laughs galore. Giggles came so fast at the Colony [Theater] they were stumbling over each other. It's a peach of a synchronization job all the way, bright, snappy and fitting the situation perfectly. Cartoonist, Walt Disney. With most of the animated cartoons qualifying as a pain in the neck it's a signal tribute to this particular one. If the same combination of talent can turn out a series as good as Steamboat Willie they should find a wide market if interchangability angle does not interfere. Recommended unreservedly for all wired houses." - Variety, Nov 21, 1928
Controversy over time in regards to animal cruelty, and some versions had 30 seconds removed. All official available versions from Disney are uncut.
Entered into the US National Film Registry in 1998.
Steamboat Willie was released in New York City on November 18, 1928, attached to the film Gang War. It was an enormous success, and instantly made Mickey Mouse and his creator a celebrity. There had been some early controversy over depictions of animal cruelty in the short, and some versions removed around 30 seconds of footage. All current official releases from Disney are the uncut version.
The short was entered into the US National Film Registry in 1998, and has been central to discussions around copyright, almost entering public domain several times. At this stage, Steamboat Willie is due to enter public domain in 2023, but not Mickey Mouse himself. There are also arguments to suggest that, due to a misplaced credit, the film has already entered public domain.
Available on Disney+, on the Walt Disney Animation Studios YouTube channel and the U.S. Blu-ray release 'Celebrating Mickey' (2018).
THE SILLY SYMPHONIES
Running from 1929 to 1939, the Silly Symphonies were a series of 75 animated shorts, often whimsically set to a musical accompaniment.
Composer Carl Stalling pitched the idea to Disney in 1928, and over the next decade, the series would become a wild financial and critical success, permeating the popular culture with merchandising, iconic characters and hit music, as well as acting as a testing ground for new film and animation technologies, and winning seven Academy Awards for Best Animated Short. They would pave the way for the studio's first feature-length animated film Snow White and the Seven Dwarfs in 1937.
THE SKELETON DANCE (1929)
A group of four skeletons dance in a cemetery at night, interacting with owls and cats. Once the sun begins to rise, they go back to their graves.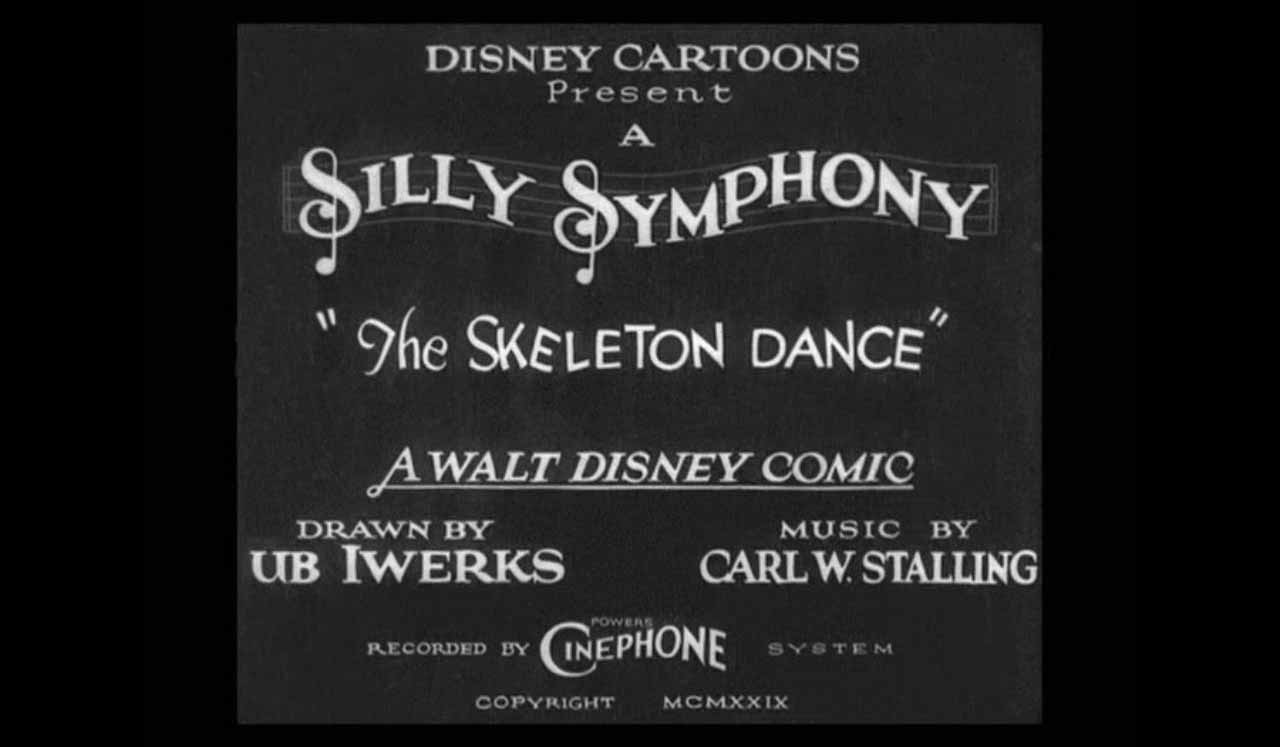 The idea was part of Carl Starling's pitch to Disney, who also composed the music for the short. Once again, Walt was the director of The Skeleton Dance, while Ub was the animator, completing the film in six weeks.
FURTHER NOTES ON THE MAKING OF THE FILM
Originally intended to use Saint-Saens' "Danse Macabre", but used original music instead.
Had an initial limited run in June/July 1929, before being properly distributed by Columbia Pictures, who had a deal to distribute the Silly Symphony films.
Was banned in Denmark in 1931 for being 'too macabre'.
"Title tells the story, but not the number of laughs included in this sounded cartoon short. The number is high. Peak is reached when one skeleton plays the spine of another in xylophone fashion, using a pair of thigh bones as hammers. Perfectly times xylo accompaniment completes the effect. The skeletons hoof and frolic. One throws his skull at a hooting owl and knocks the latter's feathers off. Four bones brothers do a unison routine that's a howl. To set the finish, a rooster crows at the dawn. The skeletons, through for the night, dive into a nearby grave, pulling the lid down after them. Along comes a pair of feet, somehow left behind. They kick on the slab and a bony arm reaches out to pull them in. All takes place in a graveyard. Don't bring your children." - Variety, July 17, 1929
Available on the Walt Disney Animation Studios YouTube channel and the very rare DVD release of Walt Disney Treasures: Silly Symphonies (2001).
UB IWERKS
Ub Iwerks is an enormously important figure in the development of Disney Animation, but not as publically well-known as his creative partner. A native of Kansas, Missouri, Iwerks met Disney in 1919 in Kansas City, and when they began developing the Laugh-O-Gram series, Iwerks was the chief animator. It was Iwerks who developed the designs for Oswald the Lucky Rabbit, and stayed on with Disney after Charles Minz tempted many of the Disney staff over to his studio.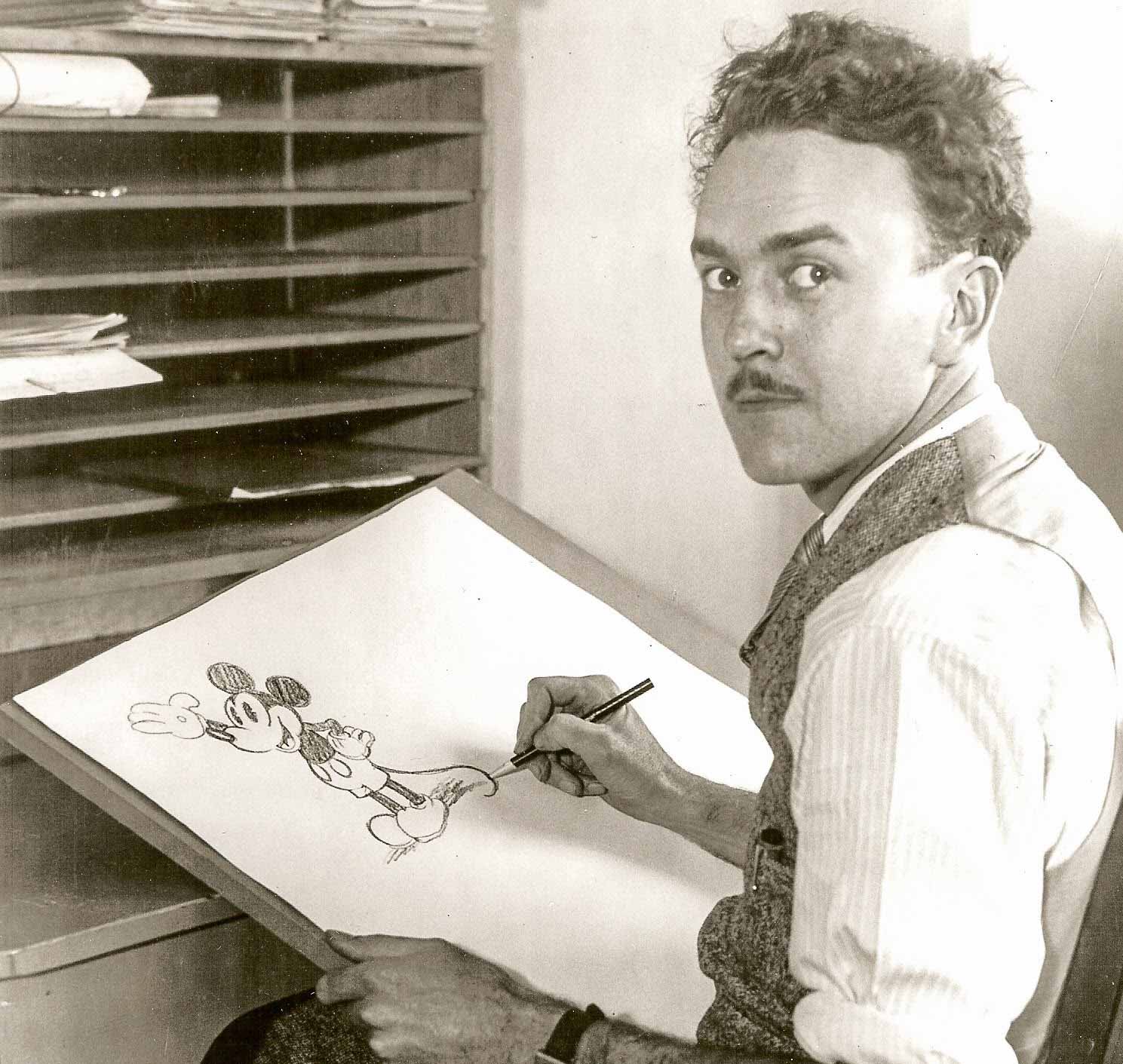 Determined never again to work with a character he did not own, Disney asked Iwerks to develop a new one which became Mickey Mouse. The first few Mickey Mouse and Silly Symphony cartoons, including Steamboat Willie and The Skeleton Dance, were entirely animated by Iwerks, but unable to cope with Disney's difficult and uncompromising demands, as well as disgruntled by his partners' tendency to accept all the credit, Iwerks and Disney severed their friendship in 1930, and the artist who had essentially laid the groundwork for what became the Disney style left the studio to establish his own.
ON THE NEXT EPISODE
We continue with the Silly Symphonies with the Oscar-winning shorts 'Flowers and Trees', 'Three Little Pigs' and 'The Old Mill'.
RESOURCES