Guest
Katrina Cornwall & Morgan Rose - Theatremakers
Credits
Producer/Editor ∷ Alex Amster
Music ∷ Sam Porter
Show Artwork ∷ Nikolaos Pirounakis
Episode Artwork ∷ Lily Meek
Show Notes
When the Second World War came to an end, Walt Disney was ready to return to feature animation. There were a number of potential projects that had slowly continued development, such as 'Alice in Wonderland' and 'The Wind in the Willows', but Roy was adamant - the studio was still $4 million in debt and not in the financial shape to handle the scale of a fully-animated feature film, especially with their inconsistent box office success. By the end of the 40s though, Walt Disney Productions was losing its stature as the pre-eminent animation studio in America, and Walt needed to reassert his dominance with a triumph on the scale of 'Snow White and the Seven Dwarfs'. He chose a project that returned to the formula of that gargantuan success, but filtered through their new style developed out of economic necessity. The gamble would be enormous, perhaps the biggest of his life so far, and the fate of a studio that had risen from rags to riches and fallen back to rags again would rest on the greatest rags-to-riches story of all.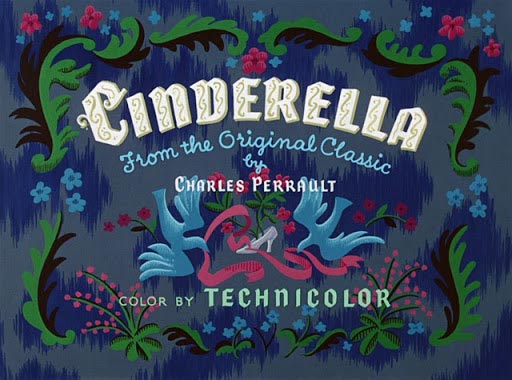 Nonsense, child. If you'd lost all your faith, I couldn't be here. And here I am.
Cinderella (Ilene Woods) lives as a servant to her evil stepmother Lady Tremaine (Eleanor Audley) and her wicked stepsisters Anastasia (Lucille Bliss) and Drizella (Rhoda Williams). When a ball is announced in honour of the Prince, Cinderella hopes to be able to go, but her stepmother makes such a dream impossible. Heartbroken, Cinderella is visited by her Fairy Godmother (Verna Felton), who makes her wish come true, but warns her that she must be home by midnight when the spell is broken. At the ball, Cinderella dances with a handsome young man and falls instantly in love, but doesn't notice the approach to midnight, and in her flight from the ball, leaves behind one of her glass slippers. A royal decree commands every maid in the kingdom to try on the slipper to find the mysterious girl who danced with the young man, who turns out to be the Prince. Realising Cinderella's secret, Lady Tremaine locks her away to prevent her from trying the slipper on, but freed by an intrepid troupe of friendly mice, Cinderella puts on the slipper, is reunited with the Prince and lives happily ever after.
The story of Cinderella is one of the oldest folktales, and has different variations from cultures all over the world dating back as far as Ancient Greece. While published by a number of folklorists over time, including the Brothers Grimm, the most popular version is that by French writer Charles Perrault in 1697, which introduces the pumpkin, the fairy godmother and the glass slippers to the story. It is one of the most well-known and beloved of the traditional fairy tales, adapted hundreds of times over all forms of art and storytelling.
Walt Disney's relationship with the story dates back to 1922 when it was adapted for one of the Laugh-O-Gram shorts. He returned to the story in 1933 for a potential Silly Symphony, and though that version was shelved, he had first put a call out to the staff for gags that might work for the story, some of which would find their way into the final feature film. In the giddy days following the success of 'Snow White', they returned to the story for development into a feature film. A treatment was written by Al Perkins, and over the next twelve years, the project would go through many variations, including characters and scenarios that would later be cut.
After the war, with Roy against the idea of feature films, the two brothers descended into a screaming match. Walt delivered an ultimatum to Roy - find the money for feature animation, or sell off the company. Roy did as his brother asked, but once again began to worry that Walt's recklessness would lead them back towards trouble.
When Walt decided to make the push for feature animation in 1946, he proposed two potential projects to the staff - the long-in-development 'Alice in Wonderland' or the more embryonic 'Cinderella'. Despite 'Alice' being further along, they decided to go with 'Cinderella', though 'Alice' would be developed alongside it. A new treatment was written in 1946 by Ted Sears, Homer Brightman and Harry Reeves, and a release date planned for 1949.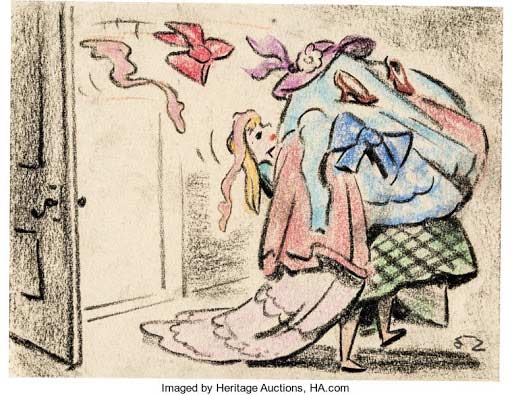 By returning to the fairy tale mould of 'Snow White', Walt hoped to replicate that success critically and commercially. There was no way though that they could lavish the same resources and attention to detail on 'Cinderella', so a new approach was needed. 'Cinderella' would see the artists in every department at Walt Disney Productions put the cost-effective skills they had developed during the Wartime Era to the ultimate test, to see if they were still capable of creating an instant classic under severe artistic constraints. The pressure was on, and not just to make the best film they could. Walt was not being coy about what was at stake - if 'Cinderella' proved yet another box office failure, Walt Disney Productions would cease to exist.
OLD IDEAS AND NEW TRICKS
In 1944, RKO Pictures reissued 'Snow White' for the first time, and while the recent Disney features had barely made a profit, the One That Started It All once again proved a box office success. This must-have weighed on Walt's mind when he restarted development on 'Cinderella' two years later. The most consistent criticism of all their films post-1937 was that they weren't like 'Snow White', so this time, he would give the public what they wanted.
Literary versions of old fairy tales are usually thin and briefly told. They must be expanded and embellished to meet the requirements of theatre playing time, and the common enjoyment of all members of moviegoing families.
'Cinderella' went through many changes during story development, with ideas and characters explored for years before being dropped altogether. In the early stages, the role of the Prince was expanded to give him more to do and provide the film with more action, but over time (possibly because male characters still proved difficult to animate), his role was reduced to almost nothing. In another version, the Stepsisters had a music teacher named Monsieur Lefouf, exacerbated by their terrible singing, but this character also disappeared.
The main focus for the story team was to properly develop the animal characters that live in the house with 'Cinderella'. "The animals were very important to the story," said animator Ollie Johnson in 1995, "because 'Cinderella' could play off of the animals and show her true feelings. That's the type of character relationship that Walt loved."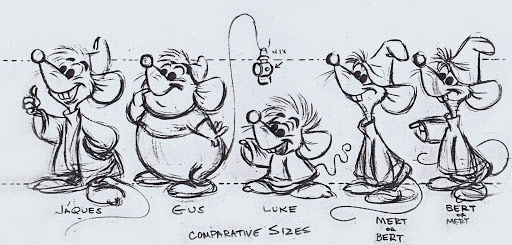 One early idea gave Cinderella a pet turtle named Clarissa, while another included a gossiping crow named Jabber. Over time though, the mice took a greater role and became a subplot in the film, determined to help Cinderella despite the presence of Lady Tremaine's maniacal cat Lucifer. Walt was very careful though not to burden the film with too many gags. "We have to pull a lot of gags that are in just as gags," he said in a story meeting. "There's a time where you can gag a thing and times when you have to carry a certain amount of feeling if you want the story to hold."
The influence of 'Snow White' on 'Cinderella' is very clear in the storytelling, particularly its episodic structure and economic storytelling, but it was also clear that the film could not look like 'Snow White'. A different visual approach was needed, one that would bring the magic audiences expected without costing anywhere near as much. Walt decided that this would be the perfect opportunity to further elevate his favourite artist at the studio, Mary Blair, whose work in the 40s had begun to move Disney animation in a different direction in terms of texture and colour.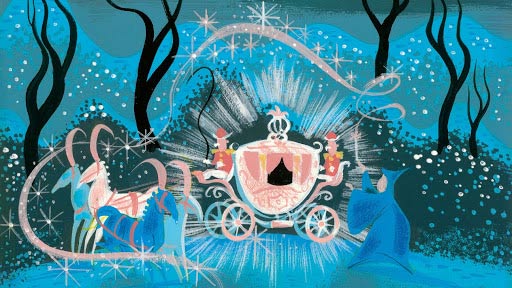 "When Walt decided to make 'Cinderella'," remembered supervising director Ben Sharpsteen in 1974, "he looked for practical ways to style it so that it would not be reminiscent of 'Snow White'. He wanted to plus each picture - he wanted to make every picture better than the last... he was extremely anxious to get Mary Blair's natural talents into the character of Cinderella herself. Mary was given every opportunity to contribute in any way she wished."
The problem was that Blair's style was not easy to replicate, especially rendering her two-dimensional use of shape and texture into three-dimensional characters. The animators tried their best, but with mixed results. "We tried to follow Mary Blair many, many times," said art director Ken Anderson in 1982. "And Walt used to be so annoyed at us because we couldn't pull off what Mary had in these keys that she had made and because the animation didn't seem to be the same decorative type of character that Mary had put in her paintings." This struggle would become one of the defining conflicts within Disney animation in the 1950s, and lead to unexpected and dangerous consequences.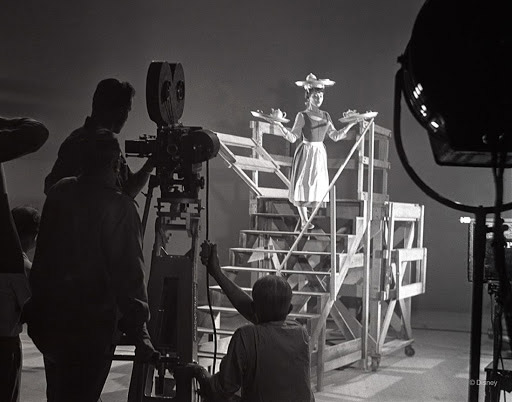 Another controversial decision put further pressure on the animators. Live action reference had been a feature of the process since Snow White, but in 1948, Walt ordered the entire film shot in live action for reference, not just for the animation but for editing, timing and story structure. Actors moved across minimal sets, mouthing along with the pre-recorded track. The footage was then edited and refined for pacing, and then frames printed on large photostats for the animators. This was to save time and money in the rough animation stage, but the animators found it extremely limiting. The free-reign of expression they had enjoyed was being restricted, and they were even being told to stick to static, head-on shots and angles rather than anything complex.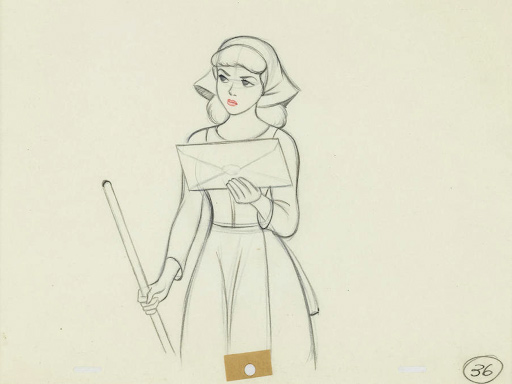 If the live action was good, well I'd use it, but if it wasn't, I didn't use it, and I'd use the best parts of it, and I'd use it to help me enhance something, you know. But I still didn't like to use it.
Both Eric Larson and Marc Davis were put in charge of animating Cinderella, but the two men had very different ideas of who she was. Larson saw her as down-to-earth and grounded, while Davis gave her an air of sophistication, and it was up to the in-betweeners to reconcile the two. Larson gave credit to the strength of dancer Helene Stanley's performance in the reference footage, acknowledging that she "understood the medium like few people did and was a great inspiration…" The key moment of Cinderella's transformation for the ball was animated by Davis, and the sequence is now considered a masterpiece.
Frank Thomas was given the unexpected task of animating Lady Tremaine. He had made his name on characters such as Pinocchio, Bambi and the Seven Dwarfs, so he initially seemed an odd pairing with the terrifying villain. He worked with Ollie Johnson to complete the household, with Johnson animating the two Stepsisters.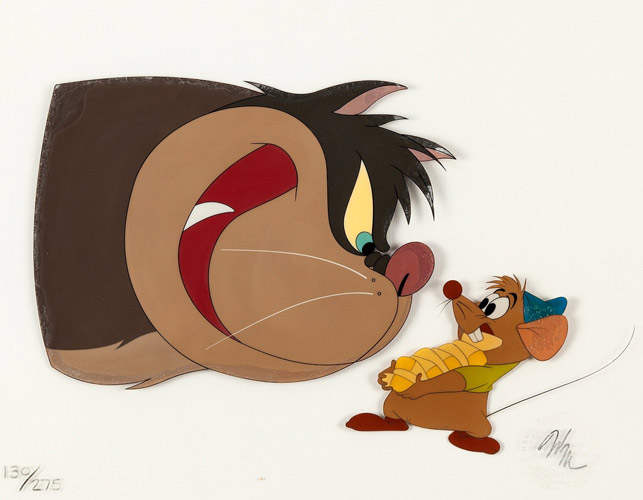 No-one had more fun though than Ward Kimball, who was handed the mice and Lucifer the cat, which he modeled on his own. Kimbell had demonstrated tremendous skill with the madcap and the witty with his work in The Three Caballeros, and he poured this same wit into Cinderella, his comic style a perfect compliment to the classical animation of Larson, Davis and Thomas. He also collaborated with Wolfgang Reitherman, their finest action animator, on the thrilling key sequence in the third act. The casting also freed Kimball of having to deal with the live action reference. "Ward Kimball had the luckiest role because the rest of us were sweating under all the restrictions of the live action we'd shot", said Frank Thomas in 1995. "They didn't shoot live action for him, and he wouldn't have followed it in the first place."
NINE OLD MEN
After the war, and still in debt, the studio was forced to engage in a significant company restructure, including Walt stepping down as President to be chairman of the board, and in 1946, another round of debilitating lay-offs that further impacted the morale of the staff. The company was also diversifying, moving into live action filmmaking, education films and the package films, in order to generate more income.
To assist with maintaining quality control over their animated films, Walt established an Animation Board, whose members were personally selected by Walt and would advise him on projects, devise policies and processes for future films and oversee the development of other animators. He chose from the best of his animation staff, men who had been with the studio since the days of 'Snow White' - Les Clark, Marc Davis, Ollie Johnson, Milt Kahl, Ward Kimbell, Eric Larson, John Lounsbery, Wolfgang Reitherman and Frank Thomas. As a term of affection, he dubbed them his "Nine Old Men", borrowing President Franklin D. Roosevelt's nickname for the nine members of his Supreme Court.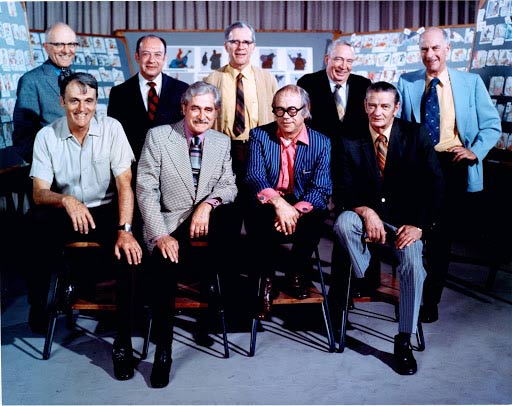 The Nine Old Men would become the primary artistic force in the animation department for the next three decades. Each had incredible skills in their own right, but together they would come to define the classic Disney style, as well as train and nurture the animators that would follow them, not only at Walt Disney Animation but all of the major animation studios in the United States.
The Silver Age represents the Nine Old Men at the height of their creative powers. Over the next nine episodes, we're going to take a look at each of the Nine Old Men, and look at their individual contribution to the art of animation. In this episode, we begin with one of the great Disney draftsman, Marc Davis.
NINE OLD MEN: MARC DAVIS
Marc Davis was born on March 30, 1913 in Bakersfield, California, the only child to Jewish parents Harry and Milfred Davis. Harry Dabis worked in oil field development, and as a result, the Davis' were forced to move often, with Marc attending 26 different schools before reaching high school. He was bullied constantly as a child, but found that one way to escape the attention of bullies was to impress them with his drawing skills, and once he had finished high school, went onto further art studies in Kansas, Los Angeles and San Francisco. His main interest was in animals, and he devoted hours after classes to improving his understanding of animal anatomy.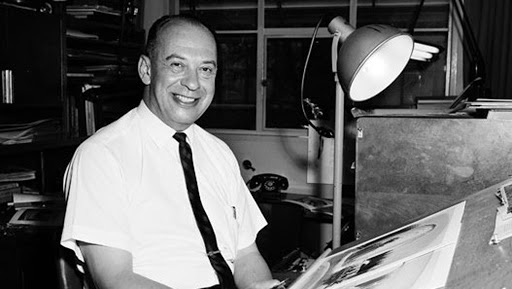 Davis joined the studio in 1935 during the making of Snow White, and began work as an apprentice animator. He made remarkable contributions to 'Bambi', 'Song of the South' and 'The Adventures of Ichabod and Mr. Toad', but it was in the Silver Age where Davis established himself as a legend of the form, thanks to his incredible skill at drawing female characters, something that no-one had been able to perfect.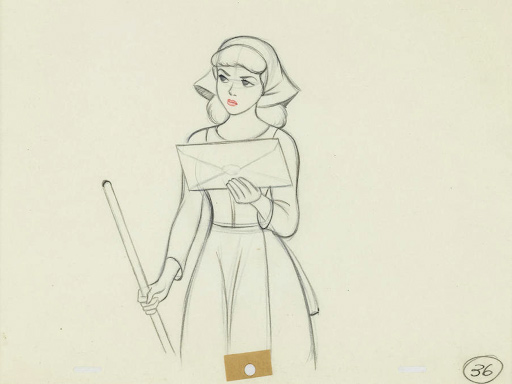 When you look at that face on the screen and the whole face works together, when you smile, the eyes smile, the mouth smiles, the ears even move. This is something when we do it right, the whole thing lights up, and it's like a magic lantern. You see this face that's living.
As well as Cinderella, Davis would be responsible for every major female character in a Disney animated film of the Silver Age, each a greater triumph than the last - Alice, Tinkerbell, Aurora, Maleficent and Cruella DeVil. His incredible draftsmanship and understanding of anatomy had solved the riddles that had plagued the early films, and as a result, the female characters of this period are more expressive, more complex and more abundant than during the 30s and 40s.
As well as his contribution to animation, Davis was also one of the original Imagineers, poached by Walt as part of the development team for what became Disneyland. Davis would design characters and animatronics for some of the most iconic Disneyland attractions, including the Jungle Cruise, it's a small world and the Haunted Mansion. He also lectured at the Chouinard Art Institute, where he met his wife Alice in 1947.
Davis' contribution to the art of animation was widely praised in his lifetime, being inducted as a Disney Legend in 1989 and lending his name to the Academy of Motion Picture Arts and Sciences' annual Marc Davis Lecture on Animation series, which began in 1994 and features lectures from top artists in the industry. He passed away on January 12, 2000, after which the California Institute of the Arts established a scholarship in his name.
His work on the character of Cinderella is remarkable, especially when you consider the limitations of Snow White less than 15 years before, but it is even more remarkable to consider the work that was to come. After a strong male focus for the first decade or so of features, the next ten years would see a significant rise in female protagonists, and much of that must be attributed to the confident, inspiring work of Marc Davis.
A NEW SOUND
Another way in which Walt Disney hoped to replicate the success of 'Snow White' was with the songs written for 'Cinderella'. The songs composed for 'Snow White' had been commercial hits, as had the soundtrack album, and Walt thought that extra revenue could be found by making sure the songs in 'Cinderella' would be equally embraced by the public.
Larry Morey and Charles Walcott were given the task of composing the songs in 1946, but despite writing a number of songs, none of them were used in the final film. Music had come a long way since 1937, and the kind of songs that had charmed back then certainly wouldn't do now. Instead, Walt decided to look outside of the studio and into the world of commercial music to find songwriters who could guarantee him a string of hits.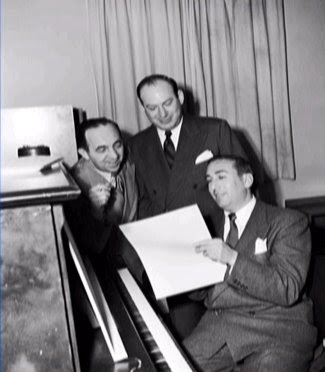 The New York music publishing firm Tin Can Alley had become a major force in American popular music, representing and publishing some of the biggest hits of the early twentieth century. In 1947, the Tin Pan Alley songwriting team Al Hoffman, Mack David and Jerry Livingston released their hit song 'Chi-Baba, Chi-Baba (My Bambino Go To Sleep)'. Walt heard it on the radio, thought it would be a great fit for the Fairy Godmother, and approached the team to compose the songs for Cinderella. It was the first time composers from outside of the company had been engaged on a project, and they brought with them a new, modern sound that was unlike anything heard in Disney features before. Their lyrics were clever, their rhythms were catchy and their sound emulated the crooning hits of popular music at the time. The first song they wrote was 'A Dream is a Wish Your Heart Makes', and upon hearing it, Walt gave his ultimate approval - "That'll do."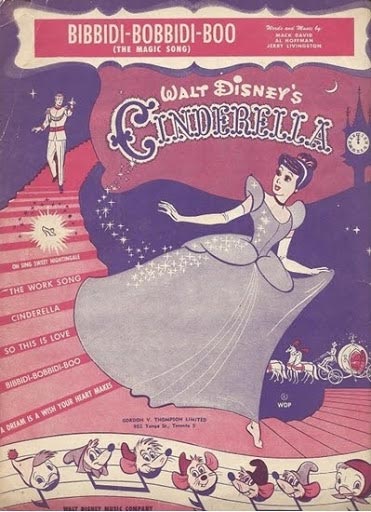 David, Hoffman and Livingston were also responsible for bringing singer Irene Woods onto the film. The four had known each other back in New York, and while Woods was in Los Angeles, they asked her if she could help them record the demos for the songs to present to Walt. Woods was happy to oblige and didn't think anything of the recordings afterwards, but Walt was so enchanted by her voice that he asked to meet her. Woods was offered both the singing and speaking role of Cinderella.
Other actors featured in the film included Verna Felton as the Fairy Godmother, who had played an elephant in 'Dumbo' and would feature in all of the Disney animated features in the 50s, and Eleanor Audley, whose iconic performance as Lady Tremaine would lead to her equally iconic performance as Maleficent in 'Sleeping Beauty'. Great vocal work also came from unexpected places, with Ink & Paint artist Lucile Williams lending her voice to the film as the mouse Perla, and Jim Macdonald, the new voice of Mickey, providing the voices for the mice Jaq and Gus.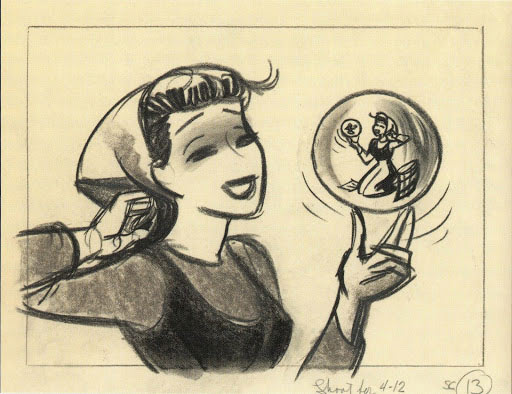 One of the great musical moments in the film is where 'Cinderella' sings 'Sing, Sweet Nightingale' in three-part harmony with herself. To achieve this, they used overdubbing technology invented by musician Les Paul. Walt had offered the idea himself, imagining Cinderella singing to reflections of herself in the bubbles. Ub Iwerks was put in charge of the bubbles to make sure they were perfectly synced to the harmonies. Artists from Ink & Paint used different colours of ink to render them in different shades, giving them the dimensionality needed to hold the various reflections of Cinderella. Even with all the tremendous marriages of music and visuals in 'Cinderella', including the transformation and the ball, 'Sing, Sweet Nightingale' is maybe the most triumphant.
RELEASE
Despite his initial burst of enthusiasm, Walt found himself tiring quickly of 'Cinderella'. He had forced every department to cut corners in order to make sure his grand vision made it to the screen, but in the end, all he could see were those cut corners. The film had charm, but not the opulence or ambition of Snow White, and even the qualities he had fallen in love with in Mary Blair's work hadn't translated as well as he would have liked.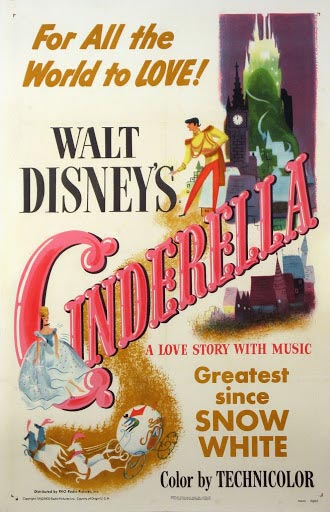 I remember Walt saying, "This is it. We're in a bad way. If this picture doesn't make money, we're going to be finished. The studio's going to be kaput!"
He had also become distracted by other projects he found far more interesting. He had become obsessed with model trains, personally working on elaborate working models that were set up initially at the studio, before redevelopments at his home allowed him to set them up there. Income from Great Britain that had been frozen during the war was also now available, so he had moved live action film production there to save on costs. For much of the last stretch of 'Cinderella', Walt was in England overseeing the lavish production of 'Treasure Island' (1950), so directors Clyde Geronimi, Wilfred Jackson and Hamilton Luske would mail him updates, scripts and storyboards for approval. After two months without a word back from Walt, they decided to continue production, but upon his return, Walt was critical of the work and ordered much of it redone.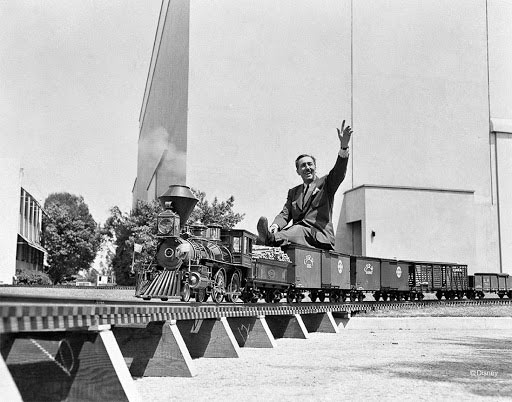 On the 13th of October 1949, production was complete on 'Cinderella'. The studio had been gearing up for a big publicity and merchandising campaign spearheaded by the studio's merchandising executive Kay Kamen, who had joined the studio in the 20s and overseen the licensing of Mickey Mouse merchandise. A few weeks later though, on the 28th October, Kamen was killed in a plane crash. Walt took the news hard. Not only had Kamen been a great collaborator, but the two men had become close friends.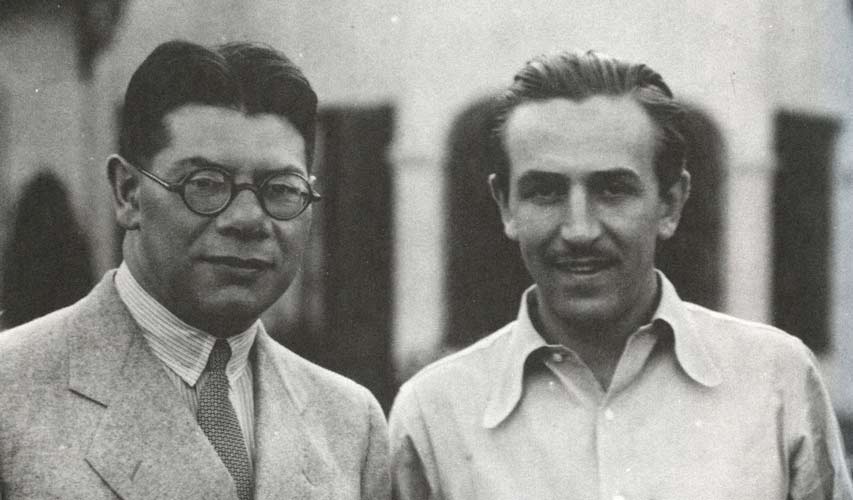 As 'Cinderella' approached its premiere in February 1950, Walt would occasionally articulate his disappointment. "The finished picture is not everything that we wanted it to be," he said to This Week on the 18th of November 18, "but today, it is quite a problem what with costs, labour etc. to do all the things we would like to do." Perhaps he was gearing himself up for the inevitable, that Cinderella would be the film that sunk his studio once and for all.
...masterpiece of all pictures you have done.
'Cinderella' would be the film that saved Walt Disney Productions, becoming an enormous box office hit. The reviews were mostly warm, Mae Tinee writing in the Chicago Tribune in February 1950, "The film not only is handsome, with imaginative art and glowing colors to bedeck the old fairy tale, but it also is told in a gentle fashion, without the lurid villains which sometimes give little lots nightmares. It is enhanced by the sudden, piquant touches of humor and the music which appeal to old and young." The bulk of the criticism was levelled at Cinderella herself, many finding her underdeveloped and insipid.

The public response though was ecstatic, and the film, which had cost $2.2 million, ended its initial theatrical run having grossed $7.9 million, the biggest profit of any Disney film since 'Snow White'. It also made further profits with merchandising, and almost all of the songs became hits, both individually and as part of the best-selling soundtrack album, which hit number one on the Billboards pop charts. The film's success continued into 1951, with three Oscar nominations - for Best Sound, Best Score and Best Song for 'Bibbidi-Bobbidi-Boo', and the Golden Bear at the first Berlin International Film Awards.
I think at the heart of all the classic Disney films is transformation. That's what we're animating, we're animating those moments, for Pinocchio to become a real boy, for Cinderella to imagine herself as chosen by the Prince and dressed in this beautiful gown...
'Cinderella' became an instant classic, and is still one of the most beloved Disney animated films. With each subsequent rerelease, it continued to grow in affection and stature, and in the AFI's 10 Top 10 for animation, it ranked 9th. In many ways, Cinderella is an improvement on 'Snow White and the Seven Dwarfs'. While the earlier film is the more lavish, more enchanting, more visually breathtaking, 'Cinderella' succeeds on the dimensionality of its protagonist and the strength of its more sophisticated characters and storytelling. Even now, watching 'Cinderella' is watching an artistic triumph in motion.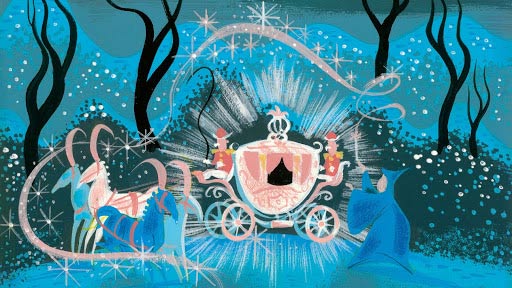 Most importantly, the enormous box office success of the film ensured the security of Walt Disney Productions. Their debts had been cleared, their standing in the film community reasserted and the future of feature animation guaranteed. They had gambled everything on 'Cinderella', and for the first time in a long time, the gamble had actually paid off.
Despite the success of 'Cinderella', Walt Disney was growing bored of animation. If anything, the success of the film had proved what he'd always known, that his studio and his artists were the best in the business, and that even with their wings cut, they could still beat out the competition. He needed a new challenge. He'd tried with live action filmmaking, but even that was starting to bore him. He was searching for something new, something revolutionary, something that could give him back the thrill he'd had back in 1937. The profits from 'Cinderella' had finally given him the chance to work out what that could be.
In the meantime though, the many feature film projects that had been languishing for over a decade could finally come to fruition, the first of which would be a project they had been working on for a very, very long time. In that same interview with This Week in November 1949, Walt had teased that "we are now getting our organisation in such shape that I think we are going to come out with a real post-war production... It looks unusually good." The production in question would be unlike any they had made before, an adaptation of the greatest work of children's literature ever written, a project with which they were engaged in a constant wrestling match. It seemed straight-forward enough - a young girl falls down a rabbit hole and finds herself in a place where nothing makes sense - but the film would be one of Walt Disney Productions' most frustrating experiences and one of the greatest films they would ever make.
HOME VIDEO HISTORY

'Cinderella' made its home entertainment debut in 1988 on VHS and Laserdisc, becoming the biggest selling VHS at the time. By the time it was placed in moratorium in 1989, it had sold 7 million copies. It was released again on both formats in 1995, selling a further 15 million copies.
The film made its DVD debut in October 2005 as part of the Platinum Edition series. The two-disc set featured newly remastered picture and sound, and a number of special features on the making of the film. It was returned back to the vault in January 2008.
In April 2011, a special "Royal Edition" was released in the UK to coincide with the wedding of Prince William and Kate Middleton. Each came with a limited, numbered slipcase and art card.
Cinderella had its Blu-ray debut in October 2012 as part of the Diamond Edition line, though the set did not feature many new special features, carrying over the bulk of those from the Platinum Edition.
To celebrate the film's 70th anniversary in 2019, it was released on Blu-ray as part of the Signature Collection and on Digital HD, though as with all of the Signature Collection editions, many of the previous special features were dropped.
The film is available in its original form on Disney+.
ON THE NEXT EPISODE
Walt Disney Productions deliver a bizarre, bombastic and ecstatic masterpiece in their long-gestating adaptation of 'Alice in Wonderland', a film that would push Walt Disney even further away from animation.
RESOURCES
Wikipedia on Cinderella (the film and the fairy tale) and Marc Davis
Cinderella: Diamond Edition, Blu-ray, 2012
Walt Disney: The Triumph of the American Imagination, Neal Gabler, 2006
The Disney Studio Story, Richard Hollis and Brian Sibley, 1988
They Drew As They Pleased: Volume IV - The Hidden Art of Disney's Mid-Century Period (The 1950's and 1960's), Didier Ghez, 2016
Ink & Paint: The Women of Walt Disney's Animation, Mindy Johnson, 2017
The Archive Series: Nine Old Men - The Flipbooks, Pete Doctor, 2012
The Annotated Classic Fairy Tales, ed. Maria Tatar, 2002
The Annotated Brothers Grimm, Jacob & Wilhelm Grimm (ed. Maria Tatar), 2004