Credits
Producer/Editor ∷ Alex Amster
Music ∷ Sam Porter
Show Artwork ∷ Nikolaos Pirounakis
Episode Artwork ∷ Lily Meek
Show Notes
The return to feature animation for Walt Disney Productions was turning out to be a fraught one. 'Cinderella' had been the critical and commercial success they needed, but 'Alice in Wonderland' had left critics and audiences cold, and the Disney artists frustrated. Adapting a beloved work of literature was a difficult business, balancing legacy, expectation and artistic expression in a way that wasn't so tricky with a fairy tale. Following 'Alice' would be another adaptation of a literary great, but this one at least had the advantage of sturdier plot and characters. Determined to find clarity after years down the rabbit hole, Walt Disney and his team were enthusiastic about this new adventure, one that would have them wrestling with childhood imagination, the responsibilities of adulthood and the incomprehensible nature of mortality, encapsulated in the beloved tale of a little boy who never wants to grow up.
You know, I have the strangest feeling that I've seen that ship before. A long time ago, when I was very young.
Around the year 1900, Wendy (Kathryn Beaumont) entertains her younger brothers John (Paul Collins) and Michael (Tommy Luske) with stories of the mythical Peter Pan (Bobby Driscoll), a boy who never grows old, who lives in Never Land fighting pirates and Indians, and who can fly. One night, Peter flies through their bedroom window looking for his lost shadow, accompanied by the fairy Tinker Bell. He teaches the children to fly and takes them back with him to Never Land, where they meet the Lost Boys and start their adventures. However, Pan's mortal enemy, Captain James Hook (Hans Conreid), sees the children as his opportunity to kill Pan once and for all, capturing them and Lost Boys, and planting a bomb to blow Peter up. Hook's plan doesn't work, and Peter saves the day, before returning the children to their home in London on a magical flying pirate ship.
One of the most beloved children's stories in English literature, Peter Pan's adventures originated from the 1902 novel 'The Little White Bird' by Scottish writer James Matthew Barrie. In 1904, he expanded on the character of Peter for the play 'Peter Pan; or the Boy Who Wouldn't Grow Up', which became an enormous success. In 1906, the Pan chapters in 'The Little White Bird' were published separately as 'Peter Pan in Kensington Gardens', and in 1911, Barrie adapted the play as a novel, 'Peter and Wendy', which has become the best-known version of the story. Peter's adventures were inspired by the stories Barrie had told the sons of friend Syliva and Arthur Llewelyn Davies, and after both their parents had died, Barrie became the boys' co-guardian.
In an article published around the release of the film in 1953, Walt Disney wrote that his affection for the story of Peter Pan was second-only to that of Snow White. In 1913, he had seen a touring production of the play and had been transfixed by it, later playing Peter in a production at school. As with 'Alice', it was one of the first projects he considered as a follow-up to 'Snow White', and in 1935, pursued the film rights, but found that Great Ormond Street Hospital in London, to whom Barrie had willed the rights to the play and novel, had already sold them to Paramount. In January 1939, a deal was struck between the studio and the hospital for the cartoon rights, with Disney beating out the Fleischer Bros, who had also started working on feature animated films.
As with many of these early feature projects, 'Peter Pan' would not come to fruition until after the Second World War, but while 'Alice' was driven by obligation, 'Pan' was driven by Walt's insatiable affection for the play. Many of the greatest artists at the studio would leave their fingerprints on the project. It was the perfect match for Walt Disney Animation, not just because of its imagination and theatricality, but because of the idea at the heart of Barrie's story - the collision between the magical abandon of childhood and the cold reality of adulthood, a nexus point where Peter, Wendy and Walt all found themselves.
FIRST FLIGHT
In April 1938, Roy Disney travelled to Europe on studio business, and one of his tasks was to acquire the rights to properties that could be adapted into future projects. He approached the Great Ormond Street Hospital about the rights to 'Peter Pan', but Paramount Pictures had already acquired the live-action rights. The hospital suggested an arrangement between the two studios, but when that proved unworkable, they struck an agreement for the cartoon rights in January 1939 for £5000, and Walt ordered work to begin immediately.
What Barrie wished to do, and what we had to do in bringing his play to the screen, was to recreate a children's world, but a children's world in which adults could find a place.
'Peter Pan' had built a strong theatrical tradition since 1904, and as the film would be drawn primarily from the play rather than the novel, the story artists had to contend with these traditions as well as the play itself. They included Peter Pan being played by a female actor, Tinker Bell being represented as a spot of light, a man in a dog suit as the childrens' Newfoundland nurse Nana, and Mr Darling and Captain Hook being played by the same actor. Not all of these traditions would carry over to the final film, but would all at least act as provocations for achieving in animation what theatre and live-action could not.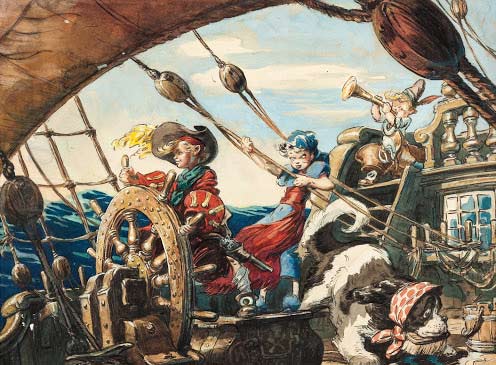 On top of the incredible work he had done for 'Alice in Wonderland', British artist David Hall also created a series of story sketches and paintings for 'Peter Pan', this time in ink and watercolour. As well as Hall, a number of important artists from the Golden Age worked on the project, including Albert Hurter, Bianca Majolie, Eduardo Solá Franco and Jack Miller. In an early version, presented as a Leica reel at the end of 1939, Nana travelled along with the children, and as with Alice, the treatment had a much darker tone. Other ideas included beginning the film with material from 'Peter Pan in Kensington Gardens', showing Peter as a baby flying away from his mother and landing in Never Land, as well as a version that began in Never Land with the Lost Boys fighting the Indians, before Peter flies away to kidnap Wendy. All of these ideas were rejected though, and with 'Pinocchio', 'Fantasia' and 'Bambi' already in production, story development began to slow down.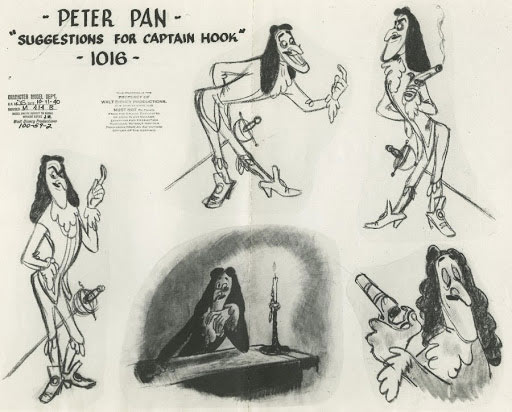 Composers Frank Churchill and Charles Wollcott also composed songs for the project, but while none were used in the final film, Churchill's song 'Never Smile At A Crocodile' was incorporated into Oliver Wallace's score and, along with lyrics by Jack Lawrence, later became a hit song in its own right.
Following the ultimatum on feature animation projects from Bank of America in October 1941, 'Peter Pan' was shelved, along with every other project except 'The Wind in the Willows'. That Thanksgiving, Walt suggested to Roy that the two projects should swap places, as they would cost the same but Peter Pan had better box office potential. Regardless of the swap, the project was not restarted.
After the war, Walt asked director Jack Kinney to prepare a new storyboard of 'Peter Pan', but ordered him to work on the storyboards and script concurrently to save time, rather than waiting for the script to be completed first. Kinney asked Walt if he wanted progress updates, but he was told to complete the storyboards first, a task that took six months and 3,900 sketches. Kinney's final presentation lasted two-and-a-half hours, but afterwards, Walt decided they would go with Cinderella as their returning feature project instead.
Over the next few years, work continued to try and crack the story for the screen, a journey that would take them in many unexpected directions. Early treatments show the story artists sticking quite close to Barrie's novel, including Mrs Darling discovering Peter and his shadow, and an introduction to Never Land where the Lost Boys, the pirates, the Indians and Tick-Tock the crocodile circled the island hunting one another. One curious and persistent idea did divert drastically from the novel, with Peter leaving John behind, deciding he is too serious and pragmatic for his liking. It wasn't until 1948, with the suggestion of writer Ralph Wright, that John joined the adventures in Never Land as a younger comic replica of his father. Walt's response to this idea was simply, "Good".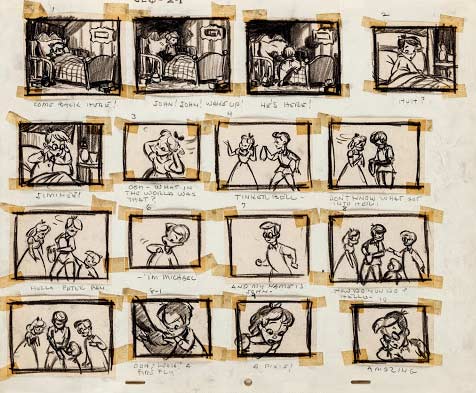 Peter had traditionally been played by a female actor, and initially it seemed that the production would follow suit. Walt approached Mary Martin to play the voice of Peter, as she had been garnering praise for her performances as Peter in the play, but Roy suggested that her voice was too mature. Jean Arthur unsuccessfully lobbied for the role, and Walt also approached Cary Grant to voice Captain Hook. Grant is said to have been intrigued by the idea, but it also never eventuated.
Finally, with production winding down on 'Cinderella' and ramping up on 'Alice in Wonderland', production officially began in 'Peter Pan' in 1949. At one point, Walt and Roy had wanted to swap the problematic 'Alice' with 'Pan' in the schedule, but the latter was far from ready. As 'Alice' was coming to an end in 1951, many of the same artists (with a sense of relief) started work on 'Peter Pan'.
NINE OLD MEN: FRANK THOMAS
Over the course of our episodes on the Silver Age of Disney Animation, we are taking a look at each of the Nine Old Men, the core team of animators that defined the classical Disney style, and at their individual contribution to the art of animation. In this episode, we look at one of the most important and influential Disney animators, Frank Thomas.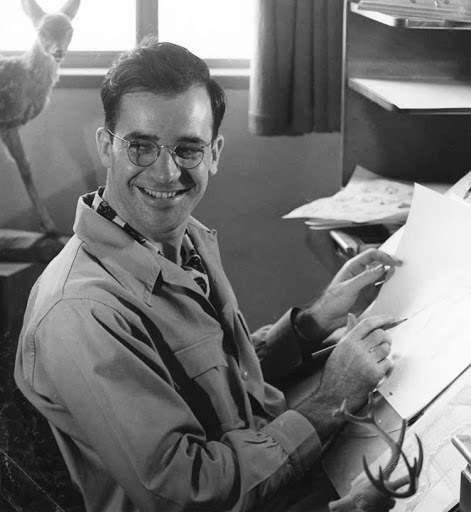 Frank Thomas was born Santa Monica, California on the 5th September 1912, the youngest of three boys. He attended Fresno State College, where his interest in art and film began to emerge, and followed Fresno State with Stanford University. It was here that he met lifelong friend Ollie Johnson, who would later be his greatest collaborator at Walt Disney Productions. After graduating in 1933, Thomas studied at the Chouinard Art Institute, and with encouragement from his roommate James Algar, applied for a job as an in-betweener at Disney. He joined the studio in September 1934.
His first assignments were on the Mickey Mouse shorts, but very quickly, Thomas began to establish himself as one of the most impressive animators at the studio. On 'Snow White and the Seven Dwarfs', he animated the sequence where the dwarfs cry over Snow White's sleeping body, a scene that reduced audiences to tears. That moment alone would be enough to secure him a place in animation history, but Frank Thomas is responsible for many of the most iconic and technically impressive moments in Disney animation - Pinocchio dancing in the marionette theatre, Bambi and Thumper skating on the ice, Lady and Tramp eating spaghetti, Mary Poppins and Bert dancing with the penguins, and King Louie singing 'I Wanna Be Like You'. He also participated in the Goodwill Tour of South America in 1941, and animated The Flying Gauchito in 'The Three Caballeros'.
Though he had established himself in feature animation with characters like Pinocchio and Bambi, Thomas' contribution to the Silver Age includes some of its most endearing villains. He was surprised to be given the assignment of Lady Tremaine in 'Cinderella', but delivered a frightening, memorable performance. He followed this with far more playful but no less maniacal characters, the Queen of Hearts in 'Alice in Wonderland' and Captain Hook in 'Peter Pan'. The latter in particular was a real treat for Thomas, a delicious mix of foppish arrogance and childish whims, and gave him his first opportunity to properly collaborate with Ollie Johnson, who was the supervising animator for Smee. In the years to come, he would return to more sympathetic characters, such as Lady and Tramp, the Three Good Fairies, Pongo and Perdita and Winnie the Pooh, before retiring from the studio in January 1978.
A few years later, he and Johnson collaborated on one of the definitive texts on hand-drawn animation, 'Disney Animation: The Illusion of Life', published in 1981. It has since become a classic text on the subject, offering a detailed portrait of Disney animation techniques. Over the following decades, Thomas would continue to be recognised as one of the most important Disney artists, often through the lens of his friendship with Johnson. Their relationship was the subject of the 1995 documentary Frank and Ollie, directed by Thomas' son Theodore. Frank Thomas passed away on the 8th September 2004.
Watching Thomas' work today, what is so striking, apart from his incredible draftsmanship, is his remarkable attention to detail and how deeply emotional his work is, whether it be for humour, empathy or fear. His work on 'Pinocchio' is perhaps the finest character animation that exists, and his tremendous wit can be seen in every ridiculous detail of Captain Hook's performance. It's no wonder 'Looney Tunes' animator Chuck Jones once referred to Frank Thomas as "the Laurence Olivier of animation".
A LITTLE BIT OF PIXIE DUST
While developing the story for 'Peter Pan', the Disney artists went as close to the original source as possible. As well as the published play text, they also referenced a rehearsal copy of the play with Barrie's handwritten stage directions and notations, to see if there were any clues in there they could use.
'Peter Pan' is a work of sheer magic, and you do not create magic to order. We have somehow to recreate the essence of make believe, and do it in such a way that millions of people, who'd known and loved Barrie's play since it was first performed in 1904, would recognise it and approve of what we had done.
Around 1948, a rough treatment of 'Peter Pan' was screened internally, along with an early version of 'The Sword in the Stone'. The response was mixed, particularly towards a live-action framing device featuring adult Wendy, John and Michael reading Barrie's book, before the cartoon characters leap out of it. Another concern was the characterisation of Tinker Bell. Some thought her too contemporary, with one audience member calling her a "little night club dame". After this screening, the framing device was removed and the story simplified.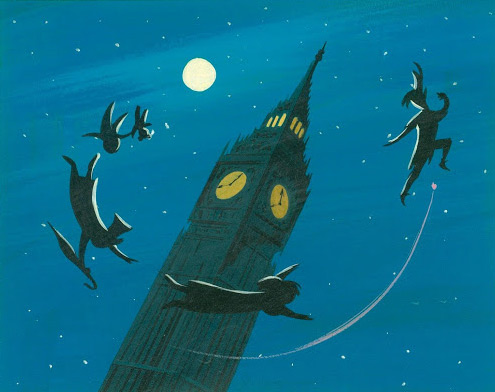 Once 'Alice in Wonderland' had finished production, the same artists carried over onto 'Peter Pan', including Kathryn Beaumount, who went straight from playing Alice to Wendy. In keeping with theatrical tradition, actor and comedian Hans Conreid would play both Captain Hook and Mr Darling, and Bill Thompson followed his performance of the White Rabbit with Mr Smee.
Ever since the premiere of the play in 1904, Peter had been played by a female actor. For the first time, Walt broke that tradition, casting young actor Bobby Driscoll in the role. Driscoll had become a staple at Walt Disney Productions, having appeared in their first three major live action films - 'Song of the South' (1946), 'So Dear To My Heart' (1948) and 'Treasure Island' (1950). He had even earned a Juvenile Academy Award in 1950, a special award occasionally given by the Governors of the Academy of Motion Picture Arts and Sciences to actors under the age of eight.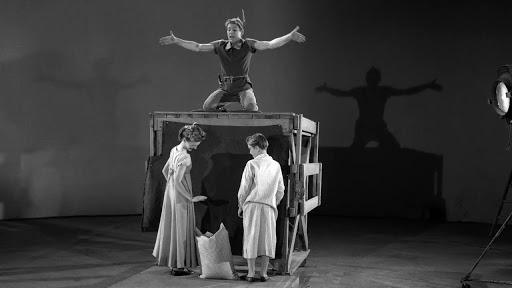 Once again, the entire film was shot for live-action reference, featuring many of the voice actors who had just recorded their dialogue together. Though animator Marc Davis modelled Tinker Bell on Ink & Paint artist Ginni Mack, dancer Margarey Kerry performed as the live-action reference, improvising the mirror moment in the children's bedroom and interacting with large-scale versions of household objects.
Animator Milt Kahl had been assigned Peter and the Darling children, but was faced with the challenge of animating human beings in flight. "Animators had not dealt with the problem of weightlessness and movement in the air," Kathryn Beaumont later recalled, "so they had to simulate that. We were attached to a wire and harness, and then floated back and forth across the stage while we were being filmed." For the flying and action sequences, Margaret Kerry's dance teacher Roland Dupree played Peter, while Driscoll stepped in for the close-ups. Over the next few years, Hans Conried would return to film more live-action reference footage for Captain Hook.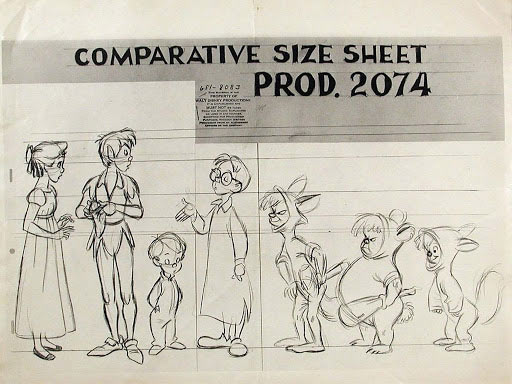 Though 'Peter Pan' was running much smoother than 'Alice in Wonderland', there were still disagreements. Many of the supervising directors were once again trying to outdo one another, and the film began to feel disjointed. It also didn't help that Walt was now fully distracted with projects outside of animation, and wasn't there to pull the team together. A small group of artists decided to take the matter into their own hands, and worked together to pull the film back into shape. Walt also complained to Davis that Peter was looking too much like Bobby Driscoll, "too masculine, too old". When pressed for an explanation, Davis snapped back that it was because of the slip in quality at the studio.
There were flashes of exciting collaboration though. Frank Thomas and Ollie Johnson were spinning gold working together on Hook and Smee, beautifully complementing one another. Thomas also shared duties on Captain Hook with Wolfgang Reitherman, who had proven himself the most adept animation director with action sequences, and delivered the rousing fight sequences between Hook and Peter.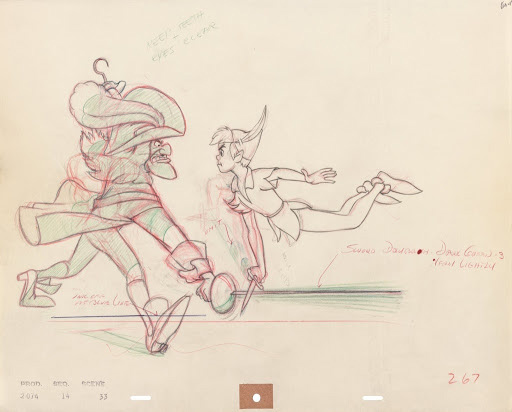 'Peter Pan' would also see a transition from one major Disney conceptual artist to another. Once again, Mary Blair completed a series of thrilling artworks for the film, many of which influenced the texture of Never Land, but it would be the last film she would work on, leaving the studio in 1953. It was also the first film project for American artist Eyvind Earle, who joined the studio in 1951. Earle contributed to the record-breaking 934 backgrounds painted for the film, but in only a few years, would take Mary's place as the chief conceptual artist at Disney on one of its most legendary and calamitous films, 'Sleeping Beauty'.
OLIVER WALLACE
During the Silver Age, another important Disney artist reached the height of their powers, even though they had already been at the studio for decades. By the time production began on 'Peter Pan', British-born composer Oliver Wallace was solely responsible for the orchestral scores for the films, mixing the work of the collaborating songwriters with incredible compositions of his own.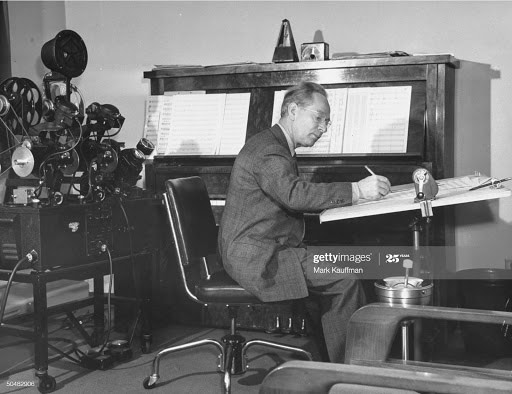 Wallace was born in London on the 6th August 1887, and after completing his musical education, moved to the U.S. in 1904. He began work as a conductor and organist in movie theatres, before moving into composing for Hollywood films, and eventually joining Walt Disney Productions in 1936. At first, he composed music for a number of short subjects, but began work on the feature films as the uncredited conductor in 'Pinocchio'. In 1941, he and Frank Churchill received an Oscar for their extraordinary score for 'Dumbo', the only Oscar Wallace would receive in his career.
With the start of the Second World War, Wallace began to take on more significant assignments, including the score for 'Victory Through Air Power'. He also had an unexpected success with his song 'Der Fuhrer's Face', which was recorded by Spike Jones and His City Slickers and was featured in the Oscar-winning short of the same name. Following the war, Wallace oversaw the music on 'Make Mine Music' and 'Fun & Fancy Free', before taking over solo scoring duties on 'The Adventures of Ichabod and Mr. Toad'.
It was during the Silver Age though that Wallace delivered his greatest work, with his three magnificent scores for 'Cinderella', 'Alice in Wonderland' and 'Peter Pan', the first two nominated for Oscars. In many ways, 'Peter Pan' shows Wallace at his best, taking the songs by Sammy Cahn and Sammy Frain and elevating them into a lush, romantic score. His orchestrations for 'You Can Fly!', featuring Bing Crosby's back-up singers, Jud Colson Chorus and Mellomen, are remarkable, and perfectly capture the film's sense of hope, flight and adventure. Perhaps his best work in the film though is the simplest - the three note motif representing Peter himself, first heard on a solo flute as the silhouette of Peter arrives on the roof of the Darling's home. It is the essence of the film distilled into three notes, simple and dangerous, mysterious and thrilling.
During his 27 years at the studio, Oliver Wallace contributed to around 150 productions, including many live-action films and nature documentaries. His lush, rich compositions further developed the sound established by Frank Churchill, combining it with the beat of the 1950s. In many ways, Walt Disney feature animation wouldn't hear his like again until the arrival of Alan Menken in the 1980s. Oliver Wallace is one of those figures whose work defined what Disney means to us, what we hear and feel when we think of their films. He was inducted as a Disney Legend in 2008.
RELEASE
By the time production on 'Peter Pan' was in full swing, the artists at Disney had begun to find their footing without Walt's constant attention. He still demanded input when he felt inclined, but this was becoming less and less frequent. Walt was now fully distracted with new ambitions that would eventually lead him to Disneyland, and so the Nine Old Men, along with directors Clyde Geronimi, Wilfred Jackson and Hamilton Luske, were responsible for anticipating Walt's demands and delivering the films on-time and on-budget.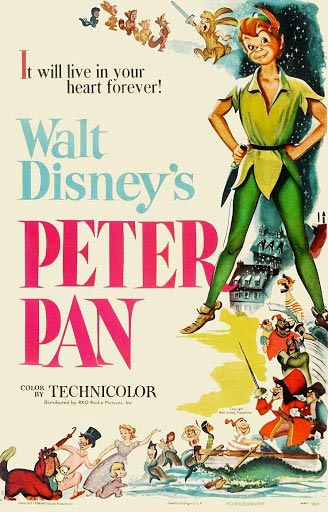 One of the few animators from before 'Snow White' and the Golden Age films still working at the studio was Fred Moore. He had been one of their most respected artists, responsible for the redesign of Mickey Mouse for 'The Sorcerer's Apprentice' and many of their female characters, but as the form evolved, Moore was slow to evolve with it. He had been fired in 1946 due to his alcoholism, but rehired in 1948, and had continued to work on the feature films, despite harsh and often cruel criticisms of his work from Walt. Moore had been animating the mermaids and Lost Boys in 'Peter Pan' when, on November 22 1952, he and his second wife Virginia Moore were injured in a car accident. The following day, Fred Moore died of a cerebral concussion. 'Peter Pan' was the last Disney feature to which he contributed. He was 41 years old.
Peter Pan was released on the 5th February 1953, and as with 'Alice in Wonderland', was met with mixed reviews. Critics in the UK savaged the film - "Having mutilated Alice in Wonderland, he now murders Peter Pan," wrote one British critic, "and I hate the assumed innocence with which he does it." The bulk of the criticisms were directed at the changes from the original text, and how the magic of the play had not translated over."
"Mr Disney has completely eliminated from this film", wrote New York Times critic Bosley Crowther on the 12th of February, "the spirit of guileless credulity in fairy magic that prevails in the play." There was a consensus though that the film was technically impressive, and unlike Alice, it was a modest success, earning $7 million on its initial theatrical run.
I think what's particularly interesting about 'Peter Pan' and the Walt Disney story is that it's one of the films that you know from other media. Most people who see the Disney cartoon of 'Peter Pan' have seen some other version of 'Peter Pan'... and yet, the Disney version has its own identity. It's a unique telling of 'Peter Pan' that's still faithful, but has its own way of doing things, and its own character development and its own means of laying out the story, and endearing itself to an audience.
Over the decades and with subsequent re-releases, the film has gained popularity and stature, earning its place as a Disney classic, but while the charm of the film hasn't faded, its depiction of Native American culture has earned significant criticism. The Indian tribe in the film is represented using lazy stereotypes and caricatures, and the lyrics in 'What Makes The Red Man Red?' make uncomfortable jokes around Native American cultural heritage. In a way, this is another tradition the film carries over from Barrie's play and novel - its stereotypes may not be as outwardly racist as Barrie's, but they are no less problematic or ignorant. "I'm not sure we would have done the Indians if we were making this movie now," remarked animator Marc Davis decades later. "And if we had, we wouldn't do them the way we did back then."
'Peter Pan' also carries over many of the complicated gender politics of Barrie's play, but this surprisingly works to the film's advantage. Of the many adaptations of 'Peter Pan' since 1953, none have so actively engaged with the conundrums of the source material, or fully embraced Peter's childish, violent personality. The 1953 Disney adaptation may streamline the narrative and eliminate much of its darkness, but just as they had done with 'Alice', they preserve the spirit of Barrie's story, how actions lead to consequences, the struggle between the free and ignorance innocence of childhood and the reality and responsibility of adulthood, and how the process of growing up is finding a symbiosis between the two. Just like J.M. Barrie's play and novel, the Disney 'Peter Pan' is a knotty, complex work of art, one that we have to wrestle with, but one worth the wrestling.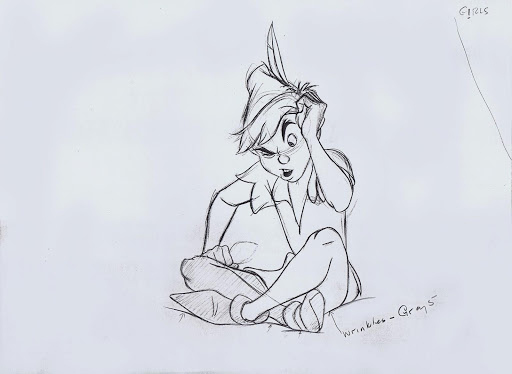 After decades of uncertainty, the Disney animated feature had finally established a firmer footing. The production process had been refined, and even if the films weren't proving a wild success, they were at least able to mostly cover costs. For Walt Disney though, they were becoming a bit of a nuisance. The live-action films were proving to be a much cheaper and more profitable venture, and Walt had now set his mind on his ultimate project, a real-world manifestation of the kind of magical kingdom he'd tried to create in animation.
Walt Disney Productions would follow-up 'Peter Pan' with yet another project whose origins dated back to the late 30s, one that would grant them even greater autonomy and push the technology of animation one step further. This wasn't a fairy tale though, or set in a fantastical, magical landscape. It would be set in the homes and streets of America itself, albeit an idealised America of the past that no longer existed, and tell the story of a romance that transcended class, education and status - of a lady and a tramp, and one beautiful night.
HOME VIDEO HISTORY

Peter Pan was one of the lady films to be released on home video, receiving its first VHS, Laserdisc and Betamax release in September 1990. A second VHS release would follow as part of the THX-certified Walt Disney Masterpiece Collection in 1998.
The film had a number of DVD releases, beginning with the first limited run of select Disney films in the format in 1999, and a second Special Edition release to coincide with the release of Return to Never land in 2002. This DVD release included a number of special features, including a short making-of featurette.
Peter Pan entered the Platinum Edition series with a two-disc DVD release in March 2007. It recycled a number of features from the 2002 release, but while it added a number of new features on recently uncovered archival material, there was no new making-of documentary produced.
To coincide with the film's 60th anniversary, it received its debut Blu-ray release as a Diamond Edition in February 2013. This edition mostly reused material from the Platinum release.
For its 65th anniversary, the film returned to Blu-ray in June 2018 as part of the Walt Disney Signature Collection, following its Digital HD premiere in May. Peter Pan is available on Disney+.
ON THE NEXT EPISODE
We settle down with a bowl of spaghetti for one of Disney's most endearing romances, the lush and classical 'Lady and the Tramp'.
RESOURCES
Wikipedia on Peter Pan, Peter and Wendy, J.M. Barrie, Frank Thomas, Oliver Wallace and Fred Moore.
Peter Pan: Diamond Edition, Blu-ray, 2013
Walt Disney: The Triumph of the American Imagination, Neal Gabler, 2006
The Disney Studio Story, Richard Hollis and Brian Sibley, 1988v
They Drew As They Pleased: Volume II - The Hidden Art of Disney's Musical Years (The 1940's - Part I), Didier Ghez, 2016
They Drew As They Pleased: Volume III - The Hidden Art of Disney's Late Golden Age (The 1940's - Part II), Didier Ghez, 2017
Ink & Paint: The Women of Walt Disney's Animation, Mindy Johnson, 2017
The Annotated Peter Pan: The Centennial Edition, J.M. Barrie (ed. Maria Tatar), 2011
Related

Peter Pan
Disney's classic soars on Blu-ray
★★★★★