Credits
Show Notes
On the 17th of July 1955, the American Broadcasting Company staged the largest live television broadcast ever undertaken at that point, involving 24 cameras and hundreds of technicians. They were capturing the International Press Preview of the latest venture from Walt Disney. It wasn't a new animated film; in fact, it wasn't a film at all. This was something altogether unlike anything Walt had ever attempted, his ideals and imagination made manifest in brick and mortar and plaster. For many, it would become a symbol of American ingenuity, imagination and idealism, and for others, a symbol of American capitalism and historical revisionism, spread across 160 acres in Anaheim, California.
In this two-part In-Betweener, we're going to look at where it came from, how it came to be and what happened when it was introduced to the world.
This is the story of Disneyland - Walt Disney's ultimate act of creation.
EARLY DREAMING
It's hard to know exactly when the idea for what would become Disneyland first entered Walt's mind. Though many claim to have had conversations with him about building an amusement park as early as 1937, what is more likely is that the idea grew over many, many years, from a passing fancy to a cultural monolith that would help define America's concept of itself and its values.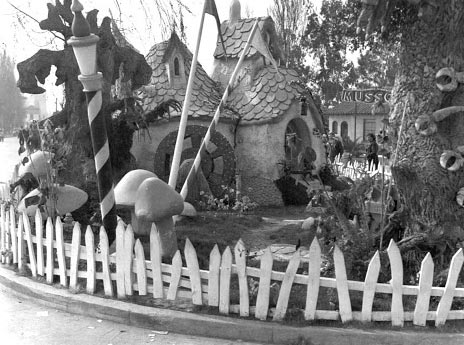 I felt that there should be something built, some kind of an amusement enterprise, where the parents and the children could have fun together.
For the premiere of 'Snow White and the Seven Dwarfs' on the 21st of December 1937, an unusual attraction was set up on Wilshire Boulevard, a few blocks from the Carthay Circle Theatre, where the film would be shown. It was a temporary replica of a fairytale village called Dwarfland.
During the opening night radio broadcast, NBC reporter Don Watson described the village for listeners: "Believe it or not, ladies and gentlemen, Dwarfland was moved to Hollywood. Down at the corner of Wilshire Boulevard just outside the Carthay Circle Theatre, Walt Disney built a replica of the dwarf cottage that appears in this picture, SWATSD. The cottage is only ten feet high and not quite so wide so I had a little difficulty trying to get inside but every kid in this here now town has been through it, believe me. Outside are giant mushrooms three feet tall painted yellow and blue and pink, and then there are weird-looking trees with eyes that light up and long arms that reach out and grab at you just the way they grab at Snow White in the picture."
"Then there's a little Dwarfs mill wheel there and a diamond mine sparkling in the spotlights that illuminate the entire scene. Then there's the Dwarfs garden that stretches for about two blocks I believe. It's filled with all sorts of strange looking statuary not to mention stumps and toadstools and flowers by the hundred and hundreds. A stream flows through the garden that turns the mill wheel of course. The crowds stand around watching the antics of the seven little dwarfs. Actual dwarfs too in quaint medieval fairytale costumes who are working the diamond mine, raking the garden, and running in and out of the house. Putting on a great show and singing and dancing for the children and grown ups alike."
It was a charming and popular bit of promotion for the film, but years later, sequence director Wildred Jackson recalled a conversation he had with Walt that very night. He told Jackson that, one day, he wanted to build a full amusement park in the style of Dwarfland, with everything scaled down to child-size.
Amusement parks were far from a new concept. They had evolved from markets and fairs that have origins in Britain dating back to the Middle Ages, and had settled into a number of different forms that included pleasure gardens and large scale exhibitions, such as the Worlds Fair movement that began with the Crystal Palace in London in 1851. In the U.S. from the 1800s to the mid 1900s, they appeared as permanent sites, such as Coney Island or Dreamland, or travelling carnivals. They all featured rides, games that tested skill or strength, and unusual attractions such as exotic animals or freak shows, where people with physical disabilities were exploited for entertainment.
After the war, the traditional concept of the amusement park didn't fit with America's new sense of itself, and its clean, wholesome values. Many had closed down during the Depression, and those that were left slowly fell into decay. The idea didn't fade though, instead morphing into more wholesome attractions, often themed around industry or American history.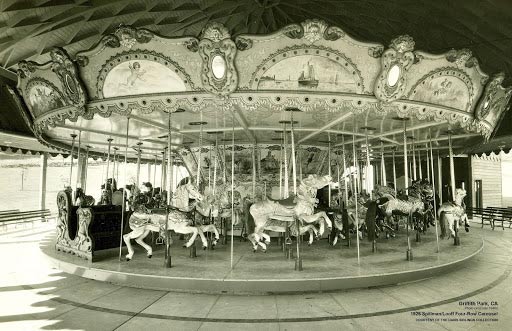 One such attraction was the Merry-Go-Round in Griffith Park, Los Angeles. Walt would often take his daughters Diane and Sharon to visit, and it was on one such visit, while he watched them on the Merry-Go-Round, that the idea returned to him of creating a park where parents and children could relax and play - together.
When Walt purchased the lot at Burbank for the new studio, he also purchased an adjacent 30 acre lot. Before the war, that idea began to grow, and he considered using the land to build a small park connected to the studio.
The first recorded mention of what would be Disneyland is in a memo to production designer Dick Kelsey on the 31st of August 1948. There had been a lot of public interest in visiting the studio, but it hadn't been designed as an attraction for visitors. This nearby land could be used to create an artificial village with a lake and Disney-themed attractions that would be an extension of the studio and offer families a friendly, safe and clean place to visit. "It will be a place for people to sit and rest", he wrote to Kelsey. "I want it to be very relaxing, cool and inviting."
These values were integral to what Walt was considering. When he told Lillian his idea, she couldn't understand why he would want to build an amusement park. She thought they were dirty, unsafe, untrustworthy, places you went to leave your morals behind. This wasn't a place for families and children.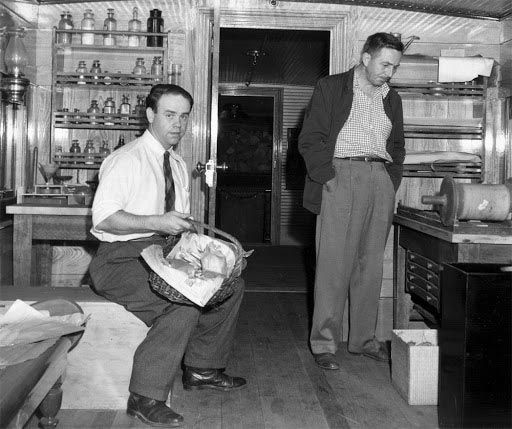 Walt had begun to see small-scale examples of how the amusement park idea could be adapted to family-friendly entertainment. In 1948, he travelled with Ward Kimball to the Chicago Railroad Fair, which had featured temporary areas themed around aspects of American history. On the same trip, they visited the Henry Ford Museum and Greenfield Village, which were also history-themed. There were also a number of small amusement parks in California, such as Beverley Park in Los Angeles and the Children's Fairyland in Oakland. All were of modest scale, but adhered to the principles Walt held dear in thinking of his own park.
In the uncertain post-war period though, the chances of Walt Disney Productions launching into something as major as an amusement park were impossible, especially when they couldn't even afford to make animated feature films. Walt needed something to keep his spirit going though, something that was all his own. Instead, Walt's imagination moved from the life-size to the miniature.
DISNEYLANDIA
In 1948, Walt Disney visited the Golden Gate International Exposition. One of the features of the exposition were the miniature rooms created by Mrs Narcissa Niblack Thorne. Using miniature versions of household furnishings and objects collected by her uncle over many years, she had crafted exquisite miniature representations of European and American interiors from different eras. Walt was enchanted by the miniatures, and became fascinated with the artform.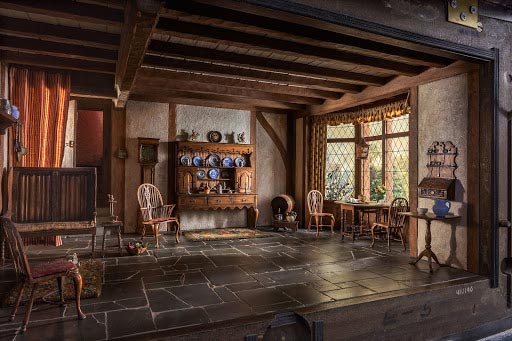 This fascination naturally evolved into his love of steam trains, and he was encouraged by Ward Kimball to begin collecting and creating his own models. While the artists at the studio were furiously finishing 'Cinderella' and 'Alice in Wonderland', Walt was set-up in a workshop on-site, tinkering away at the Carolwood Pacific, a working model train named after their family home on Carolwood Drive. The train was initially set-up at the studio, but he soon moved it to their backyard, busying himself with setting up a track for it and building tunnels under Lillian's garden beds. Part of their construction included making miniatures of the furnishings for the train, many of which Walt made himself. He was particularly proud of his pot bellied stoves, and gave them as presents, as well as sending a few to an antique shop in New York to sell. To his delight, Mrs Thorne purchased two of them.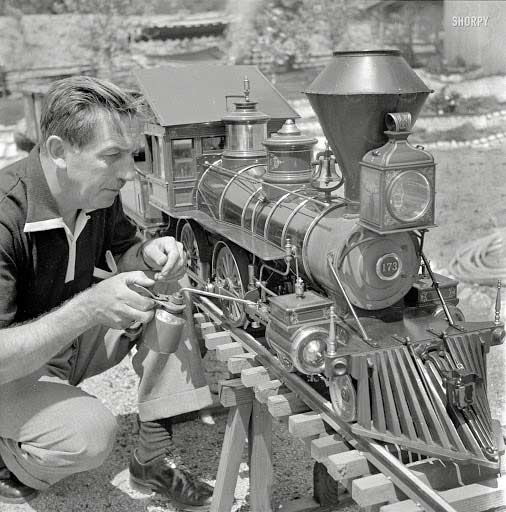 He also collected a large number of miniatures during his trips to Europe in 1951. His final inventory included over a thousand individual items, including miniature books, firearms, furniture and cars. When he returned from the trip, he combined his love of miniatures with what he had seen in Greenfield Village, blossoming into an idea of creating miniature worlds of his own.
Walt plucked animator Ken Anderson from the studio to work on this new project, which he was calling Disneylandia. He put Anderson on his personal payroll and asked him to conceptualise twenty-four scenes depicting life in the old west, which they would bring to life through miniatures similar to Mrs Thorne's. When they were done, they would tour them around the country. "I'm tired of having everybody else around here do the drawing and the painting," he told Anderson. "I'm going to do something creative myself."
After placing ads in newspapers all over the country calling for miniature objects appropriate for the project (never under Walt's name), Walt began to construct the first miniature diorama, based on Granny Kincaid's cabin from his live-action/animated film 'So Dear To My Heart' (1949). The miniature had its public debut at the Pan Pacific Auditorium in Los Angeles in November 1952. "This little cabin is part of a project I am working on," he said in an interview in 1953, "and it was exhibited as a test to obtain the public's reaction to my plans for a complete village."
Though the reception for the first Disneylandia miniature was warm, and two further miniatures were completed, it soon became obvious to Walt that the possibilities for the premise, and for audience engagement and consistent income, were limited. He shut down work on the miniatures, but rather than throw away all the imagining he and Ken Anderson had done, he evolved it. For his next trick, they wouldn't be miniatures.
This time, he would do it for real.
BIRTH OF DISNEYLAND
Even before the Disneylandia idea was scrapped, Walt had already returned to the idea of developing the land near the Burbank studio into a permanent amusement park. In 1952, he asked artist Harper Goff to help him conceptualise his ideas, which included a town square, a lake, a river, a series of attractions themed around America's past and a railroad that surrounded the park.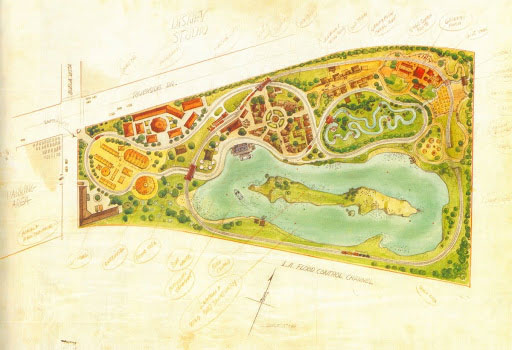 In early development, the park was referred to as Mickey Mouse Village, but at some point (possibly after the scrapping of Disnleylandia), the name was changed to Disneyland. Walt began poaching more artists from the studio and tasking them with conceptualising what the park might look like. Very soon, as was often the case with any new Walt-led venture, the idea grew even bigger than the land could logically contain.
For most of the artists working at Walt Disney Productions, what was happening in the small portable offices set up just off-site was a mystery. They knew Walt was up to something, but they had no idea what, and in the meantime they still had films to finish, films they felt were suffering from Walt's absence. He had become fixated, driven by an energy akin to the days of Snow White and the Seven Dwarfs, and even better, this was a project that belonged entirely to him, one he could control and influence, and for the first time, actually hold in his hands.
Walt went to Roy to ask for $10,000 to develop the park, but Roy was cautious. They were in stronger financial shape thanks to the success of 'Cinderella' and a number of their live-action films, but Roy wasn't about to squander that on one of his brother's crazy ideas. To solve this problem though, Roy came up with a crazy idea of his own.
In 1950, Walt had set up his own side company, Retlaw Enterprises, to cover his development of his model trains and Disneylandia. In 1952, Roy approached Walt with a proposition - Walt Disney Productions would pay royalties to Retlaw for using Walt's name, and have him on a personal-services contract. This would give Walt the income he needed to develop Disneyland and protect Walt Disney Productions financially. He would also be given an annual royalty 0f $50,000, with an option to borrow $50,000 more against his life insurance, and 5 - 10% of royalties from Disney merchandise.
I'm not 'Walt Disney' anymore. Disney is an attitude, an image in the eyes of the public. I've spent my whole career creating that image, and I'm a great believer in what Disney is, but it's not me, the person, anymore.
In December 1952, Retlaw Enterprises was renamed WED Enterprises (which stood for Walt's initials), and the new company incorporated. Three months later, Roy's plan was approved and put in place. Walt finally had the money to properly begin development. He instantly took out the $50,000 loan against his life insurance and began liquidating some of his personal assets, including his and Lillian's holiday home in Palm Springs.
There was a problem though - over the years, the size of the land opposite the Burbank studio had shrunk from 30 acres to 16 acres, and two major infrastructure projects being developed by the Burbank City Council would make the site unviable. Walt approached the council with his plans for the park, but his proposal was swiftly rejected. The council was concerned about the knock-on effects the attraction would have on the suburb, and were not interested in disturbing their suburban peace.
Walt didn't let this set him back though. The original site was becoming too small to contain his ideas anyway. Now he could find somewhere better suited to his needs.
FIELD OF DREAMS
To find a new home for Disneyland, WED hired Harrison Price from the Stanford Research Institute to survey for potential sites. The site needed to be around 100 acres and be within the five-county Los Angeles area. Walt was particularly interested in areas with a potential for growth, rather than long-established suburbs. Price went to work.
In the meantime, Walt began approaching architects to design the park. In some cases, Walt rejected the designs put forward, but many were also uninterested. Finally, architect Welton Becket encouraged Walt to look to his own artists to design the full experience of the park. They knew what Walt wanted better than anyone.
Business was slowing down at the studio and instead of laying them off, he put them on his own personal payroll… Walt knew all about the hobbies and outside interests of the men who worked at the studio, so it was no big deal to take men who could turn out a six-minute film short and have them create a three-minute dark ride with visual images.
Walt began to take advantage of the skills and interests of his staff, and put them on the task of developing, not just rides and attractions, but the entire world of the park. They were working from a radical principle - in essence, Disneyland would be, not an extension of the animated films, but the ultimate animated film, one the audience could step inside of and inhabit. "When we began designing Disneyland," said one designer, "we looked at it just the way we do a motion picture. We had to tell a story, or in this case, a series of stories. But in Disneyland, we had more control. We designed the entire park so that a guest couldn't miss Scene One or Scene Two. From the moment he entered our 'theatre', that is our front gate, Scene One would begin for him." On trips to Europe, Walt visited many of their major theme parks, taking notes of things he liked, such as audience experiences and infrastructure, and things he didn't.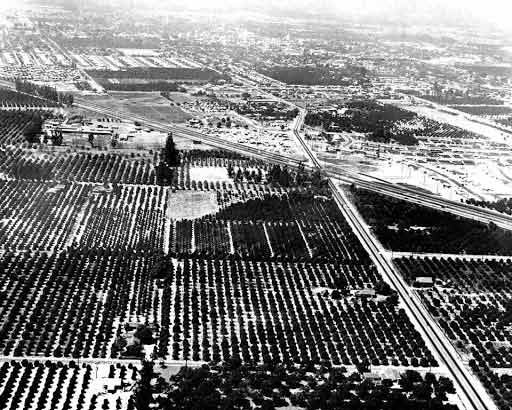 After looking at over 50 potential sites, Harrison Price settled on one as his recommendation, 160 acres of oranges groves and walnut trees in Anaheim, Orange County. It seemed to fit all the requirements, and the local council were open to the idea of the park. In August 1953, the site was purchased for $4,500 an acre.
In November 1953, the plans for Disneyland were presented at the National Association of Amusement Parks, Pools and Beaches Convention. The response was very mixed. Most thought the idea too ambitious, too expensive to build and operate, and impossible to maintain. It was too different to the traditional amusement park, and would dissuade visitors, and its sheer scale would make it impossible to control. Everyone at WED, especially Walt, was now too committed to the idea to give up, but the money was a concern. The royalties from Walt's name were getting them through development, but they were going to need a lot more money to make it a reality. And they were going to have to get creative to find it.
FUNDING THE IMPOSSIBLE
Since television had launched in the early 50s, the networks had been begging Walt Disney to do a television special. He was reticent at first, but this had nothing to do with distrusting the medium. Walt was instantly fascinated with television, but wasn't sure how it could be of use to the studio, or whether they had the infrastructure for it.
An opportunity finally presented itself in the lead-up to the release of Alice in Wonderland. To promote the release of the troubled film, they developed a one-off special called 'One Hour in Wonderland', which featured Disney as host, along with guest appearances from Kathryn Beaumont, Edgar Bergen and other celebrities, with clips from classic Disney films and Alice.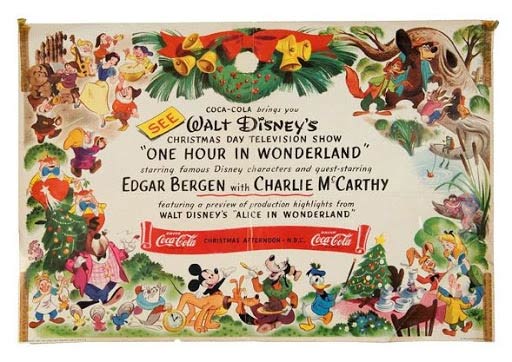 Sponsored by the Coca-Cola Company, 'One Hour in Wonderland' aired on Christmas Day 1950 on NBC, and was a ratings smash. It attracted 90% of the viewing audience, and proved that viewers were open to the idea of a Disney television show. The networks instantly asked for a follow-up, but Walt was now becoming too distracted with Disneyland.
By 1953, Walt and Roy realised that television might be a way to find the money to pay for Disneyland. In September, Roy planned a trip to New York to speak with Bank of America and secure a further loan to finance the park. While he was there, he would set-up meetings with the three major networks - NBC, CBS and ABC - and offer them a Disney-themed television show in exchange for a $5 million investment in the park.
Just before he left though, Roy realised he didn't have anything to show to potential investors to get them interested in the park, and none of the work done so far had been consolidated into any sort of plan. With only 48 hours over that weekend to come up with something, Walt brought in artist Herb Ryman. With Walt dictating, Ryman created a full rendering of the park, bringing all of the pieces together into a cohesive whole. The two men barely slept for two days, and never left each others' side, debating every tiny detail. Miraculously, Ryman finished the conceptual plans on time, and they were popped on a plane on Monday morning to New York.
Pencil drawing of the Disneyland map by Herb Ryman, 1953 (a final full-colour version was completed and sent to Roy in New York for the investors meetings) © Disney
Despite the quality of Roy's pitch and Ryman's artwork, Bank of America were cautious about granting the loan. Roy's proposal to the networks was also rejected outright by NBC and CBS, who were keen for the series but not on investing. Only ABC, the smallest of the three networks, seemed interested, but the ABC board were unsure. Leonard Goldstein at ABC took it upon himself to secure the deal, and went to Republic Bank chairman Karl Hoberlitzelle to underwrite a $5 million loan. He agreed, and on April 2nd 1954, the ABC board approved the deal. They would have 35% ownership of the park for the first five years of its operation, as well as guaranteeing further loans that WED and Walt Disney Productions may require. In return, Walt Disney Productions would produce a weekly television program for them. Off the back of the ABC deal, Bank of America also agreed to increase Disney's credit line to $8 million.
That same day, with finances finally secure, Walt Disney officially announced his plans for Disneyland to the public. As well as building the park, he would also use the television show to build interest and excitement for it.
On the 21st of July 1954, ground was broken for the construction of Disneyland in Anaheim. Now the clock was ticking, with the opening set for the 17th of July the following year. After years of dreaming and planning, imagining and conceptualising, Walt Disney's ultimate, impossible creation would finally become a reality...
And they only had a year to build it.
In Our Next In-Betweener Episode
The frantic race to build Disneyland begins, along with its revelatory companion television series.
RESOURCES
Wikipedia on Disneyland, amusement parks and Retlaw Enterprises
Walt Disney's Disneyland, Chris Nichols (with Charlene Nichols), Tanschen, 2018
American Experience: Walt Disney, dir. Sarah Colt, PBS, 2015
Walt Disney: The Triumph of the American Imagination, Neal Gabler, 2006
Filmic Light feature on Dwarfland
The Miniature Worlds of Walt, Walt Disney Family Museum, 30 March 2011