Asterix and the gang are back - and it's honestly a really fun time. The only negative is the fact that I'm not all too familiar with the characters and story. The animation style is gorgeous, and the colours are so vivid. The characters have a rubber-like quality to them that allows for some really great comedic moments; the closet comparison I can think of is if they did a fully computer animated 'Looney Tunes'. It just has so much energy, and it's refreshing to see animation used effectively.
This time, Asterix and Obelix must a find a new druid to take care of the village after Panoramix breaks his leg. The new druid must be able worthy of creating the secret potion, but Sulfurix is out to steal the potion - and nothing is going to stop him.
WATCH: 'ASTERIX: THE SECRET OF THE MAGIC POTION'
As mentioned, the film really throws you in, so there were a lot of times when I was going, "Wait, who is this, why am I caring about them, why are they here?" But because the film is so funny, I could forgive it because I was still laughing consistently - and after the first 20 minutes, you are just along for the ride. The film does have a lack of female characters, and this is only made evident by the fact that a female can't be a druid.
The film opens with a montage catching us up on all the characters, and the montage is set to 'You Spin Me Round (Like a Record)' - and wow, it just works, the same way 'Immigrant Song' works in 'Thor: Ragnarok'. It even comes back in the third act to add even more epicness to the big battle.
If you're a fan of animation you'll love it. It's refreshing to see the medium used in a way that really enhances the cinema experience.
The potion itself is kind of a weakness of the film; it's not really explained and it's just a magical thing. When it's used, it kind of does everything from making people move fast to giving people super punches. And while the film is titled after Asterix, he is very much a secondary character; the film just cuts to him every so often to remind the audience that he is here. Most of the film we are following Panoramix and his journey to find the druid, and Astrerix is more a backup dancer.
If you are a fan of Asterix, 'The Secret of the Magic Potion' will bring a smile to your face, but if you're not I will still recommend it. It's leaps and bounds better than anything Illumination has put out, and if you're a fan of animation you'll love it. It's refreshing to see the medium used in a way that really enhances the cinema experience.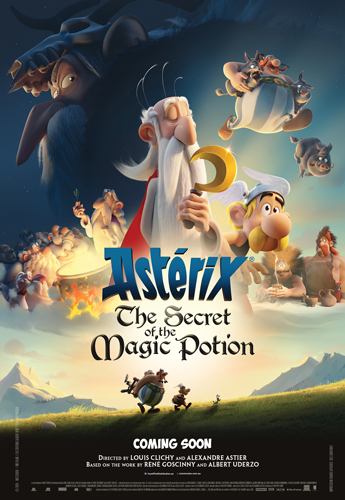 To celebrate the release of 'Asterix: The Secret of the Magic Potion' in cinemas, we're giving you the chance to win a family pass.
To win one of five family passes, just make sure you follow both steps:
Complete your details below. Members can
sign in
sign in
at the top of this page to have their details automatically filled in.
Please ensure the fields marked in red are completed.
Become a member - so I don't have to fill in my details every time
Competition opens at 5:00pm AEST on Sunday 19th May 2019 and closes at 11:59 pm AEST on Sunday 26th May 2019. Five winners will be chosen at random on Monday 27th May 2019. To successfully win, entrants must fulfil the above entry conditions before the time the competition closes. Current members/followers are eligible to enter the competition. Only one entry per person. Only one winner per household. To be a valid winner, the entrant must not have won a prize from SWITCH within the last 28 days. Each winner will receive one . By entering, you agree to receive occasional emails from SWITCH in the future. If you decide to unsubscribe from these updates, any further entries will not be applicable. Only Australian residents are eligible to enter.