For an industry built on the ideals of community and personal growth, the world of sport is still very much seen as a man's domain. Bullshit excuses such as "men being stronger than women" and "men are more exciting to watch" have held back many women from participating and excelling on a major level. Change comes through a desire for change and the strength to pursue it, and this forms the basis for Valerie Faris and Johnathan Dayton's 'Battle of the Sexes', a dramatisation of one of the most important turning points in the push for gender equality in sport.
In the early 1970s, in protest against pay inequality between men and women, the Women's Tennis Association, led by world number one Billy Jean King (Emma Stone, 'La La Land', 'Birdman') set up their own tennis tournament, causing rifts within the community. Wanting to cash in on the publicity and put himself back in the spotlight, retired mens champion Bobby Riggs (Steve Carell, 'Café Society', 'The Big Short', 'Foxcatcher') challenges King to a man versus woman tournament match. What begins as a novelty soon morphs into a statement of sexism in sport, and the cost for both King and Riggs begins to grow.
Faris and Dayton ('Ruby Sparks', 'Little Miss Sunshine'), working from a screenplay by Simon Beaufoy ('Everest', 'Salmon Fishing in the Yemen', '127 Hours', 'Slumdog Millionaire'), craft a vivid, often very moving portrait of these two sporting legends, though the film clearly puts more weight on King's story. Riggs represents an old guard coming to grips with their irrelevance in the wake of a sexual revolution where the white heterosexual male may lose their long-held dominance, and the personal breakdown that leads Riggs to call the match plays like an analogy for the desperate gasps of his social group trying to hold their kingdom together. We feel for Riggs, but our heart belongs to King and her struggle to push her sport, her colleagues and herself into a position of respect and equality. Her battle is also with her personal identity, as she falls for hairdresser Marilyn (Andrea Riseborough, 'The Death Of Stalin', 'Nocturnal Animals') despite her marriage to Larry (Austin Stowell, 'Bridge Of Spies', 'Whiplash'). Some might find the depiction of this same-sex romance a little coy, but it's especially rare to see a lesbian relationship depicted with this much care and respect in a mainstream Hollywood film, and Paris and Dayton are careful to make it affecting and never a novelty.
SWITCH: 'BATTLE OF THE SEXES' TRAILER
">
Their handling of the whole film is one of its blessings, their unique mix of humour and melancholy overcoming some of the biopic clichés that occasionally dampen Beaufoy's screenplay. Shot on 35mm with many nods to 70s filmmaking, 'Battle of the Sexes' has an immediacy and a texture to it that comfortably nurtures the emerging feminism and the rampant chauvinism that are integral to the narrative and the period. There's something imaginative and whimsical to their approach, which help the emotional moments land. The cast are uniformly excellent, with Carrell as brilliant as we've come to expect as Riggs, and notable turns by Riseborough, Sarah Silverman (in a genuinely great dramatic role) and Alan Cumming. The true power of the film though is Emma Stone, delivering another superb performance in an endless stream of them that solidifies her as one of the best actors of her generation. Her Billy Jean King is a gorgeous mixture of determination and vulnerability, and watching her walk the line between the two is a pleasure to watch. Off the back of her Oscar win for 'La La Land', this has us watching a truly great actor further stretch her muscles and exploring (and conquering) new territory.
'Battle of the Sexes' somehow works as an historical document, and a fresh and vital film for us now. Its messages of gender equality and portraits of inspirational women standing up against male-dominated structures within their sport seem particularly important for audiences to see now. In a period of superb queer cinema, it also offers a small but moving contribution, marrying this feminist sporting icon with the push for not just gender equality but sexual equality. Under the sure hands of Valerie Faris and Johnathan Dayton, and with the superb central performance from Emma Stone, 'Battle of the Sexes' is an engaging, moving and often thrilling experience, one that may have you cheering and crying in equal measure by the end.
We feel for Riggs, but our heart belongs to King and her struggle to push her sport, her colleagues and herself into a position of respect and equality.
PICTURE & SOUND
The strongest aspect of the excellent 1080p 2.39:1 transfer is that it maintains and celebrates the grainy texture of the intended image rather than working against it. Detail and clarity is still consistent, though the washed-out quality of the image can occasionally make it a little soft. This adds to the verisimilitude of the film though, and while this isn't a reference image disc, it demonstrates how high definition can compliment distinct visual approaches. The disc also has the expected DTS-HD MA 7.1 track that has become a standard for Fox releases, and this one has a robust, rich quality to it, balancing the sound design (especially powerful in the final match), dialogue and Nicholas Britell's score nicely.
SPECIAL FEATURES
There isn't a lot on offer with the film in terms of special features. 'Raw Footage: Billie Jean's Grand Entrance (No Audio)' (2:17) offers archival footage of Bille Jean's entrance into the match, but this is the only footage of the original match included. 'Reigniting the Rivalry' (18:52) is a handsomely made if perfunctory look at the making of the film, with interviews with all the major players involved. There's some nice snippets in there, but with a period production of this scale, it hardly scratches the surface. Far more engaging is 'Billie Jean King: In Her Own Words' (10:30), where the tennis legend herself discusses her battles for equality and the match itself, providing a useful historical commentary for the film itself. The set is wrapped up with a few image galleries.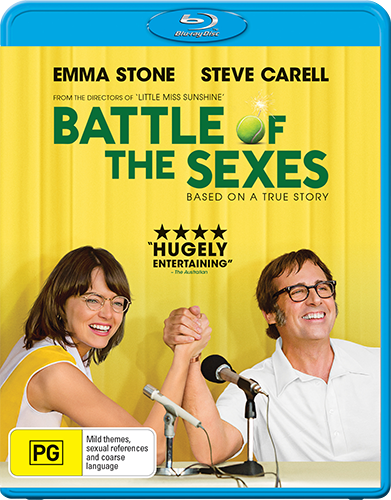 To celebrate the release of 'Battle Of The Sexes', we're giving you the chance to take home a copy of your own.To celebrate the release of 'Battle Of The Sexes', we're giving you the chance to take home a fantastic prize pack.
To win one of five Blu-rays, just make sure you follow both steps:
Complete your details below. Members can
sign in
sign in
at the top of this page to have their details automatically filled in.
Please ensure the fields marked in red are completed.
Become a member - so I don't have to fill in my details every time
Competition opens at 5:00pm AEDT on Sunday 14th January 2018 and closes at 11:59 pm AEDT on Sunday 21st January 2018. Five winners will be chosen at random on Monday 22nd January 2018. To successfully win, entrants must fulfil the above entry conditions before the time the competition closes. Current members/followers are eligible to enter the competition. Only one entry per person. Only one winner per household. To be a valid winner, the entrant must not have won a prize from SWITCH within the last 28 days. Each winner will receive one . By entering, you agree to receive occasional emails from SWITCH in the future. If you decide to unsubscribe from these updates, any further entries will not be applicable. Only Australian residents are eligible to enter.