It seems this is the month for sports films. We've already had boxing epic 'Creed III' square off in cinemas, and now it's time to hit the basketball court with 'Champions'. For those of you like myself who are a little less exuberant where sports are concerned, remember - in cinema, the competition is a metaphor for achievements and accomplishments, with the journey to the finale being about pushing yourself to transcend limits. That's all the more important for the team in 'Champions', who are going for the win to prove that there are no limits as far as disabilities are concerned.
Marcus (Woody Harrelson, 'Triangle of Sadness', 'Zombieland: Double Tap') is having a bad run professionally. As a basketball coach he can't seem to keep a level head, while his inability to see the members of the team as people is his blind spot. After a very public run-in with his head coach (Ernie Hudson, 'Ghostbusters' franchise, TV's 'Grace and Frankie') in a low-level assistant role, a drink driving incident sees Marcus sentenced to community service as the coach of a team with intellectual disabilities. What originally seems like a punishment becomes a triumph to Marcus as the team gradually makes its way closer to the Special Olympics.
SWITCH: 'CHAMPIONS' TRAILER
This story has had quite the journey to take this form. It began as the true story of a Spanish team who won twelve Spanish titles between 1999 to 2014. The tale was then adapted to the big screen, and in 2018 'Campeones', directed by Javier Fesser and written by Fesser and David Marqués, became the year's highest-grossing Spanish film (there's also a Spanish sequel, 'Campeonex', slated for release later this year). This remake relocates the story to Des Moines in Iowa, and other than making the lead character single rather than being married, the two stories don't deviate a great deal.
What's fantastic is seeing this level of representation in cinema. All too often when telling stories of characters with intellectual disabilities, the actors who are cast aren't reflective of that. Following in the footsteps of 'Campeones', the remake understands what made the original tick, and the basketball team remain the centre of this film. Kevin Iannucci (Johnny), James Day Keith (Benny), Matthew Von Der Ahe (Craig) and Joshua Felder (Darius) have a mixture of acting experience - Keith is an athlete and had never performed before securing this role - but as a collective they gel brilliantly and are completely convincing as a cohesive unit. However, Madison Tevlin as Cosentino is the constant highlight - her sassiness and humour illuminate even the most routine instances.
It's also great to see Harrelson paired with a comedic equal in the form of Kaitlin Olson ('Finding Dory', TV's 'It's Always Sunny in Philadelphia'). Both have an ease with any material they're handed, and have an ability to handle a situation very naturally, particularly when they might be the only professional performers in the scene. With only a 14-year age difference, the relationship is also not entirely unrealistic... but certainly, the casting of Harrelson and Olson goes far beyond that decision, with them being the anchor points for so much of this film.
Following in the footsteps of 'Campeones', the remake understands what made the original tick, and the basketball team remain the centre of this film.
Which is essential, because as a base there's a lot lacking here. That's a surprise from director Bobby Farrelly ('Hall Pass', 'Me, Myself and Irene', 'There's Something About Mary'), who seems to leave the audience with more than a handful of scenes that fall completely flat due to a lack of comedic timing. The initial scene with Marcus and Sonny (Matt Cook, 'Chip 'n Dale: Rescue Rangers') is so short and ends with a punchline caving in on itself. Some of the responsibility also falls upon writer Mark Rizzo (TV's 'Green Eggs and Ham' and 'Gravity Falls'), with his first feature-length screenplay here; in the aforementioned scene we're not given Sonny's name, nor his relation to Marcus. In fact, it's over an hour later and several appearances of the character before we learn his name. Potentially this key detail ended up on the cutting room floor, but he's not the only character to receive this kind of treatment.
Fortunately the further the film moves along, the less of a mess the screenplay and direction become, and the more the chemistry between the cast shines through and the charisma is allowed to take over. Like any good sports story - whether true or fictionalised - we see this ragtag gang work together to become a refined team with a real shot at becoming champions. You're there on the sidelines cheering for them to win because that's the payoff. That's why we're all here. It's not your typical clichéd ending, but I guarantee it will leave a smile on your face nonetheless.
From a production perspective, 'Champions' could have been set up to ensure the film scored a 3-pointer; a guaranteed win from the get-go. Unfortunately due to its sloppy behind-the-scenes work, you have to wade through the lacklustre elements to get to the heart of it, but it beats strong - a predictable yet inspiring story determined by its magnanimous cast while providing a blueprint for the future of disability representation on film.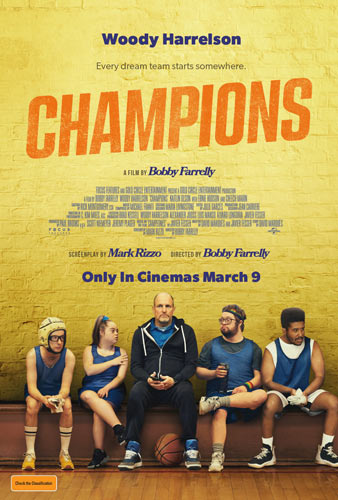 To celebrate the release of 'Champions' in cinemas, we're giving you the chance to win a double pass.
To win one of five double passes thanks to Universal, just make sure you follow both steps:
Competition opens at 5:00pm AEDT on Thursday 2nd March 2023 and closes at 11:59 pm AEDT on Thursday 9th March 2023. Five winners will be chosen at random on Friday 10th March 2023. To successfully win, entrants must fulfil the above entry conditions before the time the competition closes. Current members/followers are eligible to enter the competition. Only one entry per person. Only one winner per household. To be a valid winner, the entrant must not have won a prize from SWITCH within the last 28 days. Each winner will receive one double pass to 'Champions'. By entering, you agree to receive occasional emails from SWITCH in the future. If you decide to unsubscribe from these updates, any further entries will not be applicable. Only Australian residents are eligible to enter.