There's nothing better than coming across a film that totally surprises you, and even with the unexpected perfection of 'Mad Max: Fury Road', arguably the greatest surprise of last year was delivered by 'Creed'. Reigniting the Rocky franchise in a manner that was almost too good to be true, it defied expectation with its heart, its bravura and its jaw-dropping execution. This is one of those rare films that has you on your feet at the end, cheering at the screen.
Adonis Creed (Michael B. Jordan) is the illegitimate son of heavyweight boxing champion Apollo Creed, determined to step out from under his father's legacy and make something of himself. Volatile and ill-disciplined, no one will take him seriously enough to train him, until he turns to his father's greatest rival and greatest friend Rocky Balboa (Sylvester Stallone). Adonis coaxes Rocky out of retirement to train him, and together they set on the path to define themselves as men, one at the start of a journey and the other coming to its end.
Director Ryan Coogler pulls off an absolute miracle with 'Creed', capturing the distinct and powerful spirit of the original 1976 classic while crafting something special all on its own. It was never a boxing film, instead a human drama with boxing as its context, and this latest instalment preserves that integrity. The dependent relationship between Adonis and Rocky is absolute magic, the two relying on one another to usher out the strength each needs - for Adonis to become a better fighter and a better man, and for Rocky to face his mortality. The screenplay by Coogler and Aaron Covington doesn't mince its words or meaning, aiming for heart and emotion in a way few films dare to anymore and even fewer succeed at. Emotional beats that should not work instead send shivers up your spine, a credit to both Coogler's direction and the central performances from Jordan and Stallone, the latter delivering a staggering reminder of his great power as a performer. There are mountains of surprises in 'Creed' that will have you shaking your head, but one of the most thrilling is witnessing this truly great performance from Stallone.
'CREED' TRAILER
">
The real star of 'Creed' though is Ryan Coogler, whose direction is often jaw-dropping. The film moves with energy and immediacy, endlessly inventive and shockingly bold. His handling of the dramatic moments is as sensitive as his beautiful work in his debut film 'Fruitvale Station' (2013), but it's in the two boxing sequences that he truly throws down the gauntlet. The first sequence in particular ranks as one of the most breathtaking scenes in any film in 2015, and the bone-rattling climax pummels the senses and the emotions. Where others would have taken conventional storytelling routes, relying on the tired clichés of boxing and sports films we're so familiar with, Coogler shatters this rules and takes bold and beautiful risks, the cumulative effect of which have made him one of the most exciting talents in the new generation of filmmakers set to take on big-budget filmmaking.
It's hard to capture into words how electrifying 'Creed' is. It's so rare to find a film that captures your heart so much with characters you care about whilst also managing to push the medium itself to new heights with its world-class filmmaking. It's almost insulting to think of this as a reimagining or a reboot of the Rocky franchise, because it is cut so intrinsically from the same cloth that made the original film so magical. It's just as much an instant classic, and one that establishes Ryan Coogler as a powerhouse director. The last thing anyone would have expected from a "Rocky spin-off" was for it to be great. What we got was one of the best films of 2015.
It's so rare to find a film that captures your heart so much with characters you care about whilst also managing to push the medium itself to new heights with its world-class filmmaking.
PICTURE & SOUND
'Creed' sparkles on Blu-ray with a gorgeous 1080p 2.40:1 transfer that captures the carefully composed realism of Maryse Alberti. Detail and colour is beautifully balanced throughout, the colour in particular deep and rich. It also comes with an exceptional DTS-HD MA 7.1 track that rumbles and explodes with the incredible sound design and score, creating an immersive and affecting aural experience without any elements overwhelming the other.
SPECIAL FEATURES
The only real disappointment with this Blu-ray release is that there aren't many extras on offer. 'Know The Past, Own The Future' (14:49) covers a surprising amount of ground, from the legacy of the original film to the evolution of Coogler's vision and its ushering of the Rocky mythology to a contemporary audience. We also get a glimpse into Jordan's dedication preparing for the film with 'Becoming Adonis' (5:46), covering his year-long training to be ready for the film and his work with the professional boxers used in the film. The package is rounded off with a set of interesting deleted scenes (19:36), but it's a great pity we don't get a commentary from Coogler or a more robust making-of documentary. This is certainly a film which calls for it.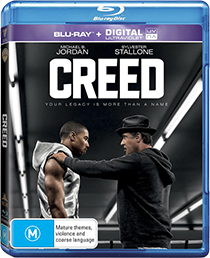 To celebrate the release of 'Creed', we're giving you the chance to take home a copy of your own.To celebrate the release of 'Creed', we're giving you the chance to take home a fantastic prize pack.
To win one of five Blu-rays, just make sure you follow both steps:
Complete your details below. Members can
sign in
sign in
at the top of this page to have their details automatically filled in.
Please ensure the fields marked in red are completed.
Become a member - so I don't have to fill in my details every time
Competition opens at 5:00pm AEST on Sunday 3rd April 2016 and closes at 11:59 pm AEST on Sunday 10th April 2016. Five winners will be chosen at random on Monday 11th April 2016. To successfully win, entrants must fulfil the above entry conditions before the time the competition closes. Current members/followers are eligible to enter the competition. Only one entry per person. Only one winner per household. To be a valid winner, the entrant must not have won a prize from SWITCH within the last 28 days. Each winner will receive one . By entering, you agree to receive occasional emails from SWITCH in the future. If you decide to unsubscribe from these updates, any further entries will not be applicable. Only Australian residents are eligible to enter.