It's been a while since Jude Law took centre stage in a film. Once a major star with the power to carry a film, he's made more interesting and thoughtful choices of late, working with great directors and exciting ensembles. With his latest film, 'Dom Hemingway', he bursts back into the fray with a bombastic performance as an ex-con who just can't seem to get the point.
Dom Hemingway has just been released from prison after twelve years. During his time inside, his wife has married another man and passed away, and his daughter Evelyn (Emilia Clarke) doesn't want to have anything to do with him. With his best friend and partner Dickie Black (Richard E. Grant) by his side, Dom throws himself head-first into enjoying his freedom and exacting some sort of retribution on the world. Dom has returned to his kingdom to assert his dominance, but has his kingdom already moved on without him?
Written and directed by Richard Shepard, 'Dom Hemingway' is a little firecracker of a film, but not one without some serious flaws. The filmmaking is wickedly bold, almost entirely in service to Dom in expressing his highly volatile emotional outbursts. It's a British film through and through, even greater credit to New York-born Shepard, and its witty camera and editing twists recall the bizarre insanity of Nicholas Winding Refn's 'Bronson' (2008). The writing is also very sharp and often exists in a higher plane of language, with Dom proclaiming in something closer to poetry than prose (his opening monologue is both a bravura piece of performance and writing). However, where the film falls flat is the time it takes for the narrative to really kick in. It's nearly an hour into the story before Dom finally begins to question his volatile behaviour, and in a film that only goes for an hour and a half, that revelation comes a bit too late. It also only introduces important secondary characters in that last half hour, which isn't enough time for us to connect with them. All we have is Jude Law as Dom, and while it's one of the best performances he's given in years, full of muscle and fury and explosive energy, the structure and rhythm of the film deny us the chance to really get on his side. It also suffers by being released on the heels of 'Filth', a film with similar ideas and style and also featuring a great central male performance. While it's as entertaining as 'Filth', it doesn't have the same emotional impact.
'DON HEMINGWAY' TRAILER
">
If there's any one reason to check out 'Dom Hemingway' (and there are far more things working for it than against it), it's to see Jude Law off his leash and owning the screen, especially when he's backed up by such a terrific actor like Richard E. Grant, who is always an absolute pleasure. Richard Shepard has delivered a fascinating if flawed film, with its own distinctive voice and style. 'Dom Hemingway' can sit quite nicely on the shelf next to the British gangster classics of Guy Ritchie and Matthew Vaughan, and while it might not leave you feeling like you know this ridiculous man-animal as much as you'd like, it's a great ride along the way.
'Dom Hemingway' is a little firecracker of a film.
PICTURE & SOUND
Transmission have given the film a very handsome 1080p 2.35:1 transfer that does a great job recreating the original intentions of the filmmakers. Shepard employs stock footage cut amongst the pristine photography to emphasise Dom's more emotive outbursts, so the transfer drops occasionally because of the quality of this footage, but excluding these exceptions, the image is crystal clear, everything given dangerous razor-like sharpness. The DTS-HD MA 5.1 track also packs a powerful punch. This isn't a modest or subtle film, especially with its sound design, and the balance and levels are perfectly pitched to give you the best experience of the inner workings of Dom's fractured mind.
SPECIAL FEATURES
A modest collection is available with the film, including a featurette on the making of the film and a series of cast and crew interviews.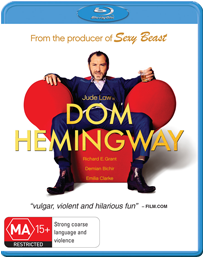 To celebrate the release of 'Dom Hemingway', we're giving you the chance to take home a copy of your own.To celebrate the release of 'Dom Hemingway', we're giving you the chance to take home a fantastic prize pack.
To win one of five Blu-rays, just make sure you follow both steps:
Complete your details below. Members can
sign in
sign in
at the top of this page to have their details automatically filled in.
Please ensure the fields marked in red are completed.
Become a member - so I don't have to fill in my details every time
Competition opens at 5:00pm AEST on Sunday 20th April 2014 and closes at 11:59 pm AEST on Sunday 27th April 2014. Five winners will be chosen at random on Monday 28th April 2014. To successfully win, entrants must fulfil the above entry conditions before the time the competition closes. Current members/followers are eligible to enter the competition. Only one entry per person. Only one winner per household. To be a valid winner, the entrant must not have won a prize from SWITCH within the last 28 days. Each winner will receive one . By entering, you agree to receive occasional emails from SWITCH in the future. If you decide to unsubscribe from these updates, any further entries will not be applicable. Only Australian residents are eligible to enter.