You know my favourite thing about the movie is like it feels like a– like a movie. It feels like a real like– you know, go to the theatre film movie. The- uh- you know, the reason why you go.
The above string of words is not a typo! (So please keep reading.) It's a direct quote from 'Don't Worry Darling' star Harry Styles, seated next to a very unenthused fellow co-star Chris Pine at the 76th Cannes Film Festival this year during a press interview. And he would actually be quite right. 'Don't Worry Darling' (2022), directed by Olivia Wilde ('Booksmart'), is quite certainly a movie that has movie-ed: a haphazardly stitched together patchwork of already tried-and-tested film concepts, starring a lengthy list of A-listers that have been pulled out of a hat at the Warners Bros. Pictures headquarters that should have guaranteed in theory to rake in some sweet, sweet box office numbers.
While the film's disastrously horrendous (or madly genius, if you consider all press to be good press) rollercoaster of media coverage has certainly been incredibly entertaining at times, the film itself is half as engaging. Gone are the cheap thrills of trending clips of Harry Styles acting and yelling hysterically, swirling rumours of on-set feuds, and alleged spitting on people at high-profile red carpet events. All that's left is a shell of a film that guides the audience along with more of a rough shove, with the first two acts drifting between half-baked horror and mildly intriguing thriller, and the third act picking up with a frenzied sprint to a messy and unsatisfactory ending.
But not all is lost yet! Please, just hold on. 'Don't Worry Darling' is a confident acting showcase for Florence Pugh (more on that later) and boasts gorgeously commendable art direction by Erika Toth and Mary Florence Brown and production design by Katie Byron. The costuming to large set pieces all pull from a pastel-esque palette, complemented by Matthew Libatique's cinematography which deftly uses gorgeous lens flares and stark monochromatic images. These do extremely heavy lifting throughout the entire film, transporting us to the beautiful desert town of Victory; where the wives wear pretty summer dresses and take part in a routine of housework, shopping and ballet class while the husbands wear tailored suits and each day drive off in very creepy unison to work to the looming Victory Headquarters.
And now... Florence Pugh ('Midsommar, Black Widow') stars as Alice, a housewife madly in love with her husband Jack, played by Harry Styles (one episode of 'iCarly', 'Dunkirk'). In her spare time, she hangs out with Bill (Nick Kroll, 'Big Mouth', Sing 2') and his wife, the glamorous Bunny (director Olivia Wilde herself) as well as Peg (Kate Berlant, 'Taskmaster') who is married to Peter (Asif Ali in his second role about A Town Which Is Not Really As It Seems since 'Wandavision' last year).
'DON'T WORRY DARLING' TRAILER 2
The town is helmed by Frank, played by Chris Pine ('Wonder Woman 1984', 'A Wrinkle in Time'), who the film helpfully presents on opening as absolutely nota cult leader (wink wink) as he gives rousing speeches filled with weird empty catchphrases and decks out the town with coordinated colour posters plastered with ambiguous symbols. His cold and aloof wife Shelley (Gemma Chan, 'Crazy Rich Asians', 'Eternals') leads the wives in ballet class and delivers welcome speeches for her husband during events.
As the plot rolls along and Alice starts to feel increasingly unsettled with visions and a series of dire events relating to her ex-friend Margaret, played by a sadly underutilised Kiki Layne ('If Beale Street Could Talk', 'The Old Guard') who mutters creepy warnings, the script becomes more and more convoluted. Handling such a large ensemble cast is no easy feat, and the film leaves every character, including the key ones, frustratingly undeveloped to the very end. A new theme is also constantly thrown into the mix down to the very last 5 minutes of runtime and the combination of screenplay and direction spins the audience in circles a la the overbearing motif of circles in the film.
The directing-writing duo of Olivia Wilde and Katie Silberman have been tried and tested, and I really do think their combined efforts on 'Booksmart'(2019) made for an excellently hilarious and fresh movie. Directing and acting in the same film is tough, and Wilde does a great job at securing coverage with some neat mirror shots and (a very short-lived) car chase while also bringing Bunny to life. However, 'Don't Worry Darling' is convoluted and stumbles over itself, borrowing ideas from different movies but unable to capture their magic along with it, leading to the cast having to do the extra heavy lifting to make up for it... which not all are capable of.
The two main actors who shoulder the movie are Florence Pugh as Alice and Chris Pine as Frank, who are undoubtedly talented and well-versed in their craft. Pugh brings as much depth as she possibly can to Alice, easily securing another strong credit to her ever-expanding filmography. Pine brings an off-kilter and enigmatic performance as Frank, delivering exploding speeches and menacing veiled threats. Unfortunately, both of them - especially Pugh - are required to share lengthy screen time with the other main character Jack, played by Harry Styles. Styles is unable to keep up with the fast tempo and layered performances of his costars albeit his noticeable attempts, and you start to wonder why (and how) he has such a conviction to become an established actor. As the film hinges on a plot twist directly centred around Jack, Styles simply does not have the needed prowess to pull more than his weight and plunders along while Pugh breezily showcases her talent.
As the movie hurtles to its conclusion in the third act with the introduction of time jumps and more plot twists, key developments continue to lack and even more new themes and questions are shoved in their place. We are never really granted the full satisfaction of watching Alice herself unveil The Truth, but rather the film very hastily pushes it to us. The closing 15 minutes is a rush of information and twists, before slamming into a cliffhanger and letting the credits roll. The bold hasty ending combined with the overall inconsistently development does not leave the audience with enough material to have fun forming their own conclusions and what-ifs, which is frustrating seeing how high-concept and reflection-provoking the movie had the potential to be.
As Chan's Shelly coldly tells Pugh's Alice that she is just so embarrassingly desperate to be exciting, there's a sense of deja vu in watching the tumultuous media coverage and press run leading up to the release of 'Don't Worry Darling' as well as the actual movie itself. It's definitely a movie... one that you go to the theatre film movie to see. But shouldn't it be more than that?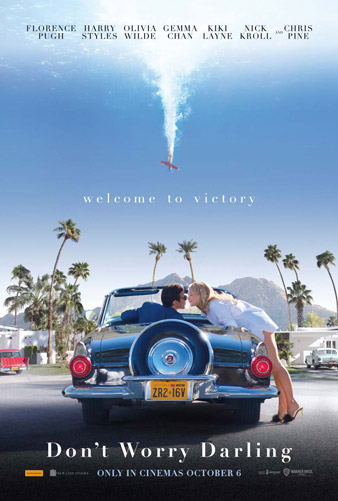 To celebrate the release of 'Don't Worry Darling' in cinemas, we're giving you the chance to win a double pass.
To win one of five double passes thanks to Universal, just make sure you follow both steps:
Competition opens at 5:00pm AEST on Sunday 25th September 2022 and closes at 11:59 pm AEDT on Sunday 2nd October 2022. Five winners will be chosen at random on Monday 3rd October 2022. To successfully win, entrants must fulfil the above entry conditions before the time the competition closes. Current members/followers are eligible to enter the competition. Only one entry per person. Only one winner per household. To be a valid winner, the entrant must not have won a prize from SWITCH within the last 28 days. Each winner will receive one double pass to 'Don't Worry Darling'. By entering, you agree to receive occasional emails from SWITCH in the future. If you decide to unsubscribe from these updates, any further entries will not be applicable. Only Australian residents are eligible to enter.