In the midst of this never-ending deluge of superhero films and useless sequels, it's something of a relief to come across a solid, old-fashioned, no-apologies action film, a big-star playing a hero who knows how to handle himself in a fight, full of witty retorts and a sharp mind for breaking puzzles. 'Jack Reacher', Christopher McQuarrie's swanky adaptation of Lee Childs' beloved novel 'One Shot', has all this and an Eastern European villain to boot, and it's such a pleasant surprise that, until you're in the thick of it, you don't realise just how refreshing a film it is.
One sunny day, a sniper takes out six random people in a river-side park. Following the evidence, police apprehend an ex-soldier who fits the bill perfectly, but when questioned, only responds with 'Get Me Jack Reacher'. No sooner does he make the request when Reacher (Tom Cruise) walks in the door - a mysterious drifter with no past, no trail behind him and no time for anyone else. As he begins to look into the circumstances, however, the perfect puzzle starts to fall apart, and along with defence attorney Helen Rodin (Rosamund Pike), begins to uncover what really happened that sunny day, and just how deep this conspiracy goes.
Christopher McQuarrie is best known for his screenplay of 'The Usual Suspects' (1995), and the same snap and crackle is throughout not just the screenplay, but the direction of 'Jack Reacher'. The film looks terrific, with an almost noir-ish visual style that refuses to be held back by the conventions of the action genre. The opening sequence in particular is very impressive, and immediately draws you into the mystery of the film. The narrative moves at a terrific pace, though sometimes to its detriment. Reacher is a character with no backstory to reveal, and while this does away with needing complex exposition, the film occasionally glosses over his fact a bit too fast. Thankfully, Reacher is so charming in that almost-forgotten All-American action hero way that you forgive the film his flaw.
Tom Cruise is a genuine delight, proving he still has the strength and intelligence to carry an action film. He seems to be enjoying himself every step of the way, following tongue-in-cheek one-liners with excellent stunts and car chases. It's to his credit that the action sequences work, and McQuarrie's that they never feel superfluous. Rosamund Pike also has a ball, being dragged along into Reacher's exploits, all the while playing with the palpable sexual tension between their characters that always threatens to go somewhere but keeps cheekily at bay. Fulfilling one of two antagonist roles is young Australian actor Jai Courtney as assassin Charlie, who bursts onto the screen with palpable masculine force and genuine physical menace, made all the more potent by his undeniable charm. With a character as clever as Reacher, he needs a genuine threat, and you completely buy that this foe can do immense damage with a single punch. There's definitely a future star in the making here. And then there's The Zec, the film's Big Bad, and in the most bizarre casting choice in a long time, is played by acclaimed German arthouse director Werner Herzog, who is magnificently awful, but in a way that makes his casting absolutely brilliant. McQuarrie is playing with action tropes here, and isn't afraid to make that obvious, and Herzog's bizarre and almost inert performance feels like something blasted forward in time from a Cold War spy thriller. Also, it's Werner Herzog in a Tom Cruise action film, and there's no end to that novelty.
'Jack Reacher' comes as a breath of fresh air - a clear, slick action romp with a dynamic star at the centre of it.
While everyone is scrambling over one another to make the next groundbreaking cinema experience, 'Jack Reacher' comes as a breath of fresh air - a clear, slick action romp with a dynamic star at the centre of it. It isn't perfect, and won't change your cinematic life, but it does have one thing going for it, and something so many blockbusters seem to forget these days - it's absolutely balls-to-the-wall ridiculous fun.
PICTURE & SOUND:
Paramount have graced 'Jack Reacher' with as excellent a transfer as you would expect from such a recent tent pole film. The 2.35:1 1080p image is crisp and cinematic, and really shows off the steely and autumnal tones of the design. There is some really terrific cinematography here, and this transfer really shows off the film's clever visual style. The same can be said of the thumping DTS-HD MA 7.1 track, which balances the intimate dialogue moments with the rip-roaring car chases and bone-cracking texture of all the good-old-fashioned fist fights. All round a terrific presentation.
SPECIAL FEATURES:
It might not look like much, but the few features on the disc have quite a bit to offer. 'The Man Comes Around' looks into the development and making of the film, including a candid discussion around the controversy of Cruise's casting around his dissimilar he is in physical appearance to Childs' description of the character in the book. All the major players are here, including Childs himself. There's two more slick featurettes, a look into the action sequences in the film, and the phenomenon around the books. Rounding it off is an excellent commentary from McQuarrie and Cruise, both displaying great intelligence and insight into the film and the filmmaking process, and something unusual - an isolated score commentary from composer Joe Kramer, something many more discs should be offering. A small package, but as high quality as the film they're representing.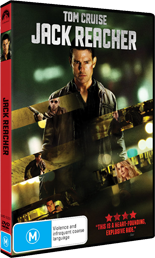 The 'Jack Reacher' competition has now closed. Winners will be announced shortly.
Competition opens at 5pm AEST on Sunday 19th May 2013 and closes at 11:59pm AEST on Monday 27th May 2013. Five winners will be chosen at random on Tuesday 28th May 2013. To successfully win, entrants must fulfil the above entry conditions before the time the competition closes. Current members/followers are eligible to enter the competition. Only one entry per person. Only one winner per household. To be a valid winner, the entrant must not have won a prize from SWITCH within the last 28 days. Each winner will receive one prize pack copy of 'Jack Reacher'. By entering, you agree to receive occasional emails from SWITCH in the future. If you decide to unsubscribe from these updates, any further entries will not be applicable. Only Australian residents are eligible to enter.
'Jack Reacher' is available on Blu-ray and DVD on Wednesday the 22nd May 2013 from Paramount.