Aussie films are for the most part quite decent, but now and then, a movie comes along that raises the bar; 'Last Cab to Darwin' is one of those films.
Michael Caton plays Rex, a cabbie in Broken Hill dying of stomach cancer, with about three months to live. He hears about euthanasia legislation being passed in the Northern Territory, drops everything - including his relationship with neighbour Polly - and starts heading north. But it's the journey, not the destination, that convinces Rex that he still has life to live.
Inspired by the true story of cabbie Max Bell in the 1990s, 'Last Cab to Darwin' is a beautiful film, well written, with excellent performances from all involved. There are several fairly strong messages woven into the narrative, but none are shoved in our faces. Instead, this film offers honesty and a whole lot of heart, along with some spectacular scenery that makes you want to head straight out to the NT. The direction is superb, the cinematography and soundtrack are perfect for the film. It's paced just right: the correct amount of introduction before moving into the guts of the story, and it never drags.
'LAST CAB TO DARWIN' TRAILER
">
While all the cast are excellent, it's Caton who doesn't just remind us that he's more than the dad from 'The Castle' or the bloke from the blinds ads, but slaps us upside the head with it. Under director Jeremy Sims' guidance, the 72-year-old Australian film veteran uses his infinitely expressive features to take us on an emotional journey. Rex has never left Broken Hill before his epic drive to Darwin. He's an intensely private man, who keeps his feelings to himself, but this drive opens him up to a whole other world that makes the most important journey the one that transforms him internally. Caton delivers all of this, and it's so natural that he seems to do it effortlessly.
Jacki Weaver is Doctor Farmer, the euthanasia campaigner Rex volunteers for. Weaver is a fantastic actress, and here she takes a back seat to Caton and the younger actors. Those younger actors are two to watch out for, being Mark Coles Smith as Tilly, a young Aboriginal man whose life is in the rough, and Emma Hamilton as Julie, the British nurse who volunteers to take care of Rex. Worth a special mention is Ningali Lawford-Wolf ('Bran Nue Dae') as Polly, the lover Rex left behind. She is just brilliant, as are the support cast of Rex's mates in Broken Hill. Really, you have to see this film to believe the quality of the acting.
This film offers honesty and a whole lot of heart, along with some spectacular scenery that makes you want to head straight out to the NT.
The problem with great movies is that it's really hard to write a review about them. All I need to say is that this is the sort of film we Australians can be proud of. I often talk about whether a film is worth the moolah it costs to get to the cinema these days, and this is one film where I can honestly say, yes, this is worth it. See it, because it just might change you too.
But take your tissues. A box of them.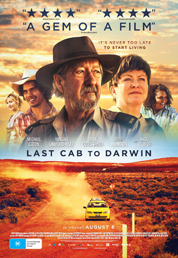 To celebrate the release of 'Last Cab To Darwin' in cinemas, we're giving you the chance to win a double pass.
To win one of five double passes, just make sure you follow both steps:
Complete your details below. Members can
sign in
sign in
at the top of this page to have their details automatically filled in.
Please ensure the fields marked in red are completed.
Become a member - so I don't have to fill in my details every time
Competition opens at 9:00pm AEST on Friday 31st July 2015 and closes at 11:59 pm AEST on Thursday 6th August 2015. Five winners will be chosen at random on Friday 7th August 2015. To successfully win, entrants must fulfil the above entry conditions before the time the competition closes. Current members/followers are eligible to enter the competition. Only one entry per person. Only one winner per household. To be a valid winner, the entrant must not have won a prize from SWITCH within the last 28 days. Each winner will receive one double pass to 'Last Cab To Darwin'. By entering, you agree to receive occasional emails from SWITCH in the future. If you decide to unsubscribe from these updates, any further entries will not be applicable. Only Australian residents are eligible to enter.