'Parasite' won Best Picture last year at the Oscars - finally letting the whole world know how beautiful and fantastic foreign film can be. For a lot of people, it was the first foreign film they ever watched, and one they wouldn't have seen if not for its awards sweep. While 'Minari' is an American production, it follows in 'Parasite's' footsteps by continuing to expand the audience's world view through the lens of other cultures.
'Minari' follows the Ÿi family who, in the 1980s, move from California to land in Arkansas so Jacob (Steven Yeun, 'Okja', 'Sorry to Bother You') can pursue his dream of starting a farm and making his family proud. Monica (Han Ye-ri), his wife, is unsure of all this, and it causes tension between them. While Jacob is a dreamer, Monica would rather be back in California - where not only do they make ends meet, but are also able to see other Korean families, as well as being closer to the hospital as their son, David (Alan Kim), suffers from a heart condition. In order to help take care of the kids, Monica's mother, Soon-Ja (Youn Yoh-jung) also moves in, creating further tension.
'MINARI' TRAILER
">
Writer/director Lee Isaac Chung, who partly based the film on his life, has created the perfect love letter to how complex and difficult family is, and how strange love can be in that collective. It's 'Marriage Story' meets 'The Farewell', and it packs all the emotional weight of those films too. 'Minari' also has the additional element of assimilation - what does the "American Dream" look like for a Korean family in the 1980s, and how stressful and frustrating that can be.
The acting is phenomenal. Alan Kim, who portrays the youngest son David, is a scene-stealer; he's this year's Jacob Tremblay or Sunny Pawar. You'll instantly fall in love with him, and you want to protect him at all costs. Steven Yeun is also incredible, and despite being the biggest name in the film is never scene-stealing. You feel all the weight of the constant pressure he has on himself to succeed for his family. I think, however, my favourite performance is from Han Ye-ri - she is breathtaking. The film has a lot of shots that hold on her for just that extra second, and it really allows you to be with her in the film. She is the one who has to keep it together for the family while Jacob is out building a farm. She has to put on the brave face and be the rock for the family, even when she is crumbling inside. Noel Kate Cho portrays Anne, the oldest sister in the Yi family, and she's like her mum being brave for her younger brother. She is overshadowed in a lot of the film, but she like the rest of the cast is equally incredible. Lastly, Youn Yuh-jung brings the comedy into the film and is just a delight. There are a lot of funny exchanges between Soon-ja and David about how she isn't being the right kind of grandmother, and it's absolutely charming.
Writer/director Lee Isaac Chung, who partly based the film on his life, has created the perfect love letter to how complex and difficult family is, and how strange love can be in that collective.
Cinematographer Lachlan Milne absolutely knocks it out of the park with his camera work. The colour palette and shooting style is so warm and inviting; you feel like you're there on the field planting crops with Jacob.
'Minari' is an emotionally beautiful film. For me personally, the only downfall are very small parts of its narrative. Some things are brought up but never really touched on again, which didn't bug me in the moment but after the film, I asked myself what happened with those threads. It's such a small issue, but that doesn't stop me from saying that the film is a breathtaking delight.
Soon-ja sang it best: "Minari, minari... wonderful, wonderful."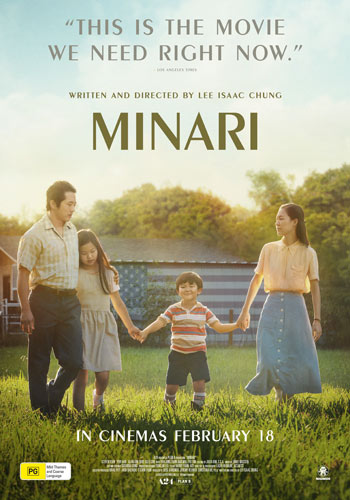 To celebrate the release of 'Minari' in cinemas, we're giving you the chance to win a double pass.
This competition is only open to residents of New South Wales. The double passes are to attend a special preview screening being held on Monday the 15th February 2021 at Newtown Dendy, 261 King Street, Newtown. Please only enter if you are available to attend. Prizes are not transferrable for in-season passes or any other sessions.
To win one of five double passes, just make sure you follow both steps:
Complete your details below. Members can
sign in
sign in
at the top of this page to have their details automatically filled in.
Please ensure the fields marked in red are completed.
Become a member - so I don't have to fill in my details every time
Competition opens at 5:00pm AEDT on Sunday 7th February 2021 and closes at 11:59 pm AEDT on Friday 12th February 2021. Five winners will be chosen at random on Saturday 13th February 2021. To successfully win, entrants must fulfil the above entry conditions before the time the competition closes. Current members/followers are eligible to enter the competition. Only one entry per person. Only one winner per household. To be a valid winner, the entrant must not have won a prize from SWITCH within the last 28 days. Each winner will receive one double pass to 'Minari'. By entering, you agree to receive occasional emails from SWITCH in the future. If you decide to unsubscribe from these updates, any further entries will not be applicable. Only Australian residents are eligible to enter.