The Melbourne Cup is one of the biggest sporting events in the country, but as the years go by the race becomes more and more controversial. The treatment of the horses is always something at the forefront of the media; just last week when it was announced that Taylor Swift will be performing at this year's race, it was met with overwhelming backlash. So in 2019, to make a movie about the Melbourne Cup seems a little eerie.
Michelle Payne (Teresa Palmer, 'Hacksaw Ridge', 'Lights Out') is the first female jockey to win the Melbourne Cup. The whole Payne family has grown up horseriding, living with the animals and training for the sport. Even through deaths and hardships, horseracing is always there for the Payne family, and Michelle was always the one who was the most dedicated to the sport. She even goes against her father's (Sam Neill, 'Hunt For The Wilderpeople', 'Palm Beach') wishes time and time again.
'RIDE LIKE A GIRL' TRAILER 2
The film opens with a documentary-style montage of clips of the real Michelle Payne in interviews and home footage, with a voiceover telling us about her life. This is a wild choice to open your film on; it was a strange approach that felt like a segment they would use on '60 Minutes' and really threw off the first half of the film. This only helps to illustrate a clear problem with the film: while Michelle Payne is an incredible woman who changed Australian sporting history and has had a tough life, as a character she isn't interesting enough on her own. We know one thing about her - she wants to race horses and she does. Yes, she has obstacles in her way from injures to family losses, but she never really grows or changes. While her winning the Melbourne Cup is an incredible achievement, that's really all there is to carry the story forward. A lot of times when studios jump on the chance to transition a true story to film, it doesn't always fit a three-act motion picture structure, and that's definitely the major problem with 'Ride Like a Girl'.
A lot of times when studios jump on the chance to transition a true story to film, it doesn't always fit a three-act motion picture structure, and that's definitely the major problem with 'Ride Like a Girl'.
Teresa Palmer is a really good actor, and is great here. She doesn't have much to do; a lesser actor would have made this film much blander, but Palmer keeps you invested. The film is Rachel Griffiths' ('Muriel's Wedding', 'Saving Mr Banks', TV's 'Six Feet Under') directorial debut and she does a fine job. The real scene-stealer is Michelle's brother with Down syndrome, Stevie Payne, who plays himself. He brings the lighter moments to the film; he's so sweet and definitely going to steal a lot of audience members' hearts.
The very start of the film, before any studio logos, the first thing we see is the disclaimer, "No animals were harmed in the making of this film." Which to have this as the very first thing you see is very iconic, and immediately gets you thinking about all the negative elements surrounding the Cup.
Despite its negative aspects, the third act of the film is highly inspirational and did make me a little teary-eyed. It's almost impossible not to - seeing this woman survive a major injury and then triumph to become the first woman to win at the Melbourne Cup is extremely exciting and emotional. The downside to the film is the script; the first two acts unfortunately lack character. This could be a nice feel-good Australian film, but it just comes off a little bland.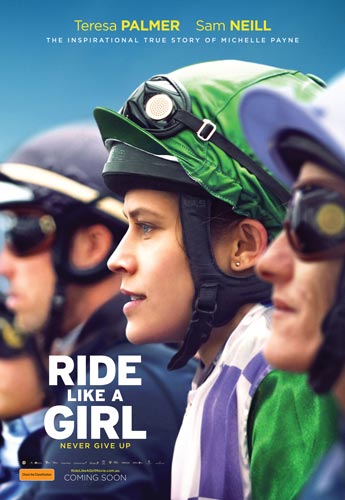 To celebrate the release of 'Ride Like a Girl' in cinemas, we're giving you the chance to win a double pass.
To win one of five double passes thanks to Transmission, just make sure you follow both steps:
Competition opens at 5:00pm AEST on Sunday 15th September 2019 and closes at 11:59 pm AEST on Sunday 22nd September 2019. Five winners will be chosen at random on Monday 23rd September 2019. To successfully win, entrants must fulfil the above entry conditions before the time the competition closes. Current members/followers are eligible to enter the competition. Only one entry per person. Only one winner per household. To be a valid winner, the entrant must not have won a prize from SWITCH within the last 28 days. Each winner will receive one double pass to 'Ride Like a Girl'. By entering, you agree to receive occasional emails from SWITCH in the future. If you decide to unsubscribe from these updates, any further entries will not be applicable. Only Australian residents are eligible to enter.