Don't be fooled by the name - there's little tea being drunk here; in fact, the beverage most enthusiastically discussed over the hour and 24 minutes is champagne. But let's be honest, would you much prefer to watch four of the greatest actresses Britain has had to offer get sweaty over cups of tea or sloshed over glasses of bubbly? This film actually goes by two names: 'Tea with the Dames' and 'Nothing Like a Dame', and not once is drunken belligerence mentioned - a gross oversight on the part go the marketing department, if you ask me.
Tea... Champagne... makes no difference really, we'll still find ourselves here; Dame Maggie Smith, Dame Judi Dench, Dame Eileen Atkins and Dame Joan Plowright. Their names are hallowed and their accomplishments and accolades immeasurable. They've done stage, screen, television, black and white, colour, they've married, re-married, become mothers, become widows, become celebrities, and through it all they've maintained grace, dignity and their friendships with one another... until today. Ha!
'TEA WITH THE DAMES' TRAILER
">
There are no plot points or driving storylines in this film. We the audience are here to simply observe and enjoy. If you're looking for action and excitement, this is not the film for you - although the film does start out being shot outside, but once the weather sets in and the heavens open up it's a mad scramble to get the cast and crew inside. Look out Dwayne Johnson!
Each of these incredible women deserves a film all to themselves far exceeding 'Tea's' anorexic 84 minutes, but alas this is what we're given so this is what we shall be thankful for. Unfortunately a precursory knowledge of these women's married lives is required to fully grasp what they're talking about most of the time. And that in itself is a shame, not because not everyone going in will have that knowledge (myself included) but that so much of the film is dedicated to talking about their husbands. Their husbands! I don't give a toss about their husbands! Even if one of them was Sir Laurence Olivier. Okay, that may be an exaggeration, but this documentary is called 'Tea with the Dames' not 'Tea while the Dames Talk about Men'. I believe that movie is already slated for 20 years time and to be called 'Sex and the City 3'.
The interaction between these incredible women is pure delight...Nothing of any real substance is discussed nor does any thought or idea come to a satisfactory conclusion.
I'll admit, the interaction between these incredible women is pure delight. The playfully snide comments, the lapses in memory, the inside jokes, the shared decades of joy and sorrow, the champagne guzzling - but that's all this is. Nothing of any real substance is discussed, nor does any thought or idea come to a satisfactory conclusion; there are always interruptions and for some reason the filmmakers desire to showcase more "behind the scenes" play and faffing rather than a coherent conversation.
At the end of the day, these woman are as sharp, funny and insightful as ever, and if this film was nothing but them picking up 50 kilos worth of rice with chopsticks, one grain at a time, I'd shout from the mountain top that it's fabulous and demand Oscars for them all, yet as a fan and deep admirer of these four Dames I couldn't help but leave the cinema wanting and feeling that they deserved a bit better.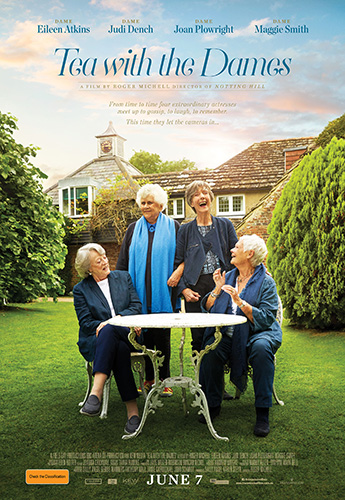 To celebrate the release of 'Tea with the Dames' in cinemas, we're giving you the chance to win a double pass.
To win one of ten double passes, just make sure you follow both steps:
Complete your details below. Members can
sign in
sign in
at the top of this page to have their details automatically filled in.
Please ensure the fields marked in red are completed.
Become a member - so I don't have to fill in my details every time
Competition opens at 5:00pm AEST on Sunday 27th May 2018 and closes at 11:59 pm AEST on Sunday 3rd June 2018. Ten winners will be chosen at random on Monday 4th June 2018. To successfully win, entrants must fulfil the above entry conditions before the time the competition closes. Current members/followers are eligible to enter the competition. Only one entry per person. Only one winner per household. To be a valid winner, the entrant must not have won a prize from SWITCH within the last 28 days. Each winner will receive one double pass to 'Tea with the Dames'. By entering, you agree to receive occasional emails from SWITCH in the future. If you decide to unsubscribe from these updates, any further entries will not be applicable. Only Australian residents are eligible to enter.