A beautiful young woman drives around the Scottish countryside looking for lone young men to pick up in her van. Except she isn't a young woman at all. She's an alien who kidnaps these young men and consumes them in a dark void of nothingness.
This is the basic premise of one of the strangest and most artistically exciting films of the past year, Jonathan Grazer's 'Under the Skin', and yet it can hardly do the film any justice to boil it down to such a glib description. Sculptured far from the rules of mainstream cinema, hypnotic and ambiguous to a fault and featuring an almost wordless but nonetheless towering central performance from Scarlett Johansson, this is one of those films that you will either despise or absolutely adore.
In adapting Michel Faber's novel, Grazer has constructed a film built around visual and aural landscapes rather than narrative and dialogue. We move between an almost voyeuristic view of urban Scotland to the abstract environments where our unnamed protagonist brings her prey. We are never given access to her motivations or to the ultimate fate of her victims, but the staggering subtlety of Johansson's performance and the microscopic focus of Grazer's direction speak volumes, her perspectives shifting with every human being she encounters. It's hard to say what 'Under the Skin' is really about, and it would be foolish to nail it down to a single point, but what lifts it from a potentially cold art piece for a select few to a genuinely intriguing and affecting experience is the questions it asks of what is a human being, a living thing, a man, a woman, what makes us tick, how we live, how we die, seen through the eyes of one that can inhabit within and observe from without. 'Under the Skin' is also easily the most striking and beautiful-looking film of the year, shot and edited with frightening precision, and supported by a haunting and hypnotic score. And at the heart of it all is a flawless Scarlett Johansson, delivering a performance that is destined to become iconic. Just the still image of her on-screen will be burnt into your memory.
'UNDER THE SKIN' TRAILER
">
If science fiction is the easiest genre to associate 'Under the Skin' with, then it sits in the realm of '2001: A Space Odyssey', a film that is an experience rather than entertainment. It makes no apologies for its form or the questions it will not answer, and refuses to adhere to any other rules than its own. This is cinema as a nightmarish fever dream, a visually breathtaking work of astonishing darkness. It will leave you confused, cold, disturbed and haunted, and if you find yourself caught under its spell, absolutely exhilarated. It might be the strangest film of the year, but it's also easily one of the best.
PICTURE & SOUND
If there was ever a film made to be seen and heard in high definition, this one is it, and Roadshow have thankfully given us an AV presentation worthy of such an artistically daring film. The 1080p 1.85:1 transfer is startlingly clear, perfectly capturing the carefully balanced colour palette and razor-sharp detail of cinematographer Daniel Landin's exceptional work. The video is supported by an electric DTS-HD MA 5.1 track that balances the complex sound design of the film. Though there is very little dialogue, the film is constantly active in its sonic landscape, whether that be the bustling Scottish streets or moments of deafening silence, and the DTS-HD track balances them beautifully with Mica Levi's remarkable score. While Blu-ray is often seen as a format best suited for loud blockbusters with bucket-loads of special effects, it's also been a blessing for lovers of cinema as an art form, and this release of 'Under the Skin' is a great demonstration of that.
This is one of those films that you will either despise or absolutely adore.
SPECIAL FEATURES
Usually arthouse films don't come with any special features of note, so it's a great surprise that 'Under the Skin' is complemented with a satisfying little collection. The material is made up of a number of short featurettes that clock in at about 45 minutes in total, and cover almost every aspect of the production, from early development and casting, Grazer's use of non-actors, improvisation and guerrilla filmmaking techniques, and post production and the score. Most of it appears to be promotional material from the release of the film, but almost all the key players are present to speak about the film. Unfortunately there isn't a 'Play All' function, which would have been useful to present them all as a single feature.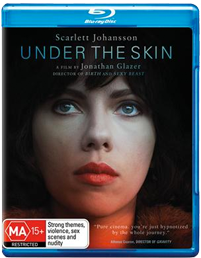 To celebrate the release of 'Under The Skin', we're giving you the chance to take home a copy of your own.To celebrate the release of 'Under The Skin', we're giving you the chance to take home a fantastic prize pack.
To win one of five Blu-rays, just make sure you follow both steps:
Complete your details below. Members can
sign in
sign in
at the top of this page to have their details automatically filled in.
Please ensure the fields marked in red are completed.
Become a member - so I don't have to fill in my details every time
Competition opens at 6:00pm AEDT on Sunday 12th October 2014 and closes at 11:59 pm AEDT on Sunday 19th October 2014. Five winners will be chosen at random on Monday 20th October 2014. To successfully win, entrants must fulfil the above entry conditions before the time the competition closes. Current members/followers are eligible to enter the competition. Only one entry per person. Only one winner per household. To be a valid winner, the entrant must not have won a prize from SWITCH within the last 28 days. Each winner will receive one . By entering, you agree to receive occasional emails from SWITCH in the future. If you decide to unsubscribe from these updates, any further entries will not be applicable. Only Australian residents are eligible to enter.