Of all the giants of world literature, none cast as imposing a shadow as Leo Tolstoy's 'War & Peace'. Published in 1869, it is regarded as one of the foundation stones of literature and one of the finest novels ever written. However, even though this sprawling, 1200-page epic still intimidates readers to this day, it hasn't done the same for filmmakers, having been adapted countless times for cinema and television. It seems that each new generation has brought the need for a new 'War & Peace', and with an incredible cast and top-notch creative team, this enormous six-part BBC adaptation attempts to bring Tolstoy's masterpiece into the new century.
'War & Peace' looks at the French invasion of Russia by Napoleon in the early 1800s. However, what made the novel so revolutionary was Tolstoy's decision to tell the story of the war from the perspective of the Russian people themselves (albeit the aristocracy). Five families navigate their way through the invasion, sons and husbands are sent to fight, mothers and wives left to hold their families together, young men and women pulled between the desire to fight and their desire for each other. There are so many characters and moving pieces in 'War & Peace' that in the wrong hands, any attempt to contain it would fall apart. Thankfully, this adaptation from acclaimed television writer Andrew Davies ('House of Cards', 'Pride & Prejudice') takes the complex machinery of the novel and crafts it into clear and affecting serialised storytelling. His streaming of the narrative gives it an energy and a clarity needed for a modern audience, but without sacrificing any of Tolstoy's wit, romance or fury.
'WAR & PEACE' TRAILER
">
However, once placed in the hands of director Tom Harper, this new 'War & Peace' properly becomes a marvel, a visual and emotional tour de force that is both beautifully period and shockingly immediate. Even though the series indulges in the breathtaking opulence of Tsarist Russia, much like last year's equally superb BBC series 'Wolf Hall', it feels incredibly modern and alive. The characters live, breathe and bleed, and every enormous twist and turn it takes - and there are many - lands with exactly the necessary emotional impact. Cinematographer George Steel gives the series energy and kineticism, regardless of whether we're in a drawing room or a battle field, and Martin Phipps delivers a knockout with his gorgeous melancholic score. The series also assembles a spectacular cast, headlined by Paul Dano, James Norton and Lily James, and featuring Greta Scacchi, Jim Broadbent, Stephen Rea, Brian Cox, Adrian Edmendson and Gillian Anderson. Everyone is at the top of their game, with Dano and James delivering some of their finest work yet and a career-making performance from Jessie Buckley.
Most importantly though, this new adaptation, for all its youthful energy and enormous vision, never loses sight of Tolstoy's intent: to capture in vivid and horrifying detail the shock and effect of war on a people. It's to Davies' and Harper's credit that the battle sequences are both spectacularly staged and shockingly unforgiving, so that you feel the palpable horror and fear of the men at war, and then to pay as much careful attention to its aftermath for the loved ones affected by the pain and loss. Without this, the series would have been pretty but empty. This series could easily have shied away from the complex themes of the novel, but it embraces them, making the series equal parts thrilling, romantic and devastating. This new 'War & Peace' is an absolute triumph, cinematic and intimate and thoroughly affecting. It had me gripped from the first frame until the last.
This new adaptation, for all its youthful energy and enormous vision, never loses sight of Tolstoy's intent.
PICTURE & SOUND
The Blu-ray release of 'War & Peace' presents the series in a 1080i 16:9 transfer, and even though it doesn't have quite the kick that 1080p would have given it, this is the format the series was shot in. It still looks gorgeous, with rich colours and excellent clarity throughout that revels in the intricate product design. It is beautifully complemented with the DTS-HD MA 5.1 track, a surprisingly complex sound design that's been well balanced, so that Phipps' score never overwhelmed the dialogue. Considering the amount of detail and names in Davies' scripts, the fact the dialogue comes across so clearly in a blessing.
SPECIAL FEATURES
Unfortunately, the extra material is not a rich a set as it appears. What we have are a series of very short featurettes that barely cover the making of the production: 'From Page To Screen' (4:44), 'Rundale Palace' (2:15), 'The Read Through' (2:25), 'Making the Music' (2:23), 'What is War & Peace' (1:04) and 'Count Rostov's Dance' (1:11). There are tidbits of information here and there, but with so little running time they barely have a chance. If any series warranted a proper making-of, this one was it. This disappointing set is rounded off with some minor deleted scenes (3:29).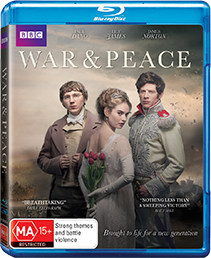 To celebrate the release of 'War & Peace', we're giving you the chance to take home a copy of your own.To celebrate the release of 'War & Peace', we're giving you the chance to take home a fantastic prize pack.
To win one of five Blu-rays, just make sure you follow both steps:
Complete your details below. Members can
sign in
sign in
at the top of this page to have their details automatically filled in.
Please ensure the fields marked in red are completed.
Become a member - so I don't have to fill in my details every time
Competition opens at 5:00pm AEDT on Sunday 6th March 2016 and closes at 11:59 pm AEDT on Sunday 13th March 2016. Five winners will be chosen at random on Monday 14th March 2016. To successfully win, entrants must fulfil the above entry conditions before the time the competition closes. Current members/followers are eligible to enter the competition. Only one entry per person. Only one winner per household. To be a valid winner, the entrant must not have won a prize from SWITCH within the last 28 days. Each winner will receive one . By entering, you agree to receive occasional emails from SWITCH in the future. If you decide to unsubscribe from these updates, any further entries will not be applicable. Only Australian residents are eligible to enter.