You know you're a true cinephile when you look around your home and see an overwhelming collection of Blu-rays, posters and movie memorabilia. Not only is it a reflection of our deep passion, but a reflection of who we are. Helping (or maybe fuelling) our addiction is a new site called Poster Memorabilia - as the name suggests, they're the leaders in autographed film posters.
Speaking to co-founder Daniel James, it all began through his love of cinema too. "I'm a collector of memorabilia myself and I've honed the art of collecting all these wonderful items," he explains to me. "I know where to look, who to call, what movies to go for; all the stuff true collectors have to do for their passion. And so I knew that there's a huge number of people who share the same passion as me and I wanted to cultivate a community for us. More than just your ordinary poster store, I firmly believe that each and every one of my customers is connected to each other and to me through our shared love for cinema."
With a huge selection of titles, I had to ask Daniel about the most popular poster collections. "Definitely the superhero movies. Our Marvel posters, of course, are selling like hotcakes right now due to the success of 'Avengers: Endgame'. But even some of our DC posters, particularly 'Aquaman', is getting a lot of orders. Our Pixar selection is also quite strong."
Poster Memorabilia isn't just for fans of the latest blockbuster releases - they also have a great selection of classic cinema titles. "We have the likes of 'The Godfather', 'Goodfellas', 'Titanic'; movies that to this day are still making a mark in people's lives," Daniel says. "A lot of people buy them because of nostalgia. I guess, seeing the posters of the movies you grew up with hanging in your house as an adult makes people feel a certain way. And speaking of nostalgia, our gangster movies are also selling well these days. They are, after all, certified classics! No one does them like they used to nowadays!"
Being a fan of the gangster genre himself, Daniel's quick to choose the personal favourite poster that he's had to date in their collection. "Definitely 'The Godfather II' poster that we have. Imagine: Francis Ford-Coppola, Al Pacino, Robert DeNiro, Diane Keaton, James Caan, and Robert Duvall all signed it! I'll never forget getting their autographs on it too, now that's a story in of itself! But this close-to-perfect film, with all its memorable moments, is a testament to the pinnacle of movie-making. You might be able to tell that this is my favourite film. But then again, so are others' too. The movie is just that good! Now, if we got Brando to sign our 'Godfather' poster, that would be more impressive, but only by a bit!"
Film fans can rest assured that when they buy from Poster Memorabilia, it's the real deal. "As a collector myself, I've been scammed before," reveals Daniel. "I know what it feels like to pay and wait for memorabilia, only to turn out that it was fake all along. That feeling of getting cheated can consume you, and so I don't ever want to inflict that sort of pain on my customers. Oftentimes, we get our posters from the movie studios themselves. They'd have a lot of stock, especially their big-budgeted films. We also go to collectors' conventions and auctions that contain the type of memorabilia we need for our store. This is where we frequently get our classic movie posters, and more often than not, they're 100% authentic!"
A movie lover's collection can be worth a small fortune - but the good news is that these collectable items can significantly increase in value over time. "We've received messages asking why some of our classic movie posters cost less than a thousand bucks! We understand that a lot of our products should be sold at higher prices, especially considering what they're worth. But we have our own reasons for our affordable prices. You'd think that some of the current ones, like the 'Avengers' posters, should be worth more now. But I think that as many people watch these movies through time, and many people join their respective fandoms, the demand for our products will further skyrocket!"
Poster Memorabilia and SWITCH are giving you the chance to win a signed and framed 'Avengers: Endgame' poster valued at AU$1,150 (US$799.95).
The poster is signed by Josh Brolin, Robert Downey Jr, Chris Hemsworth, Paul Rudd, Mark Ruffalo, Don Cheadle, Brie Larson, Scarlett Johansson, Danai Gurira, Karen Gillan, Bradley Cooper, Jeremy Renner, Chris Evans, Pom Klementieff, Evangeline Lilly, Tom Holland, Elizabeth Olsen, Sebastien Stan, Dave Bautista, Michelle Pfeiffer, Jon Favreau, Gwyneth Paltrow, Tilda Swinton,and Chadwick Boseman, and comes authenticated by PSA/DNA, Beckett or OA. The prize includes delivery to the lucky winner anywhere worldwide.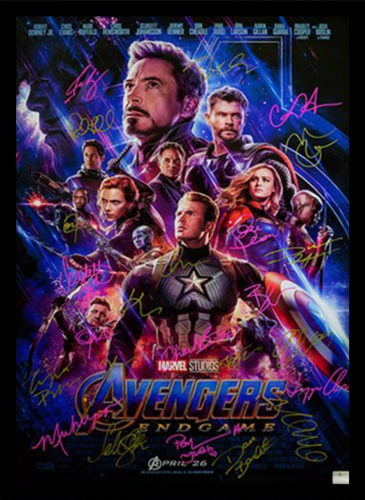 To win our poster, just make sure you follow both steps:
Competition opens at 5:00pm AEST on Sunday 28th July 2019 and closes at 11:59 pm AEST on Sunday 11th August 2019. One winners will be chosen at random on Monday 12th August 2019. To successfully win, entrants must fulfil the above entry conditions before the time the competition closes. Current members/followers are eligible to enter the competition. Only one entry per person. Only one winner per household. To be a valid winner, the entrant must not have won a prize from SWITCH within the last 28 days. Each winner will receive one poster copy of 'Avengers: Endgame Poster'. By entering, you agree to receive occasional emails from SWITCH in the future. If you decide to unsubscribe from these updates, any further entries will not be applicable. Only Australian residents are eligible to enter.