America in the mid-1980s. In the midst of the AIDS crisis and a conservative Reagan administration, New Yorkers grapple with life and death, love and sex, heaven and hell.
Andrew Garfield ('Silence', 'Hacksaw Ridge') plays Prior Walter along with a cast including Denise Gough ('People, Places and Things'), Nathan Lane ('The Producers'), James McArdle ('Star Wars: The Force Awakens') and Russell Tovey ('The Pass').
This new staging of Tony Kushner's multi-award winning two-part play is directed by Olivier and Tony award winning director Marianne Elliott ('The Curious Incident of the Dog in the Night-Time' and 'War Horse').
Click here to read our four-star theatrical review of 'Angels in America: Part One - Millennium Approaches'.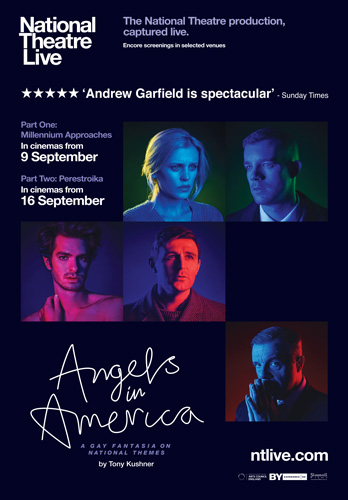 The 'National Theatre Live: Angels In America' competition has now closed. Winners will be announced shortly. Check our Comps page for all a list of our winners.
'National Theatre Live: Angels In America - Millennium Approaches' is in cinemas from Saturday the 9th September 2017, while 'Perestroika' opens on Saturday the 16th September 2017 through Sharmill.