Five films. Five horror stories. We're giving you the chance to win one of three prize packs from Shudder - if you dare. The chilling, terrifying releases include Jakob's Wife starring horror legend Barbara Crampton ('You're Next'), Host with a rating of 100% on Rotten Tomatoes, haunted house horror The Banishing, the Suki Waterhouse ('Love Rosie') starring film Seance and intriguing Irish horror Caveat.
Jakob's Wife
Anne is married to a small-town minister and feels like her life and marriage have been shrinking over the past 30 years. After a chance encounter with "The Master," she discovers bite marks on her neck, a new sense of power and an appetite to live bigger and bolder than ever. As Anne is increasingly torn between her enticing new existence and her life before, the body count grows and Jakob realizes he will have to fight for the wife he took for granted.
Host
Six friends get together during lockdown for their weekly zoom call. It's Haley's turn to organise an activity and instead of a quiz, she's arranged for a Medium to conduct a séance. Bored and feeling mischievous, Jemma decides to have some fun and invents a story about a boy in her school who hanged himself. However, her prank gives license for a demonic presence to cross over, taking on the guise of the boy in Jemma's made-up story. The friends begin noticing strange occurrences in their homes as the evil presence begins to make itself known, and they soon realise that they might not survive the night.
The Banishing
A young reverend and his wife and daughter move into a manor with a horrifying secret. When a vengeful spirit haunts the little girl and threatens to tear the family apart, the reverend and his wife are forced to confront their beliefs. They must turn to black magic by seeking the help of a famous Occultist... or risk losing their daughter. From Triangle and Black Death director Chris Smith comes a terrifying look at the most haunted house in England.
Seance
Camille Meadows is the new girl at the prestigious Edelvine Academy for Girls. Soon after her arrival, six girls invite her to join them in a late-night ritual, calling forth the spirit of a dead former student who reportedly haunts their halls. But before morning, one of the girls is dead, leaving the others wondering what they may have awakened.
Caveat
In an abandoned house on an isolated island, Isaac accepts a job looking after his landlord's niece, Olga. But there is a catch. He must wear a leather harness and chain that restricts his movements to certain rooms in order to protect Olga's extremely frail mental state. Once left alone, Isaac makes horrific discoveries in the house that trigger a deeply buried, traumatic memory.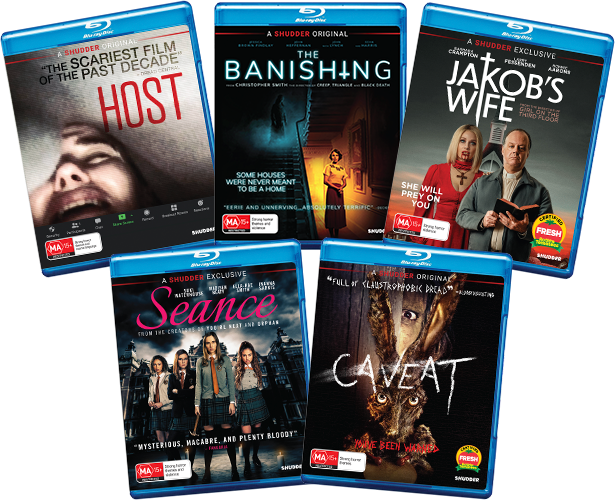 To win one of three prize packs thanks to Acorn Media, just make sure you follow both steps:
'Jakob's Wife', 'Host', 'The Banishing', 'Seance' and 'Caveat' are available on Wednesday the 19th January 2022 from Acorn Media.