We've seen countless films on the war on drugs over the past twenty years. Some, like Soderbergh's 'Traffic' (2000) are still considered great works of cinema, but most tend to trot out the same tired themes and stories in the same tired form. Perhaps this is what makes Denis Villeneuve's 'Sicario' such a genuine shock to the system. Not only is it a fresh entry into this strange sub-genre, bolstered by exemplary filmmaking, but it's also one of the most visceral and palpable film experiences in years. This isn't a film you watch, it's a film that practically watches you.
After uncovering a horrific drugs-related crime scene, FBI agent Kate Macer (Emily Blunt) is invited to join an unusual CIA task force fighting the war against drugs on the border between Mexico and the United States. Arrogantly headed by agent Matt Garver (Josh Brolin), the team's target lies within the dangerous labyrinth of Juárez, a Mexican city transformed into a battlefield. However, what Kate soon discovers is that the methods of the team she now works with might not be entirely ethical, and it all seems to revolve around their mysterious adviser Alejandro Gillick (Benicio del Toro).
Where others might play this kind of story as a drama or a thriller, Villeneuve and screenwriter Taylor Sheridan have fashioned 'Sicario' into something closer to a horror film. Villeneuve pulled a similar trick with his impressive yet overpowering child abduction film 'Prisoners' (2013), but here the narrative is tighter and more dangerous, and moves with almost animalistic ferocity. From the first frame the tension is set, and at no point does the film ever take a moment to breathe. It's to Sheridan's credit that he chooses to focus on character rather than politics, allowing the film to more potently open up the questions about what is morally right in the war against drugs. In fact, drugs are simply a foundation stone for 'Sicario' to tunnel deep into the dark machinations of human interaction – what we're watching isn't a modern fight against drugs but an ancient battle of power, domination and revenge.
'SICARO' TRAILER
">
Placing Kate at the centre is a masterstroke, a person of clear and relatable morals made to bear witness to men of questionable morals and actions. Villeneuve does this with a series of staggering and horrifying set pieces, shot to maximise the terror and the tension rather than any kind of heroic justification. The filmmaking here is astounding, all the moreso because each act of cinematic bombast is done in service of the narrative and the characters. The key here is cinematographer Roger Deakins, still probably the finest in the world. The visual landscape he creates for 'Sicario' is one of a nightmare, ugly and textured and unrelenting. It's still as poetic as you would expect from Deakins, but with a violence we've rarely seen from him. The same can be said for composer Jóhann Jóhannsson's horrifying score. The elegance of his work on 'Prisoners' and 'The Theory of Everything' is stripped away to create a score that might have been pulled from the depths of hell itself. And at the helm is the exceptional craftsman that is Villeneuve, hell-bent on making 'Sicario' an experience its audience will never forget.
All three central performances are also superb, with Brolin allowing himself to be as ugly a human being as possible and del Toro uncovering a quiet inhumanity and pain we've not seen from him before. However, while del Toro's performance has been garnering the most attention, it was Emily Blunt for me who stole the film, balancing Kate's iron morals and strength with the vulnerability of someone who must bear witness to terrible acts. Without her intelligent and harrowing performance, 'Sicario' wouldn't have the soul it needs to be as affecting as it can.
There are few films that strike with the ferocity or clarity of 'Sicario'.
There are few films that strike with the ferocity or clarity of 'Sicario'. You walk away from it haunted and shaken, just like its protagonist, and overwhelmed by the complex nightmare this war has become. It leaves you with more questions and very few answers, but they're questions that sink right down to the violence between human beings and our insatiable desire for power. It's also a pure experience, battering and overwhelming and deeply disturbing. I wish I had seen this at the cinemas, because I have no doubt it would have hit like a train. 'Sicario' is easily one of the finest films of 2015, but it's also easily one of the most harrowing.
PICTURE & SOUND
If Roadshow had given this film anything other than an exemplary presentation on Blu-ray it would have been a travesty, but thankfully they've given it the video and audio respect it deserves. The 1080p 2.40:1 transfer is gorgeous, bringing out the detail and texture of Deakins' cinematography with startling clarity. The film moves between blinding daylight and deep darkness, especially in the film's ingenious climax, but the colour balance in the transfer means no important detail is lost. The film is also given a thunderous Dolby Atmos TrueHD 7.1 track, which really kicks into gear with Jóhannsson's score. It's an overwhelming audio experience, full of powerful base and surround detail, and will surely become a reference disc for any home theatre system.
SPECIAL FEATURES
The disc includes a small but captivating collection of featurettes on the background and making of the film. 'Stepping Into Darkness: The Visual Design of Sicario' (16:46) examines the visual decisions behind the film, both in regards to the photography and the production design. Character and narrative are addressed in 'Blunt, Brolin and Benicio: Portraying the Characters of Sicario' (14:35), with the cast discussing their individual work and how they interacted as an ensemble, but the most fascinating material appears in 'Battle Zone: The Origins of Sicario' (13:45), which features interviews with journalists and residents of Juárez, as well as Taylor Sheridan discussing the origins of the film. The set is rounded off with 'A Pulse from the Desert: The Score of Sicario' (6:19), a look at the creation of Jóhannsson's Oscar-nominated score.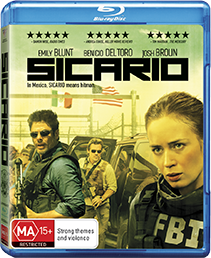 To celebrate the release of 'Sicario', we're giving you the chance to take home a copy of your own.To celebrate the release of 'Sicario', we're giving you the chance to take home a fantastic prize pack.
To win one of five Blu-rays, just make sure you follow both steps:
Complete your details below. Members can
sign in
sign in
at the top of this page to have their details automatically filled in.
Please ensure the fields marked in red are completed.
Become a member - so I don't have to fill in my details every time
Competition opens at 5:00pm AEDT on Sunday 24th January 2016 and closes at 11:59 pm AEDT on Sunday 31st January 2016. Five winners will be chosen at random on Monday 1st February 2016. To successfully win, entrants must fulfil the above entry conditions before the time the competition closes. Current members/followers are eligible to enter the competition. Only one entry per person. Only one winner per household. To be a valid winner, the entrant must not have won a prize from SWITCH within the last 28 days. Each winner will receive one . By entering, you agree to receive occasional emails from SWITCH in the future. If you decide to unsubscribe from these updates, any further entries will not be applicable. Only Australian residents are eligible to enter.