By the end of its theatrical run in Australia, I had seen 'Love, Simon' four times. That sits as my record for the most times I've seen any film in a cinema, and truth be told, the only thing that prevented me from smashing that record was that I ran out of time to see it a fifth. My first viewing of the film left me exhausted from sobbing and giddy with joy, but rather than those feelings subsiding over subsequent viewings, they only increased, as did my seemingly boundless love for this modest teen drama with enormous repercussions.
The cultural importance of 'Love, Simon' as the first mainstream Hollywood film with a gay teen protagonist was a major point of discussion around its release. Some critics questioned just how much audiences needed another teen coming-out story, whether Western culture had moved past the need for such narratives, whether the process of accepting your sexuality and seeking that acceptance from others was no longer a major concern for teenagers today. Others praised its sentiment but bemoaned its ordinariness, how closely it adhered to the well-worn clichés of teen dramas without offering radical variations.
Both criticisms though, I feel, miss what it is that actually makes this film so special. It is in the confident familiarity of its form that 'Love, Simon' provides something that not only teen audiences, but any member of the LGBTIQ+ community had clearly been hungering for, if the audience reactions were anything to go by. Those weeks around the release, my social media feeds were awash with people praising the film, sharing their own emotional responses to it. Older audiences repeated the phrase, "I wish I had this film when I was young," and more importantly, many young people spoke about how it helped them come out to their families and friends, connect with their loved ones, and of how incredible it was to see themselves represented on screen for the first time.
And in much the same way that 'Wonder Woman' and 'Black Panther' hit on a deep emotional level for women and people of colour, 'Love, Simon' does the same for a queer audience. I still feel my breath catch when Simon (played with such care and humanity by Nick Robinson) finally gets to kiss the boy of his dreams. The craft of the film is nothing special, with very few moments of cinematic flourish; my brain knows these rhythms from endless teen films I've watched over the years to the point of complacent comfort. And then two boys kiss, and you realise that this, this is something you've never seen before, where this familiar language is used to represent something other than a heterosexual story or relationship. And perhaps that's the secret genius of the craft of this film that, while it has its flaws and occasionally hits a bung note, it knows what its responsibility is. It knows that moments like this mean something.
SWITCH: 'LOVE, SIMON' TRAILER 2
">
With every subsequent return to this film, I find my respect for it growing more and more. The quiet and breathtaking accuracy it strives for results in a film that is both wonderfully fantastical and deeply personal. The major markers of Simon's journey are executed often as moments of quiet and intimacy, such as his coming-out to his friend Abby (Alexandra Shipp), and yet their impact is thunderous. There are moments of fantasy, of deep-seated teenage dreams of perfect romance. Simon makes teenage mistakes, succumbing to his own internalised homophobia before realising that being gay is a much richer and more complex experience than he believed. And there are moments of pointed fury, of the inhumanity of denying a queer person the ability to tell and control their own narrative or coming-out process, or the vile way that the queer experience can be spun into a spectator's sport and commandeered by heterosexual onlookers. In the end, regardless of its moments of awkwardness and banality, 'Love, Simon' establishes itself as just as significant a moment in queer representation in cinema as 'Moonlight' or 'Carol' or 'A Fantastic Woman'. It just chooses to do so (and beautifully so), not with the language of arthouse cinema, but in the language of the multiplexes, the language of pop hits and ice coffee and high school romance.
Each of my viewings of 'Love, Simon' in the cinema were accompanied by the same sound – a chorus of breathless sobs. I remember one time watching two boys holding hands as the film came to an end, crying and smiling. I remember another time seeing a young woman sobbing and hugging her girlfriend as I left the cinema. There wasn't a screening where even I wasn't hugging and crying with a friend or loved one afterwards. I've spoken to people who have said how much the film touched them and touched their families deeply, and people who've said they didn't even like it that much, but by god will they defend its existence. Simon's picturesque Atlanta life may be perfect, but even within the perfect, the terror of discovering yourself still exists, an experience that binds every LGBTIQ+ person together, no matter where they're from or who they are. In its own very gentle and very simple way, 'Love, Simon' reminds us of that, and reminds us of the joy that comes with knowing who you are and letting the world see it. We've waited for a long time for a film like 'Love, Simon' to come along, but damn it, the wait was so, so worth it.
It is in the confident familiarity of its form that 'Love, Simon' provides something that not only teen audiences, but any member of the LGBTIQ+ community had clearly been hungering for...
And more importantly, 'Love, Simon' has thrown down the gauntlet to mainstream cinema. A stellar marketing campaign, great reviews and word-of-mouth brought it legitimate box office success, taking over $62 million - impressive from just a $17 million budget. It proves that the argument that our stories aren't financially viable is bullshit, just as that same argument against representation of women and people of colour was likewise proven bullshit. Put us on your screens. Tell our stories. Not just the white gay men, but every queer person of every sexuality and gender, culture, nationality and creed. Simon has broken ground as the first for mainstream cinema. Don't you dare let him be the last.
PICTURE & SOUND
With 'Love, Simon' as aesthetically modest as it is, it's quite a surprise just how gorgeous it looks in the 4K UHD format. In fact, I'd go as far as to say that it looks even better here than it ever did in the cinema screenings I saw. It's unclear in what resolution the film was finished in, but the level of clarity in this 2160p 2.39:1 transfer is often quite startling, uncovering a myriad of surprising detail (like the dirt on Simon's car windscreen or the texture of their clothes). Perhaps the finest aspect of the transfer though is how the HDR adds vibrancy to the colours. 'Love, Simon' has a carefully saturated palette, and here you really get to enjoy the depth of that palette. Almost from the first moment, I found myself noticing things about the look of this film I hadn't noticed before, which is reason enough to label this beautiful transfer a success.
Sound-wise, we have a DTS-HD MA 5.1 track (the same that is included on the Blu-ray), and it offers its own surprises, a surprisingly active and dynamic track with a strong balance between the music and dialogue. Again, there seems to be more stability to this track than I remember in the theatrical screenings, and while an Atmos track would always be a welcome addition, the track we have certainly serves the film very well.
SPECIAL FEATURES
The only special feature included on the 4K disc is an audio commentary with director Greg Beranti, producer Isaac Klausner and co-writer Isaac Aptaker.
All other special features are included on the Blu-ray disc. As well as the commentary, they are:
- 'The Adaptation' (10:41)
- The Squad (9:40)
- #FirstLoveStory Contest Winner (1:34)
- Dear Georgia (5:07)
- Dear Atlanta (1080p; 2:06)
- Deleted Scenes (7:48)
- Gallery
- Theatrical Trailers (4:11)

In general, the content is pretty standard, if a little bit more detailed than most EPK material. Most of the key cast and crew are interviewed, a welcome addition being Becky Albertalli, author of the original book 'Simon vs. the Homo Sapiens Agenda' (itself an equally breathtaking piece of work). The highlight of the extras though is the second of the two deleted scenes, one of those rare instances of deleted content actually being of real merit. Here, Simon's best friend Nick (Jorge Lendeborg Jr.) takes Simon to his first gay bar, and while it clearly would have disrupted the pace of the film, it has the same magic of capturing a formative experience for a young gay man with great honesty and specificity, and further demonstrates what an extraordinary cast this film has across the board. For fans of the film, it's a must-watch delight.
There is also a special Blu-ray edition available through JB Hi-Fi that features a second disc of special features and booklet including more emails between Jacques and Blue.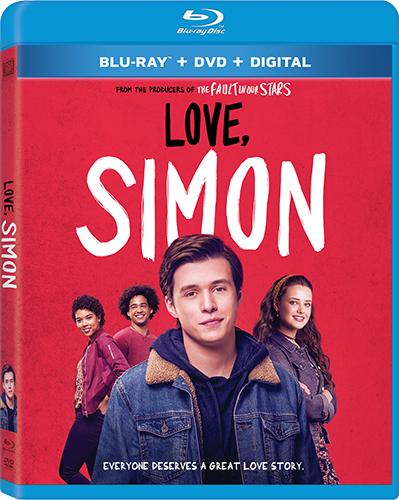 To celebrate the release of 'Love, Simon', we're giving you the chance to take home a copy of your own.To celebrate the release of 'Love, Simon', we're giving you the chance to take home a fantastic prize pack.
To win one of five Blu-rays, just make sure you follow both steps:
Complete your details below. Members can
sign in
sign in
at the top of this page to have their details automatically filled in.
Please ensure the fields marked in red are completed.
Become a member - so I don't have to fill in my details every time
Competition opens at 5:00pm AEST on Sunday 1st July 2018 and closes at 11:59 pm AEST on Sunday 8th July 2018. Five winners will be chosen at random on Monday 9th July 2018. To successfully win, entrants must fulfil the above entry conditions before the time the competition closes. Current members/followers are eligible to enter the competition. Only one entry per person. Only one winner per household. To be a valid winner, the entrant must not have won a prize from SWITCH within the last 28 days. Each winner will receive one . By entering, you agree to receive occasional emails from SWITCH in the future. If you decide to unsubscribe from these updates, any further entries will not be applicable. Only Australian residents are eligible to enter.