The porn industry has often provided rich inspiration for traditional feature film - a setting filled with intrigue, tension and sexual freedom that comes at a dangerous price. Most recently, after years in development, a new feature tackled one of the most iconic figure of the porn industry, Linda Lovelace, the star of the most successful porn film ever made, 'Deep Throat' (1972). Featuring an impressive cast and under the helm of two great documentarians, 'Lovelace' is an exciting prospect for an enlightening and entertaining film, one with big ambitions that doesn't quite get there in the end.
Linda (Amanda Seyfried) is a sweet, young woman from the 1960s who comes from an overbearing household. She finds tremendous sexual freedom in her relationship with Chuck Traynor (Peter Sarsgaard), an entrepreneur with aspirations to work in the porn industry. As it turns out, Linda is especially gifted at fellatio, and Chuck uses her skills to secure her a part in a new porn film going into production. With the release of the film, Linda becomes a celebrity overnight and proclaimed an icon of the sexual revolution - but behind the public facade is a marriage built on abuse and terrorisation, and Linda must find a way to escape the world of porn before it devours her.
SWITCH: LOVELACE - TRAILER
The directors, Rob Epstein and Jeffrey Friedman, are two of the most respected documentary filmmakers of the 80s and 90s, responsible for many important documentaries on queer culture. 'Lovelace' is their second feature film, and thankfully a far more successful attempt than their deplorable first feature 'Howl' (2011). That's not to say that 'Lovelace' is a great film, but infinitely better than that previous train wreck. Linda's story is a truly fascinating and tragic one, and the film is far more interested in her journey than showing off the darker side of the porn industry. Chuck is such a volatile and reprehensible character that he actually demonstrates some humanity in the people around them as a contrast. Andy Bellin's screenplay is serviceable enough, and employs some terrific storytelling techniques, but Epstein and Friedman let the film down with poor narrative pacing, the rhythms uneven and often plodding. Visually, they have much greater success, shooting the film in 16mm to give it an aged texture, and the production design is pretty great. The performances are all excellent, especially from Amanda Seyfried, an inspired and mature choice for Linda. What you're left with is a film strangely devoid of spark or life to it, no extra kick to get it over the line. For a film with such emotional content, nothing resonates with you in the end, other than Linda having had a hard life and good for her getting through it.
Linda's story is a truly fascinating and tragic one, and the film is far more interested in her journey than showing off the darker side of the porn industry.
'Lovelace' might be a film you forget about almost instantly, and might not be as enlightening a view of the porn industry as something like 'Boogie Nights', but it has enough going for it to keep your interest for its 90 minute running time. Seyfried is the real champion of the film, overcoming the failings of her directors, and if you need any one reason to check this one out, she would be it. If you have a genuine interest in the subject and the film in question, go seek out the excellent documentary 'Inside Deep Throat' (2005), otherwise you could do worse than give this film a look.
PICTURE & SOUND
Roadshow's 1080p 1.85:1 transfer is dark, grainy and messy, and its a credit to them for allowing this to be the case. The purposefully aged visuals are one of the film's best assets, lending it a strong sense of authenticity, and this Blu-ray presentation maintains this. Of course detail is sharp where necessary, the film not disappearing into VHS-quality oblivion, but the intentions of the filmmakers are maintained, and this is what is important. The DTS-HD MA 5.1 track is serviceable enough, but there isn't anything sonically distinct about 'Lovelace', so the track certainly does its job.
SPECIAL FEATURES
The only feature on offer is a small featurette on the making of the film, including behind-the-scenes footage and interviews with the cast and creatives. At 13 minutes long, it doesn't go into a great amount of detail, but it's satisfactory enough. In an ideal world it would have been bundled together with 'Inside Deep Throat', but that might have been too hopeful.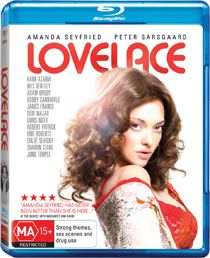 The 'Lovelace' competition has now closed. Winners will be announced shortly.
Competition opens at 5pm AEDT on Sunday 26th January 2014 and closes at 11:59pm AEDT on Sunday 2nd February 2014. Five winners will be chosen at random on Monday 3rd February 2014. To successfully win, entrants must fulfil the above entry conditions before the time the competition closes. Current members/followers are eligible to enter the competition. Only one entry per person. Only one winner per household. To be a valid winner, the entrant must not have won a prize from SWITCH within the last 28 days. Each winner will receive one Blu-ray copy of 'Lovelace'. By entering, you agree to receive occasional emails from SWITCH in the future. If you decide to unsubscribe from these updates, any further entries will not be applicable. Only Australian residents are eligible to enter.
'Lovelace' is available on Blu-ray, Digital Download and DVD on Wednesday the 29th January 2014 from Roadshow Entertainment.