Ah, love. Ain't it grand? It can put you on top of the world, and make you feel like anything is possible. But there are ups and downs, and even the greatest highs are matched by the most miserable lows. Exploring this idea with a hint of humour is 'My Big Gay Italian Wedding', the latest queer film to hit Australian shores. This one undoubtedly places itself on the lighter side of the scale of LGBTIQ+ films - it's definitely more 'Love, Simon' than 'Call Me By Your Name'.
Living a happy existence in Berlin, Antonio (Cristiano Caccamo) proposes to his boyfriend Paolo (Salvatore Esposito). Heading back to Italy for Easter with flatmates Bernadetta (Diana Del Bufalo) and crossdressing Donato (Dino Abbrescia) in tow, they must both break the news to their respective families. Yet each has their own complications - Antonio has to come out to his parents as well as announce the engagement, and Paolo and his mother haven't spoken in years because of his sexuality.
'MY BIG GAY ITALIAN WEDDING' TRAILER
This really couldn't be a more conventional story concept - you can practically imagine every scenario that happens from reading the synopsis above. What sets it apart is the heart of the film: the events play out with a joyous temperament, set at a furious pace to ensure there's not a moment of boredom. There's a genuine sweetness to the film that doesn't spill over into saccharine overload; between the general Italian temperament, the excitement of a wedding, and spectacle that unfolds in the small Italian village, there's so much enthusiasm and exultation in every scene.
So much of this comes down to the two leads - while Caccamo and Esposito may not seem like the most compatible pair, they manage to convince you their emotions are entirely genuine. That starts from the film's offset as we watch Antonio tell the story of their relationship forming and blossoming into love, albeit without the audience knowing he's talking about another man (although that does feel like a given for a film called 'My Big Gay Italian Wedding'). They're enamoured with each other, but like all real relationships, they're far from perfect, and the glimpses of their conflict go a long way to make their relationship (and the film's ending) convincing.
What sets it apart is the heart of the film: the events play out with a joyous temperament, set at a furious pace to ensure there's not a moment of boredom.
The other pair who really bring this film to life are the actors behind Antonio's parents, Monica Guerritore and Diego Abatantuono. Once Antonio comes out to them, they're both left on separate sides of the fence, and the collision of opinions creates the most interesting drama in the film. Guerritore in particular is wonderful as the level-headed yet aggressively dominant mother and wife, commanding every scene and every other cast member to her will.
The film has its flaws, however. The score is wildly inappropriate, missing the mark on matching the tone, constantly over-the-top and unwittingly dominating sequences. There are also two characters who are poorly handled - for all the realism brought by the rest of the cast, Donato as the crossdressing flatmate who begs to come along for the trip borders on ludicrousness, and Antonio's former flame Camilla (Beatrice Arnera) comes off as an irritating caricature.
Those quibbles aside, 'My Big Gay Italian Wedding' is ridiculously fun, utterly guaranteed to put a smile on your face with its brazen attitude. Stunningly set primarily in Civita di Bagnoregio, showing a truly positive side to same-sex marriage between two people who wholly adore each other, and with an inevitable choreographed dance number, what more could you want to make your heart soar?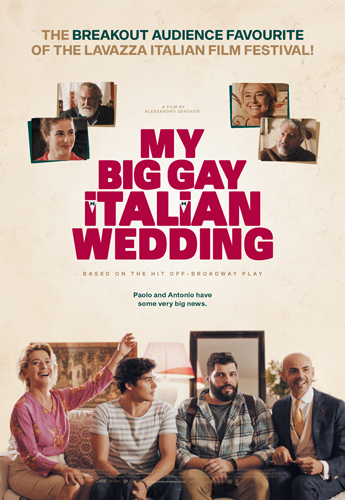 To celebrate the release of 'My Big Gay Italian Wedding' in cinemas, we're giving you the chance to win a double pass.
Due to the redeemability of passes, this competition is only open to residents of Australian Capital Territory, New South Wales, Queensland, South Australia, Victoria and Western Australia.
To win one of five double passes thanks to Palace Films, just make sure you follow both steps:
Competition opens at 5:00pm AEST on Sunday 26th May 2019 and closes at 11:59 pm AEST on Sunday 2nd June 2019. Five winners will be chosen at random on Monday 3rd June 2019. To successfully win, entrants must fulfil the above entry conditions before the time the competition closes. Current members/followers are eligible to enter the competition. Only one entry per person. Only one winner per household. To be a valid winner, the entrant must not have won a prize from SWITCH within the last 28 days. Each winner will receive one double pass to 'My Big Gay Italian Wedding'. By entering, you agree to receive occasional emails from SWITCH in the future. If you decide to unsubscribe from these updates, any further entries will not be applicable. Only Australian residents are eligible to enter.