Back in the 90s, a new kind of Australian film emerged: one that disregarded rules of genre or style and simply assaulted the audience with story, character, colour and life. It was a kind of golden age, one that produced films like 'Priscilla', 'Strictly Ballroom' and 'Muriel's Wedding'. As we entered the new century, the style of Australian film shifted towards a gritty realism, but with 'The Dressmaker', acclaimed director Jocelyn Moorhouse has returned us to that giddy heyday with this totally barmy and thoroughly wonderful film.
Myrtle "Tilly" Dunnage (Kate Winslet) has returned to Dungatar, the country town she was born in. Sent away as a child for a crime she cannot remember committing, she returns in the 1950s a celebrated seamstress after studying and working throughout Europe for the best fashion houses. Her return has the town outraged, but determined to rectify her past, Tilly reunites with her ailing and cantankerous mother Molly (Judy Davis) and attempts to turn the opinions of the town around. However, doing so might be a lot harder than she expects.
Based on the novel by Rosalie Ham and adapted by Moorhouse and fellow Aussie director P.J. Hogan, 'The Dressmaker' is at its very heart an absolutely cracking revenge yarn, brimming with energy and tenacity. It might have a (spectacularly executed) period setting, but the humour and rhythms never adhere to the tired principles of period filmmaking, instead moving at an unrelenting pace and delivering every moment with great panache. It's hard to even pin down what genre it belongs in - it swings between comedy, slapstick, romance, tragedy and thriller, with a dollop of violence thrown in for good measure. In less capable hands, it would undoubtedly be a total mess (and in a wonderful way it still is), but Moorhouse lands every barmy moment by allowing it to come from character and plot rather than stylish ruffles. At no point does it lose your interest or cease to entertain, and when the emotional moments land, they do so with more grace and power because of the whimsy and insanity around them. Donald McAlpine does a sterling job with his vibrant and dusty cinematography, Jill Bibcock sets a cracking pace with her terrific editing, and David Hirschfelder helps hold the film together stylistically with his great score. Marion Boyce and Margot Wilson almost steal the show with their ravishing costume design, which not only has to speak volumes very quickly about the characters wearing them, but contrast vividly with the Australian landscape, emphasising how much of an outsider Tilly and her art have become. But its Moorhouse that deserves mountains of credit for this film - her direction is tight, brave, wildly imaginative and exactly what this story needed. She's crafted a cracking film that literally bursts off the screen, throttles you with everything it has, and then runs off giggling gleefully.
SWITCH: 'THE DRESSMAKER' TRAILER
">
The cast are also an absolute dream. Kate Winslet is one of the finest actors in the world, but this isn't just because of her talent and intelligence. It's also because she perfectly adapts to the style of a film and shapes her performance in service of it. She is the cold hard centre of 'The Dressmaker', keeping the film in balance amidst the larger-than-life performances of her fellow cast members. She's also having an absolute ball as part of this superb ensemble. Judy Davis pretty much steals the film as Molly, an acidic and wildly funny performance that plays on her terrific chemistry with Winslet. Liam Hemsworth is also surprisingly wonderful as local footballer Teddy, who uses all his considerable charm to try and sweep Tilly off her feet. Then there's Hugo Weaving, Sarah Snook, Caroline Goodal, Kerry Fox, Rebecca Gibney, Gyton Grantley, Shane Jacobson, Barry Otto, Julia Blake, Sacha Horler and Alison Whyte to round off what has to be one of the best ensemble casts in an Aussie comedy in a very long time. Watching these terrific actors bounce off one another is just way too much fun.
It's hard to even pin down what genre it belongs in - it swings between comedy, slapstick, romance, tragedy and thriller, with a dollop of violence thrown in for good measure.
If you thought 'The Dressmaker' was going to be a lovely and sleepy period romance, then you are in for an enormous surprise. What Jocelyn Moorhouse has delivered it an insane, barmy and ecstatic film, bubbling with more life and tenacity than an Australian film has in years. Even when it trips, it does so with some conviction and commitment that they hardly seem to matter. This film is an absolute blast, a terrific piece of entertainment that will have you running the gauntlet of emotions. You probably expected you could just sit back comfortably with this one, but 'The Dressmaker' is one of those films that requires a seatbelt. Strap yourself in, grab the armrests and get ready to jump aboard with Tilly Dunnage for one hell of a ride.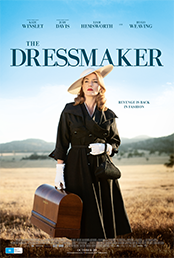 To celebrate the release of 'The Dressmaker' in cinemas, we're giving you the chance to win a double pass. © 2015 Film Art Media (The Dressmaker) Holdings Pty Ltd, White Hot Productions, Soundfirm and Screen Australia.
To win one of five double passes, just make sure you follow both steps:
Complete your details below. Members can
sign in
sign in
at the top of this page to have their details automatically filled in.
Please ensure the fields marked in red are completed.
Become a member - so I don't have to fill in my details every time
Competition opens at 5:00pm AEDT on Thursday 22nd October 2015 and closes at 11:59 pm AEDT on Thursday 29th October 2015. Five winners will be chosen at random on Friday 30th October 2015. To successfully win, entrants must fulfil the above entry conditions before the time the competition closes. Current members/followers are eligible to enter the competition. Only one entry per person. Only one winner per household. To be a valid winner, the entrant must not have won a prize from SWITCH within the last 28 days. Each winner will receive one double pass to 'The Dressmaker'. By entering, you agree to receive occasional emails from SWITCH in the future. If you decide to unsubscribe from these updates, any further entries will not be applicable. Only Australian residents are eligible to enter.