It wouldn't be a stretch to say that 'World War Z' was garnering more interest before its release for its troubled production history than its premise. Reports filtered out of drastic rewrites, an unsteady actor-director relationship, scheduling problems, over-spending and a film begun without a clear idea of its ending. Hollywood prepared itself for a critical and financial flop, but to everyone's surprise, 'World War Z' turned out to be far from the disaster everyone was expecting, and for all its flaws, was one of the most exciting films of the mid-year blockbuster season.
Taking cues from Max Brooks' acclaimed novel, the film (thanks to a myriad of screenwriters) follows Gerry Lane (Brad Pitt) as he hops around the globe to discover the source of a violent infection sweeping the planet that turns its victims into zombies. The premise is simple and intriguing, but what makes 'World War Z' distinct from the rest of the zombie genre is its scale. Rather than showing us survivors held up in an old house or a supermarket or a pub, this is a zombie apocalypse on a biblical scale, the first zombie epic. Cities across the world fall as thousands upon thousands of zombies attack, falling over each other like ants on an ant hill. There are moments of the film, particularly in the second act, that are quite breathtaking in their visual scope, and if anything, what makes this film a great experience is the chance to see something very new and very ambitious.
It does, however, bear all the hallmarks of a troubled production, or at least one that isn't quite sure what it wants to be. The first act, where Gerry and his family are caught in an attack in Philadelphia, is brilliantly executed, but the editing and rhythm is very disjointed and ends up moving too fast. You have no time to take in what you're seeing as the film throttles along. There's also an inconsistency in the quality of the script, moving from well-pitched character moments to clunky chunks of exposition. There's a sense that director Marc Forster is a little bit out of his depth with a film of this scale, though he does a much better job here than his lacklustre work on 'Quantum of Solace' (2008). Strangely for a zombie film, there's also absolutely no gore, and conspicuously so. Some shots have Gerry hacking into a zombie but the zombie in question is completely out of frame and Gerry is spotless. It might have been an attempt to not distance audiences not up with blood-and-guts, but for a zombie film, it's something strangely lacking. And then there's the ending, infamously overhauled at the last minute from an epic Russian battle and commentary on human nature to what we have here. The final few moments are ridiculously clunky, a crazy attempt to tie this film up in case it isn't successful, but give it an opening for a sequel just in case it is.
For all its flaws though, there is far more to love about 'World War Z' than to hate. The second and third acts of the film are very impressive, including a terrific sequence in Jerusalem and a nail-biting mid-air plane attack. In the final act, Gerry and a team from the World Health Organisation (W.H.O.) start to get a handle on the disease, and offer a fresh take on the zombie mythology. It's also bolstered by some great performances, especially from Brad Pitt, Mireille Enos as his wife Karin and the always terrific Peter Capaldi as a W.H.O. Doctor (seriously, that's his name). They easily balance out the more lame supporting performances.
'World War Z' is a far better film than its troubled conception would lead you to expect, and while essays could be written about the problems in this film and how they relate to how ill-prepared the production and the director were, the moments of inspired scale and intelligence outweigh those concerns. That said, there's a sense that a greater film is hiding within this very effective mess, one that, had the filmmakers been braver, might have offered something truly groundbreaking to a genre that has wandered so far from its intelligent roots. Weep for the film that could have been and marvel at the film we have.
For all its flaws though, there is far more to love about 'World War Z' than to hate.
PICTURE & SOUND
As to be expected, 'World War Z' makes the transfer to Blu-ray with an excellent 1080p 2.40:1 transfer. This isn't the most vibrant-looking film, taking a much grimier palette of browns and golds, but that is recreated nicely in high definition, with the right balance of clarity and film texture. The same can be said for the thumping DTS-HD MA 7.1 track, which balances well between the action sound design and character-driven dialogue. 'World War Z' is a technically handsome film, and this is a technically handsome presentation to go with it.
The film is also available on 3D Blu-ray.
SPECIAL FEATURES
There's nothing particularly revealing or intriguing presented here, just the usual behind-the-scenes fluff. 'Origins' discusses the source material and development of the film, 'Looking at Science' goes through the real science used to explain the plague that turns its victims into the undead, and 'WWZ: Production' takes a look at the major action sequences and how they were realised. There are no revelations on offer, mostly just some exciting BTS footage and perfunctory talking heads saying how much they enjoyed the film or, in the case of director Forster, just telling us (again) what happens in the film. The two things conspicuously absent are actor/producer Brad Pitt and any discussion of the production problems. With the film a major box-office success, surely there's no harm bringing it up, even if it's just talking about the confusion surrounding the original ending. Pitt's absence adds to that; perhaps at the time this footage was shot, he wasn't really up for discussing the film. It's an acceptable package, but seems to be spending most of its time selling a film the audience has probably already watched.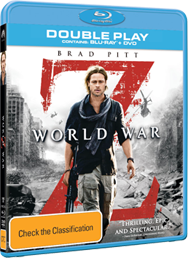 The 'World War Z' competition has now closed. Winners will be announced shortly. Check our Comps page for all a list of our winners.
Competition opens at 6pm AEDT on Sunday 20th October 2013 and closes at 11:59pm AEDT on Sunday 27th October 2013. Five winners will be chosen at random on Monday 28th October 2013. To successfully win, entrants must fulfil the above entry conditions before the time the competition closes. Current members/followers are eligible to enter the competition. Only one entry per person. Only one winner per household. To be a valid winner, the entrant must not have won a prize from SWITCH within the last 28 days. Each winner will receive one 'World War Z' prize pack. By entering, you agree to receive occasional emails from SWITCH in the future. If you decide to unsubscribe from these updates, any further entries will not be applicable. Only Australian residents are eligible to enter.
'World War Z' is available on 3D Superset (3D Blu-ray, Blu-ray and DVD), Double Play (Blu-ray and DVD) and DVD on Wednesday the 23rd October 2013 from Paramount.