In a film landscape brimming with documentaries and biopics, it's been a long time since any exploration of an artist genuinely felt as interesting at their subject matters often are – and even longer since any filmmaker has appeared up to the task of tackling the life and exploits of the late and great musical chameleon David Bowie. Not only is Brett Morgen's ('Jane', 'Cobain: Montage of Heck') new cinematic odyssey 'Moonage Daydream' an answer to that call, it also presents an innovative new way to explore the minds of our most creative stars. If it sounds as though I'm being hyperbolic, it's because 'Moonage Daydream' simply has to be seen to be believed.
It's a curious – and certainly ambitious – thing to even try to explain Bowie, a man who defied explanation his entire life, within the confines of conventional filmmaking - and as such, Morgen appears to throw out the rulebook entirely. In a move rarely seen in documentaries, it is Bowie himself who through archival footage, sound bites and interviews, narrates the entirety of 'Moonage Daydream', save for some archival interviews with fans and news headlines. Morgen's film sees his directorial approach appear as that of an editor instead, compiling and ordering findings from his unprecedented access to Bowie's estate to pull together a complicated and intricate telling of the many phases of the artist's life and career. Often-uninterrupted live performances of some of Bowie's greatest hits followed by his own poignant observations about his life make 'Moonage Daydream' feel simultaneously like an extended music video and the best museum exhibition you've ever seen. Also gone is the need for a chronological story; rarely are the images of Bowie synced with the music he was making at the time (and rarely are the songs we hear Bowie's most popular works), touchingly implying that even if Bowie himself felt in a constant state of metamorphosis, what the world saw was a fascinating, singular man who remained unabashedly himself.
SWITCH: 'MOONAGE DAYDREAM' BRETT MORGEN INTERVIEW
Given Bowie's overwhelming charisma and commanding presence, it makes sense that 'Moonage Daydream' is a sprawling 140-minute presentation, but there are exhausting moments where the film really feels like it's pushing to fit the runtime. The first and third "acts" of the documentary are flanked by frenetic montages of stock footage and clips from popular films that seek to echo the lifestyle Bowie led but ultimately feel like glorified cinematic Pinterest boards, and ultimately distract from the compelling, endless journey of self-discovery Morgen has managed to thread together from Bowie's own words. Perhaps this is also a side effect of going into music documentaries and expecting more from the experience 'Moonage Daydream' has marketed itself as, but these moments could have been shortened or cut entirely without negatively impacting the immersion.
'Moonage Daydream' feels simultaneously like an extended music video and the best museum exhibition you've ever seen.
While 'Moonage Daydream' is far from a perfect cinematic experience, it both successfully encapsulates the world of David Bowie and avoids all the storytelling pitfalls of traditional documentary filmmaking. Its influence on how we view documentaries will no doubt be felt for years to come.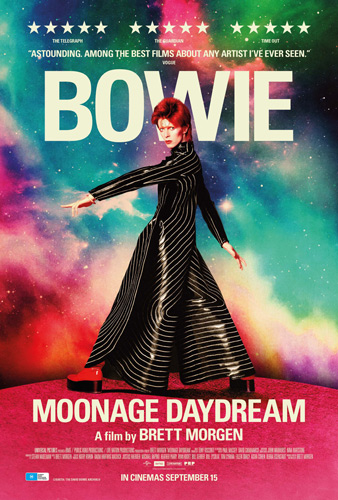 To celebrate the release of 'Moonage Daydream' in cinemas, we're giving you the chance to win a double pass.
To win one of five double passes thanks to Universal, just make sure you follow both steps:
Competition opens at 5:00pm AEST on Sunday 4th September 2022 and closes at 11:59 pm AEST on Sunday 11th September 2022. Five winners will be chosen at random on Monday 12th September 2022. To successfully win, entrants must fulfil the above entry conditions before the time the competition closes. Current members/followers are eligible to enter the competition. Only one entry per person. Only one winner per household. To be a valid winner, the entrant must not have won a prize from SWITCH within the last 28 days. Each winner will receive one double pass to 'Moonage Daydream'. By entering, you agree to receive occasional emails from SWITCH in the future. If you decide to unsubscribe from these updates, any further entries will not be applicable. Only Australian residents are eligible to enter.