The rise of Garth Davis was nothing short of astonishing.
Building from a sturdy start in television and commercials, Davis announced himself in superb fashion with his debut feature, 'Lion'. The film, which depicts the true story of an Indian man who sets out to find his lost family, was a runaway hit. It quickly became one of the most successful Australian films of all time. It cleaned up at the domestic box office and received considerable attention from international award bodies. Chiefly, it was bestowed with six nominations at that year's Academy Awards, including Best Picture, which imparted Davis with a unique honour. He joined an exclusive club of filmmakers who had their directorial debut put forward for cinema's greatest prize.
In the wake of such acclaim, it has been an unconventional road for Davis since. Following a film about 'Mary Magdalene', he has been absent from the screen. He recently reemerged with 'Foe', his first new film in five years, and it is unequivocally ambitious. Based on the dystopia novel by Iain Reid, the story follows Hen and Junior, a married couple portrayed by Saoirse Ronan and Paul Mescal. When a stranger (Aaron Pierre) arrives at their secluded property, he upends their lives by telling them Junior will be sent to work in a space station, and Hen will be left with a robotic duplicate of him. The film tackles the idea of artificial intelligence at a time when the subject has never been more pertinent.
Davis recently concluded an Australian Q&A tour of 'Foe' before it releases in cinemas nationwide this week. In between screenings, I had the chance to speak with him about writing the screenplay with the book's author, why the shared Irish heritage of his stars made for better chemistry, and whether there is a place for artificial intelligence in the film industry. This conversation has been edited and condensed for clarity.
CONNOR DALTON: It's my understanding you really lobbied to tell this story. Is that correct?
GARTH DAVIS: Well, I read the book and fell in love with it and found out that [producer] Kerry Kohansky Roberts had the rights to it at Anonymous Content. And it was a competitive situation, so I had to fight for it.
DALTON: What was it about the story that made you so determined to direct the film adaptation?
DAVIS: There's so many aspects we could talk about, but the driving passion came from this couple. I fell in love with this couple and how this explored a relationship in a really deep way. And I loved what Hen, the central character, represented and what she was fighting for. She understood the preciousness of time and wanted to live her life to the fullest. And that was something I aligned with in my own life. So it was this super exciting, philosophical thriller that kind of ended up being a really beautiful story about humanity in this character's journey. That's what drove me to it.
DALTON: You wrote the screenplay with the book's author, Iain Reid. How did he come on board as a screenwriter?
DAVIS: I think the question is: how did we come on board? Because it wasn't the plan. We did have a list of screenwriters we wanted to go to, but they were unavailable for such a long time. So, in the meantime, we met up in Los Angeles and went into the office, and I had a lot of questions about the book. It was really nice to meet him. We were just page-turning, and I quickly realised we had so much in common. We got along really well; it just felt right. And that day we were in the room together going through the material, we started to formulate a vision for the film. So when we came out of that meeting, we knocked on the producer's office and said, "Look, we'd love to have a crack at this. We really feel the film and think we could write it together." That's how it started.
DALTON: What was it like transferring a book to the medium of film with its author? Did that make for some interesting conversations about what should and shouldn't remain from the novel?
DAVIS: I love writers because, through the writers, I find the truth of the story. When I was asked to do Top of the Lake, I was given all these hours of television to look at, and I really needed to talk to Jane [Campion] and Gerard [Lee] to understand what motivated the decisions behind the characters. So I have a huge respect for writers and had a huge respect for Iain. He also knew that this isn't about copying the book - this is about our shared vision for it. He was very supportive and excited about deviating from the story. So all the problems you think may arise just didn't arise. In fact, it was a very exciting process. We have very different sensibilities, which, when you bring them together, we thought created this very unique voice. So it was just totally enjoyable.
DALTON: This film is coming out at a very interesting time. It is the third high-profile film to explore the idea of artificial intelligence this year, following 'The Creator' and the latest 'Mission: Impossible'. Why do you think there has been an influx of films involving this topic?
DAVIS: It's in the zeitgeist. I think there is a collective subconscious, and we all tap into it in some ways. When Iain wrote this, it wasn't in the media; it wasn't really that relevant. Even when we made the movie, it wasn't as prevalent. But during the edit, yes, it all started to come to life. So I guess we are processing and starting to explore where we're heading and what that means. I guess that's why we're making it because clearly it's on everyone's minds.
DALTON: There's been a lot of chatter recently about whether there's a place for A.I. in the film industry. Where do you stand on that matter?
DAVIS: To be honest, it's a very tricky question. I feel like this is a major shift in our evolution. I think it's way bigger than we think. I do think it's going to replace a lot of jobs, so I'm kind of concerned. I mean, I can see how maybe it could take creativity into new realms. I can understand that, and that's very attractive, but what's going to be left behind is going to be interesting.
DALTON: 'Foe' feels like its inspirations came from a lot of different sources because it's a big fusion of genres. Were there any films in particular that served as touchstones?
DAVIS: Not really. I think early in my career, I'd often reference movies, but now I look to paintings and more visual references. But there were a few things maybe that lurked around. The setup of the film definitely had a Hitchcockian feel, and also maybe 'Who's Afraid of Virginia Woolf?'. I love those directors because the performances are so alive and raw and breaking at the seams. I really love that kind of acting, which we don't get anymore. Some of these were maybe mentioned to set the tone or the parameters of where we can go. But I grew up when sci-fi was really good - 'Alien', 'Blade Runner', all those great movies. I still don't think we're making movies as good as that anymore, and I'm drawn to those character-driven sci-fis.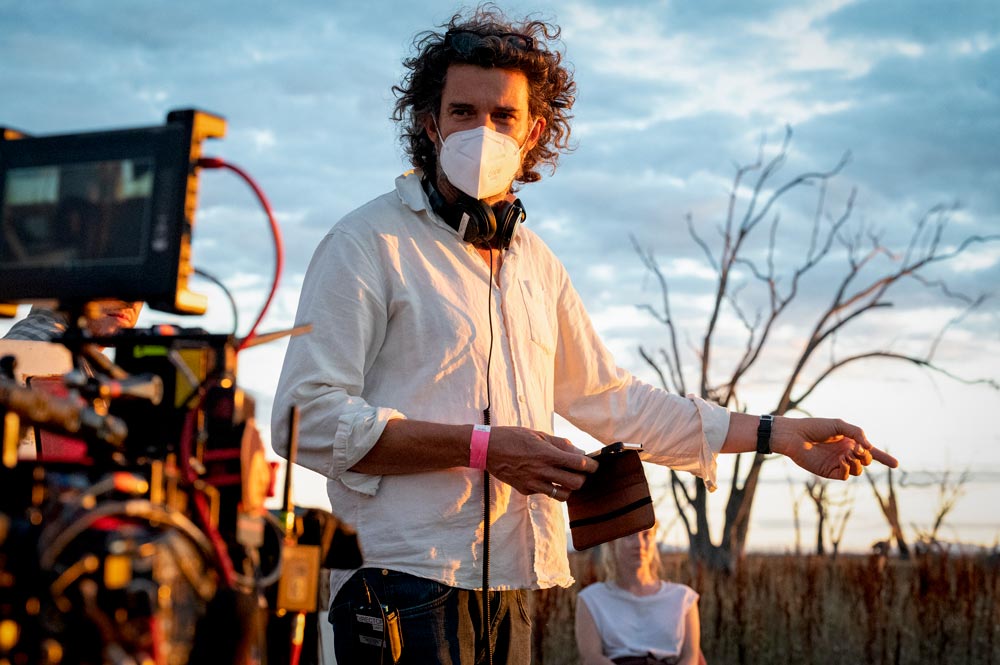 DALTON: I can see the parallels with 'Who's Afraid of Virginia Woolf?' Since 'Foe' is also a chamber piece. The film is predominantly three people just conversing in a house. When writing and filming, how did you manage to keep that exciting?
DAVIS: I knew it would work because there's so many layers to what's happening. There's the story you think you're watching, and then there's a story that's really happening. So every scene has high stakes and high mystery. I knew there was a lot there. Even though it may not seem like there's a lot happening, you can feel it under the surface. You're very engaged when you watch this movie. You're trying to orientate yourself and figure out what's going on. That's what I love about it - it's so simple but also so rich at the same time. I think the material gave me the confidence to embrace that simplicity.
DALTON: The film has a few twists, and when I exited the cinema, the first thing I thought was it would be such a different viewing experience the second time I watch it. What goes into making those reveals work?
DAVIS: It is a movie you can watch twice, and it's literally two different experiences, which was exciting for us. But also a great challenge because, at the end of the day, the actors have to be playing the truth of what's happening in the scene. So we had to make sure that the dialogue and the architecture of all the scenes worked for both viewings. You couldn't manipulate the truth to make one viewing work better than the other. The conceit and the lies and the secret rivers all had to work. It was a challenge that really attracted me to the project and that flowed through in every department, like the camera, for example. It was so exciting to decide where we were going to favour the point of view and how we were going to weigh the scene based on which truth we wanted to share with the audience, if that makes sense. That was really fun.
DALTON: You're boosted by having three brilliant actors in Saoirse Ronan, Paul Mescal, and Aaron Pierre. How did each of them come into your orbit? And what about their performances impressed you?
DAVIS: Well, because the heart of the film is with Hen - it's her story ultimately when you boil it down - she was the one we wanted to cast first. I was very aware that when we first meet Hen in the film, she's a little hard to get close to because her behaviour's quite erratic, quite hot and cold. It's not for quite a way into the story do we fully understand what she's going through and then emotionally connect with her, which is very powerful when it happens. I knew that our main character was kind of hard to get to know, which is quite radical, actually. So I was conscious of the fact that we needed somebody that audiences were going to align with right from the get-go.
Also, when I was writing the script with Iain, I could really feel Hen's personality around us. For me, she represented what was precious in this world. She has a curiosity and wonder with living things. That painted a picture of a personality that had this shining light, if that makes sense. So that led me to Saoirse Ronan because that's how I see her. It doesn't matter what role she plays - her inner light always comes through her work. That's not about acting; it's something kind of beautiful and human. Luckily for us, she really engaged with the material, and we got her on and then had to go find her a husband.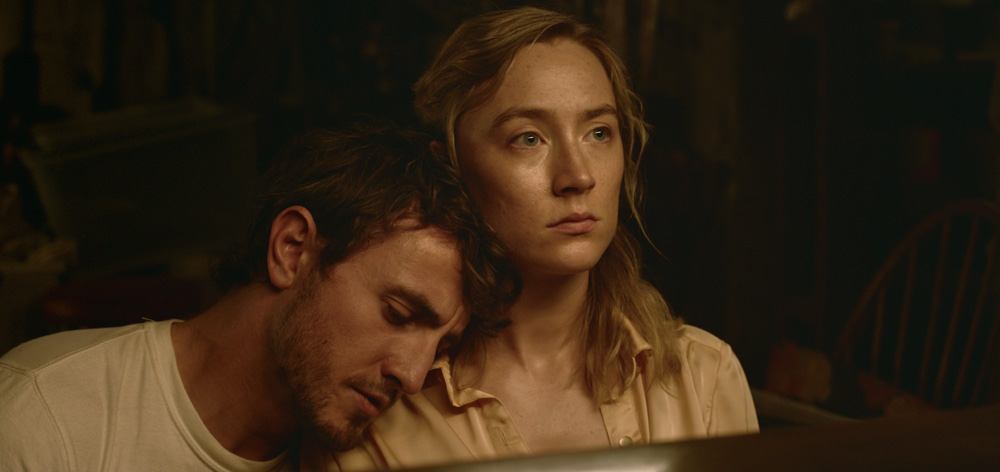 I really wanted this chemistry to feel natural and real, so I wanted to do my homework, and it led us to Paul Mescal. And the longer I sat with him in the meeting, the more I realised how perfect he was for the role. He was so passionate about the themes, and the reasons why he wanted to make it I knew were going to drive a really special performance. And [Saoirse and Paul's] shared Irish heritage just brought a believability to the relationship on screen. And what you witness in the film doesn't feel like acting. It feels very genuine.
The trickiest character was Terrance, the antagonist stranger in the night. You can always trip and make it feel like a trope or a stereotype. Then we stumbled across Aaron Pierre, who is a really beautiful actor. He comes from theatre, and he did 'The Underground Railroad' with Barry Jenkins. So he's done some beautiful work. But his physical stature was really amazing - just this imposing, heightened scale. He's quite amazing when he walks into the room, which was important for the story because Junior wouldn't win in a physical altercation. He also had these beautiful eyes. And he has this intellectual prowess that could bring such truth to all the things that Terrance was doing and such musicality to his performance. You know, so disorientating. One minute, he's threatening; the next minute, he's charming, all in the one breath. So we were really lucky with him.
DALTON: Looking at your filmography, you've done 'Lion', 'Mary Magdalene', 'Foe', and I believe you were attached to 'Tron 3' for a while. Although the latter didn't come to pass, that's a very diverse quartet. Could you tell me about how you pick your projects? Do you search for variety, or are these the projects that find you?
DAVIS: It's all of the above. And I have formed a company now, so we can actually search for material and put a framework around what we're looking for, but it's a bit of both. For me, it doesn't matter what world we go to or what genre we enter. I think the human relationships are the things that I'm interested in the most. As long as that's the heart of the story, I'm happy to go anywhere. In fact, I enjoy going to different places. I enjoy bringing to life these worlds and bringing it to an audience in an immersive way. I find that exciting and that's why I go to the cinema.
DALTON: I have to say I'm quite bummed that I won't see your version of 'Tron 3'. What would it have been like?
DAVIS: It would have been good (laughs). Look, I'm not going to dance in that space unless I can really be myself in the material. So I guess those circumstances have to align. Otherwise, it's just not worth it.
DALTON: Well, even though that didn't work out, you've made an impressive film here. Congratulations, and thank you for fitting me into your schedule. I went to the premiere of 'Lion' at the State Theatre many years ago, so it's really cool to be talking with you right now.
DAVIS: Oh, thanks, mate, I appreciate it. Thanks for your support.
'Foe' opens in Australian cinemas on the 2nd of November.