If you haven't yet heard of John Michael McDonagh ('The Guard', 'Calvary') then you are a fool... or someone who just doesn't get out to the movies much. While JMM's resume isn't exactly long, it's certainly esteemed and favoured. This Irish writer-director set his first two films in his motherland, flipping from outright hilarity to dark and vulnerable. 'War on Everyone', his third time out the gate, is somewhere delightfully in between - and this time he's gone stateside.
Terry (Alexander Skarsgård, 'True Blood') and Bob (Michael Peña, 'End of Watch') are two BFF detectives in New Mexico. Their ethical compass doesn't exactly point north - in fact, I'm pretty sure they don't even have one - but their moral compass probably sits around north-east with some wriggle room either side. Whether they're stealing drugs from dealers or shaking down petty criminals for information and a handout, they still, in their own unique way, manage to get the bad guys. But when their cushy life intersects with a woman (Tessa Thompson), a homeless kid and an eccentric British millionaire (Theo James), things take a sinister turn and it seems that the boys may have finally met their match.
'WAR ON EVERYONE' TRAILER
">
Here's the brilliance to McDonagh's films – you come for the story, perhaps even the cast, but you stay for the humour and a cracker yarn. JMM has one of the sickest, driest and smartest senses of humour in the biz and he incites dead-set ROFL (Is ROFL still a thing?). Never in my life could I have come up this Skarsgård/Peña onscreen partnership, but McDonagh did and now, in my eyes, he's an even greater genius. We've all seen Peña's comedic chops in, well almost everything he's done in one way or another. This baby-faced Hispanic with the million-watt smile doesn't really stray from the charming and loveable regardless of his character's intensions. But Skarsgård however, while cheeky eye-candy on the small screen, has rarely stretched his comedic muscles. Now with 'War on Everyone' those muscles are well and truly warmed up; in fact, he may have pulled one or two stealing the limelight from Peña. In a good way.
John Michael McDonagh has one of the sickest, driest and smartest senses of humour in the biz. Never in my life could I have come up this Skarsgård/Peña onscreen partnership - and now he's an even greater genius.
McDonagh has a gift - perhaps it's a Irish thing - to find the funny is almost everything no matter how dark the subject. It's never at the expense of the story or character; he manages to heighten both while he's at it. He's a remarkable filmmaker and storyteller eliciting standout performances from all his cast members and pushing emotional and ethical boundaries in his abundantly entertaining tales.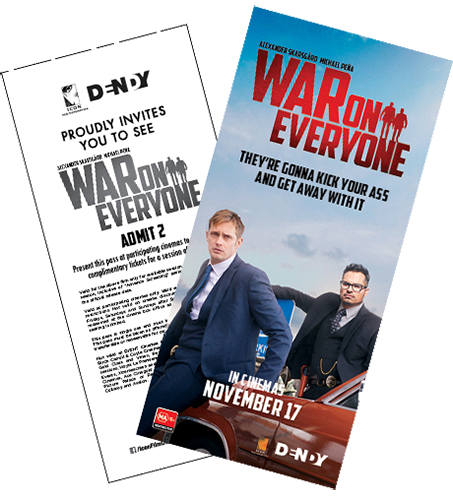 To celebrate the release of 'War On Everyone' in cinemas, we're giving you the chance to win a double pass.
To win one of five double passes, just make sure you follow both steps:
Complete your details below. Members can
sign in
sign in
at the top of this page to have their details automatically filled in.
Please ensure the fields marked in red are completed.
Become a member - so I don't have to fill in my details every time
Competition opens at 5:00pm AEDT on Wednesday 9th November 2016 and closes at 11:59 pm AEDT on Tuesday 15th November 2016. Five winners will be chosen at random on Wednesday 16th November 2016. To successfully win, entrants must fulfil the above entry conditions before the time the competition closes. Current members/followers are eligible to enter the competition. Only one entry per person. Only one winner per household. To be a valid winner, the entrant must not have won a prize from SWITCH within the last 28 days. Each winner will receive one double pass to 'War On Everyone'. By entering, you agree to receive occasional emails from SWITCH in the future. If you decide to unsubscribe from these updates, any further entries will not be applicable. Only Australian residents are eligible to enter.